Jurassic World: Dominion Dominates Fandom Wikis - The Loop
Play Sound
Gale Eugene Sayers (born May 30, 1943), also known as "The Kansas Comet", is a former American college and professional football player who was a running back in the National Football League (NFL) for seven seasons during the 1960s and early 1970s. He played college football for the University of Kansas, and was twice recognized as an All-American. He was a first-round pick in the 1965 NFL Draft, and played his entire pro career for the NFL's Chicago Bears.
Sayers is a member of both the Pro Football Hall of Fame and the College Football Hall of Fame. His friendship with fellow Chicago Bear Brian Piccolo was the basis for the 1971 movie Brian's Song. He is a successful entrepreneur in the information technology field and an active philanthropist.
Early years and college career
Born in Wichita, Kansas and raised in Omaha, Nebraska, Sayers graduated from Omaha Central High School. There he set a state long jump record of 24'11¾". He went on to play college football at the University of Kansas and was a two-time All-American. During his Jayhawk career, he rushed for 2,675 yards and gained 3,917 all-purpose yards. In 1963, he set an NCAA Division I record with a 99-yard run against Nebraska. In his senior year, he led the Jayhawks to a 15-14 upset victory over Oklahoma with a 96-yard kickoff return. Sayers is considered by many to have been the greatest open field runner in college football history.[1][2] While being interviewed by Len Kasper and Bob Brenly during a broadcast of a Chicago Cubs game on September 8th, 2010, Sayers said he had originally intended to go to the University of Iowa. Sayers said that he decided against going to Iowa after the Iowa head coach, Jerry Burns, did not have time to meet Sayers during his one campus visit.[3]
Professional Career
Rookie season (1965)
Sayers was drafted by the Chicago Bears in the first round of the 1965 NFL Draft, and the Kansas City Chiefs of the American Football League, but signed with Chicago. In his rookie year, he scored an NFL record 22 touchdowns (14 rushing, 6 receiving, and one each on punt and kickoff returns). He gained 1,374 yards from scrimmage and had 2,272 all-purpose yards (also a record, later broken by Tim Brown, who played two more games than Sayers). He tied Ernie Nevers' and Dub Jones' record for touchdowns in a single game, with six in a 61-20 victory over the San Francisco 49ers on December 12.[4]
Sayers averaged 5.2 yards per rush and 17.5 yards per reception. His return averages were 14.9 yards per punt return and 31.4 yards per kickoff return. He was the unanimous choice for NFL Rookie of the Year honors. Despite his play, the Bears finished in third place in the NFL Western Conference (behind the Green Bay Packers and Baltimore Colts)
Second NFL season (1966)
In his second season, despite being the focus of opposing defenses, Sayers led the league in rushing with 1,231 yards, averaging 5.4 yards per carry with eight touchdowns. He led the Bears in receiving with 34 catches, 447 yards, and two more scores; he also surpassed his rookie season's kick return numbers, averaging 31.2 yards per return with two touchdowns. He set another NFL record with 2,440 all-purpose yards despite the Bears' fifth place finish, with a 5-7-2 record. Sayers also won the first of three Pro Bowl Most Valuable Player awards.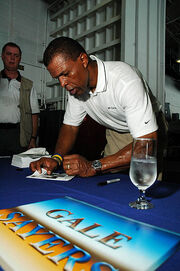 Third NFL season (1967)
In George Halas' last season as an NFL coach, Sayers again starred. Sharing more of the rushing duties with other backs, such as Brian Piccolo, Sayers gained 880 yards with a 4.7 average per carry. His receptions were down as well. He had three kickoff returns for touchdowns on 16 returns, averaging 37.7 yards per return. Only rarely returning punts, Sayers still managed to run one back for a score. Chicago finished in second place in the newly organized Central Division with a 7-6-1 record.
First and second injuries
After the first nine games of 1968, Sayers was again leading the NFL in rushing (he finished with 856 yards and a 6.2 average per carry). However, his season ended prematurely in a game against the San Francisco 49ers when Sayers tore many ligaments in his right knee. After surgery, Sayers went through a physical rehabilitation program with the help of teammate Brian Piccolo.
In the 1969 season Sayers led the league in rushing once again with 1,032 yards, but he lacked the speed he once had, and averaged only 4.4 yards per carry. The Bears, long past the Halas glory years, finished in last place with a franchise worst 1–13 record.
In 1970, Sayers suffered a second knee injury, this time to his left knee. Piccolo also died of cancer that year. During his off time, Sayers took classes to become a stockbroker and became the first black stockbroker in his company's history. After another rehabilitation period, he tried a comeback in 1971, which was not successful. He was encouraged to retire, but decided to give it one more try. Sayers' final game was in the 1972 preseason where he fumbled twice in three carries; he retired a few days later.
In 1977, Sayers was inducted into the Pro Football Hall of Fame, and is still the youngest inductee in the Hall's history. In 1994, the Bears retired his number, 40, at Soldier Field, along with number 51, which had been worn by teammate, linebacker Dick Butkus. In 1999, despite the brevity of his career, he was ranked #22 on The Sporting News's list of the 100 Greatest Football Players.
NFL records
Sayers' records include most touchdowns in a rookie season (22 in 1965), most touchdowns in a game (6, tied with Nevers and Jones), highest career kickoff return average (30.56), and most return touchdowns in a game (2, tied with many players).
Brian's Song
Sayers' friendship with teammate Brian Piccolo, and Piccolo's struggle with cancer (embryonal cell carcinoma, which was diagnosed after it metastasized to a large tumor in his chest cavity), became the subject of the made-for-TV movie Brian's Song. The movie, in which Sayers was portrayed by Billy Dee Williams in the 1971 original, and by Mekhi Phifer in the 2001 remake, was adapted from Sayers' account of this story in his 1971 autobiography, I Am Third.
A notable aspect of Sayers' friendship with Piccolo, a white man, and the first film's depiction of their friendship, was its effect on race relations. The first film was made in the wake of racial riots, escalating racial tensions fueled by Martin Luther King's assassination and charges of discrimination across the nation. Sayers and Piccolo were devoted friends and deeply respectful of and affectionate with each other. Piccolo helped Sayers through rehabilitation after injury, and Sayers was by Piccolo's side throughout his illness.
Retirement
Sayers has had a successful career following his retirement from football. In 1976, Sayers was named Athletic Director at Southern Illinois University. Later, in 1984 he founded Crest Computer Supply Company in the Chicago-area. Under Gale's leadership, this company experienced consistent growth and was renamed Sayers 40, Inc.
Currently, he is chairman of Sayers 40, Inc., a technology consulting and implementation firm serving Fortune 1000 companies nationally with offices in Vernon Hills, Illinois; Canton, Massachusetts; Clearwater, Florida; and Atlanta, Georgia.
Sayers and his wife are also active philanthropists in Chicago. They support the Cradle Foundation—an adoption organization in Evanston, Illinois, and, most recently, they founded the Gale Sayers Center in the Austin neighborhood of Chicago. The Gale Sayers Center is an after-school program for children ages 8–12 from Chicago's west side and focuses on leadership development, tutoring, and mentoring.
In 2009, Sayers joined the University of Kansas Athletic Department staff as Director of Fundraising for Special Projects.[5]
References
External links
Dallas Texans / Kansas City Chiefs first-round draft picks