FedExField
Location
1600 FedEx Way
Landover, Maryland 20785
Coordinates
<span class="geo-dms" title="Maps, aerial photos, and other data for

Template:Coord/dec2dms/d

Expression error: Unexpected >= operator.

Template:Coord/dec2dms/d

Expression error: Unexpected >= operator.">

Template:Coord/dec2dms/d

Expression error: Unexpected >= operator.

Template:Coord/dec2dms/d

Expression error: Unexpected >= operator.

 / 

,

Broke ground
March 13, 1996[1]
Opened
September 14, 1997
Renovated
2011, 2012
Expanded
1998, 2000, 2005
Owner
Daniel Snyder
Operator
Washington Redskins
Surface

419 Tifway Bermuda Grass

Construction cost
$250.5 million
($343 million in 2021 dollars[2])
Architect
HOK Sport (now Populous)
Structural engineer
Bliss and Nyitray, Inc.
Services engineer
M-E Engineers, Inc.[3]
General Contractor

Clark Construction

[4]
Main contractors
Driggs Construction Co.[5]
Former names
Jack Kent Cooke Stadium (September 1997–November 1999)
Tenants
Washington Redskins (NFL) (1997–present)
Capacity
79,000 (2012-present)[6]
81,807 (2011)[7]
91,704 (2009-2010)[8]
91,665 (2004-2008)[8]
86,484 (2001-2003)[8]
85,407 (2000)[8]
80,116 (1997-1999)[8]
FedExField[9] (originally Jack Kent Cooke Stadium) is a football stadium located in an unincorporated area near the Capital Beltway (I-495) in Prince George's County, Maryland, United States, near the site of the old Capital Centre (later called USAir Arena). FedExField is the home of the Washington Redskins football team. With seating for 79,000,[10] FedExField is now the third largest venue in the NFL in terms of regular capacity. Up until 2010, FedExField held 91,704 patrons and was the largest venue in the league.
History
FedExField was built as a replacement for the Redskins' prior venue, Robert F. Kennedy Memorial Stadium in Washington, D.C. In 1994, Jack Kent Cooke sought to build a new stadium on the grounds adjacent to Laurel Park Racecourse along Whiskey Bottom and Brock Bridge roads. Lack of parking facilities and support prompted a second site selection.[11]
The stadium opened in 1997 as Jack Kent Cooke Stadium, in honor of the recently deceased owner of the team, and the stadium site was known as Raljon. Before the stadium was built, the Wilson Farm was there. The name "Raljon" is a portmanteau of Jack Kent Cooke's sons' first names – "Ralph" and "John." Notably, Cooke was even able to register Raljon with the United States Postal Service as a legal alternate address for the 20785 zip code of Landover, Maryland, in which the stadium is located, and went to some lengths to require media to use Raljon in datelines from the stadium.
A special exit, Exit 16 (Arena Drive), was built from Interstate 495, the Capital Beltway.
After the team and stadium were purchased by Daniel Snyder, the naming rights were sold to the FedEx corporation in November 1999 for an average of $7.6 million per year. FedExField has not had a football season in which the stadium failed to sell out its non-premium tickets. Even though it's the NFL's largest stadium, the waiting list for Redskins season tickets has reached over 30 years[citation needed]. Although the Redskins have never sold out the entire stadium, the team has not had a game blacked out on local television since 1972 (when home game broadcasts were banned outright) because it does not count "premium club level seating" when calculating sellouts (their sellout streak dates to 1965, eight years before the new blackout rules were implemented).[12]
For the past six years at FedExField, Redskins fans have set the regular-season home paid attendance record. In 2005, the team drew a record 716,998 fans overall. The December 30, 2007, 27–6 win against the Dallas Cowboys was the most watched game in Redskins history, with 90,910 fans in the stands to see Washington clinch a playoff spot.[13]
The August 28, 2004 BCA Classic between the Virginia Tech Hokies and USC Trojans attracted 91,665 spectators.[14]
Design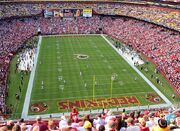 The stadium has five levels – the Lower Level, the Club Level, the Lower and Upper Suite Levels, and the Upper Level. The Lower, Club, and Upper Levels are all named after important figures of the Redskins, NFL, and Washington, D.C. area. The Lower Level is officially named "George Preston Marshall Lower Level", The Club is named "Joe Gibbs Club Level, and The Upper Level is called "Pete Rozelle Upper Level." The Suite Levels have 243 suite, lounge, and Owner's Club luxury boxes and 15,044 club seats[15].
Notable events
FedExField hosts the annual Prince George's Classic college football game, which is a game usually between two historically black universities. It has hosted several other college football games as well, including the 1998 game between the University of Notre Dame and the United States Naval Academy, as well as the 2004 Black Coaches Association Classic between the University of Southern California Trojans and the Virginia Tech Hokies. The stadium has hosted numerous other events as well, including many big-time concerts.
FedExField is not well known as a soccer venue, as D.C. United of Major League Soccer elected to remain at RFK Stadium after the new stadium's opening. As Jack Kent Cooke Stadium, it hosted four preliminary matches and one quarterfinal doubleheader in the 1999 Women's World Cup. During the July 2005 World Series of Football, D.C. United hosted Chelsea F.C. there; the stadium did not sell out, but the 31,473 spectators represented D.C. United's third-highest ever home attendance. On August 9, 2009, D.C. United hosted another international friendly against Real Madrid at FedExField. On July 30, 2011, Manchester United ended its 2011 Summer Tour with a 2–1 win over F.C. Barcelona at FedExField in front of 81,807 fans. This represented the largest crowd for the sport in D.C.-area history.
Other notable events include:
October 23, 1997 – The Rolling Stones performed during their

Bridges To Babylon Tour

.
November 14, 1998 – Notre Dame defeated Navy 30–0.
July 1, 1999 – The United States Women's National Soccer Team defeated the German Women's National Team 3–2 in the

FIFA Women's World Cup 1999

quarterfinals.
January 8, 2000 – The Washington Redskins defeated the Detroit Lions 27–13 in the first and, as of the 2011-2012 season, only NFL playoff game at FedExField.
May 28, 2000 – The stadium played host to the

HFStival

.
October 4, 2002 – The Rolling Stones returned to perform during their

Licks Tour

.
December 29, 2002 – The Washington Redskins defeated the rival Dallas Cowboys, 20–14, in Darrell Green's final game. The game also broke a 10-game losing streak to the Cowboys.
July 18, 2003 – Metallica,

Limp Bizkit

,

Linkin Park

,

Deftones

&

Mudvayne

performed during The 2003

Summer Sanitarium Tour

.
September 13, 2003 – Bruce Springsteen & The

E Street Band

performed during

The Rising Tour

. (Sold out)
August 28, 2004 – USC defeated Virginia Tech in the BCA Classic 24–13, before a sellout crowd of 91,665.
November 5, 2006 – Redskins defeated the Cowboys in, perhaps, the greatest finish in FedExField history, with Nick Novak's 47 yard field goal with :00 on the game clock.
December 2, 2007 – Commemorative game in memory of Sean Taylor. The Redskins lost to Bills (17–16).
August 1, 2009 – Paul McCartney performed during his

Summer Live '09

Tour.
September 29, 2009 – U2 performed during their

360° Tour

, with

Muse

as their opening act.
September 6, 2010 – Boise State defeated Virginia Tech 33–30, before a crowd of 86,587.
November 20, 2010 – Penn State defeated Indiana 41–24, before a crowd of 78,790.
July 30, 2011 –

Manchester United F.C.

defeated FC Barcelona 2–1, before a crowd of 81,807, part of

2011 World Football Challenge

.
December 10, 2011 –

112th Army-Navy Game
Criticisms and potential replacement
Many fans feel FedExField does not compare favorably with RFK Stadium. Sports Illustrated's rankings of "NFL Fan Value Experience" rated FedExField 28th out of 31 NFL stadiums.[16] In January 2007, The Washington Post reported that Redskins owner Daniel Snyder was meeting with Washington, D.C., officials about building a new stadium in order to return the team to the District.[17]
In the 2011 offseason, nearly 10,000 seats were removed from the upper deck to reduce capacity to 81,807, making FedExField the second largest venue in the NFL.[18]. During the 2012 offseason, 4,000 additional seats were removed to make way for new suites and party decks[6].
Notes and references
Gallery
External links
1999 FIFA Women's World Cup

stadiums
FedEx Corporation

Established 1971
Founder
Subsidiaries
and Divisions

FedEx Express

FedEx Ground

FedEx Freight
FedEx Custom Critical

FedEx Office

FedEx Trade Networks
FedEx Supply Chain
FedEx Corporate Services
FedEx TechConnect

FedEx SmartPost

Air hubs

Memphis

Indianapolis

Anchorage

Oakland

Newark

Fort Worth

Miami

Paris

Guangzhou

Cologne

Toronto

Related

Flying Tiger Line

American Freightways

Asia Airfreight

FedEx Institute of Technology

KIAC

FedEx Field

FedEx Racing

Zapmail

Cast Away

;Annual Revenue
---
---