Earl Harry "Dutch" Clark (October 11, 1906 – August 5, 1978) was an American professional football player for the Detroit Lions in the National Football League. In his final two seasons he was the Head Coach of the Detroit Lions.
At Colorado College, he was a member of Phi Gamma Delta Fraternity.
He set a team rushing record in 1936 that stood for 36 years.
He was inducted into the Pro Football Hall of Fame in 1963.
High school sports
Edit
Dutch Clark began his football career at center as a freshman at Central High School in Pueblo, Colorado, circa 1922. Coach Oscar "Ollie" Herigstad reassigned young Clark to fullback, where he earned All-State honors for the Wildcats. At Central, he was also an All-State basketball center, and set South-Central League track & field records in the discus and high hurdles. Baseball was his "weak" sport, on account of impaired vision in his left eye. He earned 16 letters, and graduated in 1926.[1]
Collegiate sports
Edit
Clark was headed for the University of Michigan and had a stopover at Northwestern University, but ended up at the Colorado College in Colorado Springs. At CC, Clark earned 12 letters and was All-Conference in football, basketball, baseball and track for the Tigers. Coach W.T. "Bully" Van DeGraaff used Clark as a rusher, quarterback, drop-kicker, punter, linebacker, safety and punt returner. He rushed for 1349 yards on 135 carries in 1928, his junior year, and scored 103 of CC's 203 points. In 1928, he became the first All-American football player from any of Colorado's colleges and universities. He graduated from CC in 1930 with a B.A. in Biology.
Professional football
Edit
Clark was 6.0 ft (1.83 m) tall and weighed 175-185 lb (79–84 kg) when he began his professional football career as a quarterback, kicker and punter with the short-lived Portsmouth Spartans in Ohio in 1931. The Spartans had only sixteen players on their roster, not unusual at the time. He left pro football after two seasons to coach the Colorado School of Mines Orediggers in 1933, a long-time rival of his alma mater. The Spartans moved to Detroit as a result of the Great Depression, and became the Lions. Clark returned to the Lions in 1934, where he was a triple-option threat on offense through the 1938 season. He was a six-time All-Pro and three-time league scoring leader, and led the Lions to a 26-7 victory over the New York Giants in the 1935 NFL championship game. A popular photograph of Clark from the Detroit News was published in Life magazine.[2] Clark was a player-coach in 1937 and 1938, giving him a career-high and league-high salary of $7200. He retired as a player and became the head coach of the Cleveland Rams from 1939 through 1942. Clark served in the US Army during World War II, and as Athletic Director at the University of Detroit after the war.
Sports honors
Edit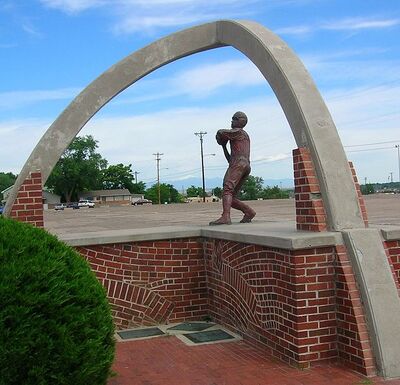 Clark was inducted as a charter member of the College Football Hall of Fame in 1951. The Pro Football Hall of Fame inducted him as a charter member in 1963, along with sixteen others including Jim Thorpe, Red Grange and Curly Lambeau. He was a charter member of the Colorado Sports Hall of Fame in 1965, along with footballer-jurist Byron "Whizzer" White and boxer Jack Dempsey. In 1973, Clark became a charter member of the Greater Pueblo Sports Association Hall of Fame. The Colorado College Athletic Hall of Fame inducted him posthumously as a charter member in 1995. The Pueblo Public School Stadium was renamed Earl "Dutch" Clark Stadium in September 1980. A statue of Clark by the Latka Studios was added in 1985.
References
Edit
↑

Jack Hildner, "Dutch Clark Was the Greatest of Them All," Dedication Program for the Centennial vs. Central High School football game, 25 September 1980.

↑ William Kuenzel, "The Perfect Football Face," Life, 28 December 1936, p ?
External links
Edit
Community content is available under
CC-BY-SA
unless otherwise noted.