Earl Louis "Curly" Lambeau (April 9, 1898 – June 1, 1965) was founder, player, and first coach of the Green Bay Packers professional American football team. He shares the distinction with rival George Halas of the Chicago Bears of coaching his team to the most NFL championships, with six.
Biography
Edit
East High School and Notre Dame
Edit
Lambeau was a standout multi-sport athlete at Green Bay East High School, and captain of its football team as a senior in 1917. Lambeau then played for legendary coach Knute Rockne at Notre Dame in 1918, making the Irish's varsity squad as a freshman, but a severe case of tonsillitis forced him to return home before his sophomore year.[1]
Founding the Packers
Edit
Lambeau and George Whitney Calhoun formed the Green Bay Packers on August 11, 1919, while Lambeau was working as a shipping clerk at the Indian Packing Company. The Packers initially played teams from Wisconsin and Michigan's Upper Peninsula; however, the success of the team in 1919-20 quickly led to its joining of the American Professional Football Association, with the league changing its name to the National Football League in 1922.
Playing career
Edit
Lambeau played for the Packers from 1919 to 1929. Although Lambeau played halfback, he was both the primary runner and passer, as was common practice during that period; most teams used the single wing offense at the time. Lambeau threw the Packers' first official pass, first official touchdown pass, and kicked the Packers' first official field goal.[1]
Career as a coach
Edit
Green Bay Packers
Edit
Lambeau coached the Packers as an NFL team from 1921 to 1949. As head coach, he led the Packers to six NFL championships (1929, 1930, 1931, 1936, 1939, 1944). As Packers' head coach, Lambeau compiled a regular-season record of 209–104–21 (.667 winning percentage) with a playoff record of 3–2 [212–106–21 (.667) overall]. These official records do not include the Packers' 19–2–1 record under Lambeau prior to joining the NFL.[1] Ties did not count in the standings in those days.
In 1946, Lambeau purchased Rockwood Lodge, creating the first self-contained training facility in professional football. The purchase was controversial among the Packers' board of directors, and Lambeau's deteriorating relationship with the board was one of the factors that would lead to his departure in early 1950.[1] In addition, Lambeau's record as a coach had dropped sharply after Hall of Fame receiver Don Hutson retired in 1945. In 1954, Lambeau was fired from his position as coach of the Washington Redskins after arguing with that professional football team's owner in the lobby of Sacramento's Senator Hotel.[2]
Career record
Edit
Lambeau completed his 33-year NFL coaching career with an official overall record of 229–134–22 (.595 winning percentage).
Personal life
Edit
Lambeau was married three times, first to Marguerite Van Kessel from 1919 ending in divorce with one son in 1934. His second wife Susan Johnson was a former Miss California. They were married from 1935 to 1940. He married Grace Garland in 1945 and was divorced in 1955.
Lambeau died of a heart attack in Sturgeon Bay, Wisconsin, while visiting a friend.[3]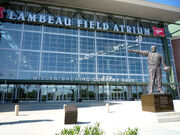 The Packers' stadium, Lambeau Field in Green Bay, is named after Curly Lambeau. The venue opened in 1957, informally called "New" City Stadium for its first eight years. It was renamed "Lambeau Field" in September 1965, after Lambeau's death.
Erected after the stadium's 2003 renovation, a 14-foot statue of Lambeau greets visitors.
Lambeau Street, in Green Bay's Packerland Industrial Park, is also named in his honor.
Among other things, Lambeau is credited with pioneering daily practices, the forward pass in the NFL, implementing pass patterns and flying to road games.[1]
Lambeau was elected to the Wisconsin Athletic Hall of Fame in 1961.
Lambeau was inducted into the Pro Football Hall of Fame's inaugural class in 1963.
References
Edit
↑ 1.0 1.1 1.2 1.3 1.4 "Hall of Famers: Earl L. (Curly) Lambeau — Class of 1963". http://www.packers.com/history/hall-of-famers/lambeau-earl.html

. Retrieved 2013-04-04

.
↑ Don Bosley (March 5, 2000). "Sacramento's Big 10: This Summer's U.S. Olympic Track And Field Trials Figures To Make Major News, But The City's History Is Filled With Momentous Sports Happenings. Here Is A List Of The Ones Our Panel Thought Mattered Most...". Sacramento Bee: p. C1.
↑ "Curly Lambeau is Stricken and Dies of a Heart Attack". Lawrence (Kansas) Daily Journal World. June 2, 1965. http://news.google.com/newspapers?nid=2199&dat=19650528&id=Lk0yAAAAIBAJ&sjid=_-UFAAAAIBAJ&pg=7115,6292233

. Retrieved 2013-04-04

.
External links
Edit
Curly Lambeau—championships, awards, and honors
Community content is available under
CC-BY-SA
unless otherwise noted.