Continental Indoor Football League
Current season or competition:
2011 Continental Indoor Football League season



Continental Indoor Football League logo

Sport
Indoor football
Founded
2006
Director
Dave Stein
No. of teams
5
Country(ies)
 United States
Most recent champion(s)
Cincinnati Commandos
Most titles
Cincinnati Commandos (2)
Official website
CIFL Football
Founder
Eric Spitaleri, Jeff Spitaleri
The Continental Indoor Football League (CIFL) is an indoor football league based along the Midwestern United States region. It began play in April 2006 as the Great Lakes Indoor Football League (GLIFL). Formed by Jeff Spitaleri, his brother Eric, and third member, Cory Trapp, all from the Canton, Ohio area.
The league was originally called the OPIFL (short for Ohio-Penn Indoor Football League), but then executives decided to increase the league's appeal to the entire Great Lakes region. So far, the league has been relatively successful, having a cumulative attendance of over 75,000 in the inaugural regular season. However, the league, like other indoor football associations, has been plagued by folding franchises and unenforceable policies. For example, the 2006 champion Port Huron Pirates were found to have been paying some of their players over the league salary cap. 2007 saw several teams fold during the season, and during the 2008 season, the league's most successful team, the Rochester Raiders, moved to the AIFA due to frustration over the failure of the league to provide notice of an opponent's forfeiture, resulting in lost ticket and advertising revenue. The league also failed to return the Raiders' owners' emergency fund deposit, which was collected specifically to protect against such occurrences.[1]
The league's primary competition for talent is the American Indoor Football Association, and teams have moved to and from that league. However, unlike the AIFA, the CIFL remains mostly a regional operation, with most of its teams clustered in the Midwestern United States. A similar but unrelated league, the Intense Football League, played in Texas through 2008 before merging with United Indoor Football to form the Indoor Football League for the 2009 season. Four CIFL franchises subsequently left the league to join the IFL.[2]
CIFL Season-by-season
Edit
CIFL Championship Games
Edit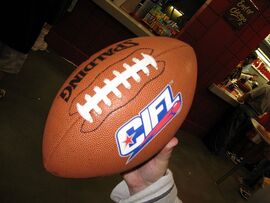 CIFL Championship Game History
CIFL Rules
Edit
Field Size – 50 yards long by 25 yards wide, with end zones a minimum of 5 yards in depth. Fields may vary in size due to physical constraints within facility, with CIFL permission. End zones may be rounded due to hockey board configurations. Padded dasher board walls around the entire field that act as an extension of the ground (only "out of bounds" if contact made by opposing player that forces player into the dasher wall, much like a 'down by contact' rule).
Goal Posts – Goal posts are 12 feet (4 m) from the floor to the crossbar. The crossbar is 10 feet (3 m) in width. Anything used to hang the goalpost is considered a part of the upright.
Number Of Players – Eight players per team on the field at one time. Maximum of 20 active players with a 21st player that is only eligible for special-teams plays (kickoffs, field goals, point-after-touchdown plays).
Playing Time – Four 15-minute quarters with a running clock. Clock only stops for incomplete passes and out of bounds plays during the final minute of the second and fourth quarters. 25-second play clock.
Scoring – 6 points for TD, 2 points for run or pass conversion, or drop kick PAT, 1 point for place kick PAT, 2 points for defensive conversion following TD, 2 points for safety. 3 points for a field goal, 4 points for a drop kick field goal.
Backfield in Motion – One player may be in motion in any direction behind the line of scrimmage prior to the snap.
Offensive Linemen – Three linemen must be in a three- or four-point stance prior to the snap. They must line up guard, center, guard and next to one-another. Any offensive lineman not covered up by the fourth man on the line of scrimmage is an eligible receiver if he is wearing an eligible receiver number (1-49, 80-89).
Defensive Linemen – There must be three defensive linemen, and they must line up on the nose, or can line up inside foot-to-outside foot outside of an offensive lineman Linemen must rush inside if nose up or slanted into if shaded, and they must make contact before any movement to the outside is made.
Blitzing – Only one non-lineman can blitz at a time. This player can blitz from any direction, but must be at least five yards off the line of scrimmage/goal line prior to the snap. Players do not have to announce their eligibility to blitz.
Linebackers – At least two defensive players must line up at least 5 yards behind the line of scrimmage. The other two non-linemen must either line up face-to-face with an offensive non-lineman on the line, or be five yards behind the line of scrimmage. After the snap, this rule is eliminated and the players can roam anywhere they wish, provided it doesn't violate blitzing rules. Linebackers can line up at the goal line if the offense is within five yards of scoring.
Kickoffs – If a kickoff leaves the field of play on the fly, the ball comes out to the 25-yard line. The sideline walls and end zone walls are not out of bounds, and balls can be played off of them. If a kickoff leaves the field of play after making contact with the field or a player on either team, the ball comes out to the 5-yard line, or the point in which it leaves the field of play, whichever is closest to the kicking team's goal line.
Offense – No punting. Offense must attempt to gain a first down or touchdown, or may attempt a field goal (by placement or drop kick).
Coaches – No coaches allowed on the field.
Overtime – Overtime is played with NCAA-style rules (each team gets one possession), but each possession is started with a kickoff rather than at the 25-yard line. Teams must go for a two point conversion (by scrimmage play) starting with the third overtime session.
Rule differences
Edit
The league does not utilize a rebound net, but otherwise, its rules are nearly identical to those of the Arena Football League.
2011 CIFL Teams
Edit
2011 CIFL Rosters
Edit
Suspended Operations
Edit
Possible Expansion Teams
Edit
Former teams
Edit
(*=The league took over operations and ceased for failure to meet league requirements.)
Players of Significance/Award Winners
Edit
Most Valuable Player (Vincent Cleveland Memorial Trophy) - Matt Cottengim, Rochester Raiders
Offensive Player of the Year - Matt Cottengim, Rochester Raiders
Quarterback of the Year - Matt Cottengim, Rochester Raiders
Running Back of the Year - Rayshaun Askew, Port Huron Pirates
Wide Receiver of the Year - Maurice Jackson , Rochester Raiders
Defensive Player of the Year - Eddie Bynes, Port Huron Pirates
Linebacker of the Year - Ed Chan, NY/NJ Revolution
Defensive Back of the Year - Eric Gardner , Battle Creek Crunch
Return Man of the Year - Darius Smith, Rochester Raiders
GLIFL All-Star Game MVP - Shane Franzer, Port Huron Pirates
Coach of the Year - Brian Hug, Port Huron Pirates
References
Edit
External links
Edit
Continental Indoor Football League
Teams
Players
Head coaches

John Burns (CHI) • Mister Askew (DAY) • K.C. Carter (IND) • TBD (MUN) • John Forti (PH)

Arenas
Front office

Commissioner: Jeff Spitaleri  — Assistant Commissioner: Tommy Tyks  — Founders: Jeff Spitaleri • Eric Spitaleri

Seasons
Championships
Current arenas in the

Continental Indoor Football League
Continental Indoor Football League
seasons
Community content is available under
CC-BY-SA
unless otherwise noted.