Jurassic World: Dominion Dominates Fandom Wikis - The Loop
Play Sound
The Clemson Tigers football team, known traditionally as the "Clemson University Fighting Tigers", represents Clemson University in the sport of American football. The Tigers compete in the Football Bowl Subdivision (FBS) of the National Collegiate Athletic Association (NCAA) and the Atlantic Division of the Atlantic Coast Conference (ACC). Formed in 1896, the program has achieved a Consensus Division I Football National Championship, 18 conference championships, 5 undefeated seasons and 2 divisional titles, and has produced 68 All-Americans, 15 Academic All-Americans, and 169 NFL players.[4] Clemson has had six members inducted into the College Football Hall of Fame.
---
---
With 18 total conference titles, Clemson is one of the founding members of the ACC and holds the most conference titles of any school at 14. The Tigers' most recent ACC championship came in 2011 with a 38–10 win over 5th-ranked Virginia Tech.
Among its five undefeated seasons, Clemson won their first and only poll-era national football championship in 1981 with a 22–15 win over Nebraska in the Orange Bowl. The Tigers have 34 total bowl appearances. Former players Terry Kinard, Jeff Davis, and Banks McFadden have been inducted into the College Football Hall of Fame. Former coaches Frank Howard, Jess Neely, and John Heisman are also inductees into the Hall. The Tigers have finished in the Final Top 25 rankings 25 times in the program's history.
The Tigers play their home games in Memorial Stadium on the university's Clemson, South Carolina campus. The stadium is also known as "Death Valley" after a Presbyterian College head coach gave it the moniker in 1948 due to the many defeats his teams suffered there. Currently, it is the 19th largest stadium in college football.
History
Early years: 1896–1899
Walter Merritt Riggs can be characterized as the "Father of Clemson Football," as he brought the game with him from Agricultural and Mechanical College of Alabama (now Auburn University). The fact that Auburn and Clemson share the same mascot is no accident. Riggs allowed his players to pick the team mascot and, although he may have influenced their decision, the players chose Tigers because Princeton University had just won the national championship. Riggs helped organize and coach the infant Tiger team in 1896. Indeed, when the Tigers traveled to Greenville on Halloween to play Furman in their very first match, only Coach Riggs and backfield player Frank Thompkins had ever seen a football game played. Today in Clemson, the soccer field is named Historic Riggs field after Walter Riggs.
Riggs took the team to a 2–1 record in the inaugural year. He then stepped aside at the urging of the cadets, who felt that he should concentrate on his scholastic duties rather than coach the team for free. William M. Williams coached the Tigers in 1897, guiding them to a 2–2 record. In 1898, John Penton led the Tigers to a 3–1 record.
In 1899, when the Clemson Athletic Association could not afford a coaching salary, Riggs again took over the reins, one of only two Clemson football coaches to return to the position after stepping down. The 1899 squad went 4–2. Riggs' overall record of 6–3 gives him a .667 winning percentage. Historic Riggs Field is named for him.
After a decade as a Mechanical Engineering professor, he was named acting president of Clemson Agricultural College in 1910, being confirmed by the Board of Trustees as permanent president on March 7, 1911. He served until his untimely death on January 22, 1924 while on a trip to Washington, D.C. to meet with officials of other land grant institutions.
John Heisman era: 1900–1903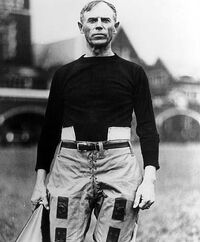 John Heisman coached the Tigers to their first undefeated season (6–0) in 1900.[5] Heisman stayed only four years at Clemson, where he compiled a record of 19–3–2, an .833 percentage, the best in Clemson football history.[6] Following a 73–0 defeat of Georgia Tech in 1903, the Yellow Jackets hired Heisman as their first full-time football coach.
Post-Heisman era: 1904–1930
After Heisman left Clemson to become the head coach at Georgia Tech, the following coaches led the Tigers football team:
Shack Shealy (1904): 3–3–1 record - the only Clemson graduate (1899) to serve as head coach of his alma mater
Edward B. Cochems (1905): 3–2–1 record
Bob Williams (1906, 1909, 1913–1915): 21–14–6 record; only coach to serve as Clemson's head coach three times; also coached at South Carolina
Frank Shaughnessy (1907): 4–4 record

John Stone

(1908): 1–6 record
Frank Dobson (1910–1912): 11–12–1 record; also coached at South Carolina
Wayne Hart (1916): 3–6 record
Edward Donahue (1917–1920): 21–12–3 record

E.J. Stewart

(1921–1922): 6–10–2 record
Bud Saunders (1923–1926): 10–22–1 record
Josh Cody (1927–1930): 29–11–1 record; Tigers were undefeated at home (13-0-1) and against South Carolina (3–0) during Cody's tenure
Jess Neely era: 1931–1939
In 1931, Jess Neely (a former head coach at Rhodes and assistant at Alabama) became Clemson's head football coach. During his tenure, Neely led the Tigers to a 43-35-7 record. His final season at Clemson was the turning point in the Tigers' program. His team went 9-1 during that season, finishing second to Duke in the Southern Conference. The Tigers also received their first bowl invitation and bowl victory that year, defeating nationally ranked Boston College 6-3 in the 1940 Cotton Bowl Classic. The 1939 Tigers finished with a #12 ranking in the final AP poll. Clemson also had their first Associated Press All-American that year in Banks McFadden. Jess Neely, along with then athletic director Rupert Fike, founded the IPTAY Scholarship Fund, which supports the Clemson Athletic Department.
Frank Howard era: 1940–1969
After Jess Neely left to become the head coach at Rice, Frank Howard (an assistant coach under Neely) was named head coach. In his 30 years at Clemson, Howard compiled a 165–118–12 record, a 3–3 bowl record, won two Southern Conference championships, and six ACC championships. Seven of Howard's teams finished the year ranked in at least one final poll. He also incorporated the Single Wing, T-formation, and I-formation offenses at different points during his coaching career at Clemson. Clemson had two undefeated season under Howard, one in 1948 (11-0), and one in 1950 (9-0-1).
The tradition of rubbing "Howard's Rock" prior to running down the hill before home games began during Coach Howard's tenure.[7] The playing field at Memorial Stadium was named "Frank Howard Field" in 1974 following his retirement to honor his many years of service for the university. He was inducted into the College Football Hall of Fame, the South Carolina Sports Hall of Fame, the Clemson Hall of Fame, the Clemson Ring of Honor, the Helms Athletic Hall of Fame, the State of Alabama Hall of Fame, National Football Foundation Hall of Fame, the Orange Bowl Hall of Honor, and the Gator Bowl Hall of Fame.
Post-Howard era: 1970–1976
Clemson struggled during the years following Frank Howard's retirement. His successor, Hootie Ingram, only compiled a 12–21 record. During his tenure, the tradition of running down the hill was stopped from 1970 to the end of the 1972 season, when the team decided it wanted to come down the hill for the final home game against South Carolina. The traditional "tiger paw" logo was introduced by Ingram. Jimmy "Red" Parker coached the Tigers from 1973–1976, compiling a 17-25-2 record.[8]
Charlie Pell era: 1977–1978
Charlie Pell coached the Tigers for two seasons, winning the ACC Coach of the Year award twice and leading the Tigers to the 1978 ACC Championship en route to a 18-4-1 record. In both seasons, Clemson earned berths to the Gator Bowl. However, Pell became involved in NCAA rules and recruiting violations that came to light under the tenure of his successor, Danny Ford. Charlie Pell would leave after 1978 to become head coach at Florida, where his coaching career would end in 1984 following more NCAA rules violations.
Danny Ford era: 1978–1989
The Danny Ford Era began in 1978, after Charlie Pell left for the University of Florida. He won his first game, the 1978 Gator Bowl, with a 17–15 victory over Ohio State and legendary coach Woody Hayes, who punched LB Charlie Bauman in the throat after making the game-clinching interception. In his first two seasons, Ford guided Clemson to the summit of college football by winning the National Championship, and recording the program's fifth undefeated season. The Tigers, who were unranked in the preseason, downed three top-10 teams (Georgia and North Carolina) during the course of the 12-0 season that concluded with a 22-15 victory over Nebraska in the 1982 Orange Bowl. Ford, named National Coach-of-the-Year in 1981, holds the record as the youngest coach to win a national championship on the gridiron.[9]
On November 21, 1982, the football program was placed on probation for a 2-year period to include the 1983 and 1984 seasons. This sanction was enforced on the program by the NCAA Committee on Infractions due to a lengthy history of recruiting violations meant to gain an athletic advantage. These recruiting violations took place from 1977 through the Tigers' 1981 National Championship season and into 1982, under the administration of two head coaches, Charlie Pell and Danny Ford. The Atlantic Coast Conference imposed a third year of conference penalty.
Over 150 documented violations were found to have been committed under NCAA bylaws in the categories of improper recruiting inducements, extra benefits to student-athletes, unethical conduct, improper financial aid, improper campus visits, improper transportation and entertainment, improper use of funds, improper employment, improper recruiting contact, and distribution of cash to players by members of the coaching staff.[10]
As a result of these violations, Clemson was barred from participating in bowl games following the 1982 and 1983 seasons, and barred from appearing on live television in the 1983 and 1984 seasons. Also, the number of scholarships that the university could allocate to football players was restricted to 20 (from the normal limit of 30) for the 1983-84 and 1984-85 academic years. The Tigers, however, were allowed to keep their 1978 and 1981 ACC titles as well as the 1981 national title.
Charles Alan Wright, chairman of the NCAA Committee on Infractions said at the time, "Due to the large number and serious nature of the violations in this case, the committee believed that institutional sanctions related to appearances on television and in postseason football bowl games were appropriate. In addition, because the violations indicated a pattern of improper recruiting activities, the committee determined that a two-year limitation on financial aid to new recruits should be imposed to offset any recruiting advantage that was gained improperly by the university."[11][12]
After the probation period, Clemson won three straight ACC titles between 1986 and 1988, including a 35-10 victory over Penn State and a 13-6 defeat of the Oklahoma Sooners in the Florida Citrus Bowl. In 1989, Clemson registered a 10-2 season and top-12 national ranking for the fourth straight season, and ended his career at Clemson with a 27–7 win over West Virginia (and All-America quarterback Major Harris) in the 1989 Gator Bowl.[13]
Just five years after their probation ended, Clemson once again found their football program accused of multiple recruiting violations in January 1990.[14] The NCAA accused Clemson of giving cash to players and having illegal contact with recruits over a period from 1984 to 1988. In June 1990, the Tigers found themselves on probation once again, for the second time in less than a decade.[15] This chain of events contributed, in part, to the forced resignation of popular head coach Danny Ford.[16]
After a few years away from coaching, Ford was hired by Arkansas in 1992, where he would spend five seasons guiding the Razorbacks.
Ken Hatfield era: 1990–1993
Ken Hatfield, former coach at Air Force and Arkansas. He had a 32–13–1 record with the Tigers and led them to three bowl games.
Hatfield worked to clean up the program's image in the wake of the Ford-era sanctions.[17] However, Hatfield was never really accepted by Clemson's fans. A common saying among Tiger fans during this time was "Howard built it. Ford filled it. Hatfield killed it."
Largely due to this discontent, school officials refused to grant him a one-year extension on his contract after the 1993 season, even though the Tigers had rebounded from 5–6 in 1992 to a solid 8–3 record that year and were invited to the Peach Bowl. Angered at what he saw as a lack of support, Hatfield resigned at the end of the regular season.[18] He was later hired at Rice.
The purple home jerseys used by Clemson in special games made their debut during the 1991 ACC championship season.
Tommy West era: 1993–1998
Tommy West replaced Ken Hatfield at the end of the 1993 season, coaching the Tigers to a 14-13 victory in the 1993 Peach Bowl against Kentucky. West had a 31–28 record during his five seasons at Clemson and led the Tigers to three bowl games but no ACC championships. West was fired after a dismal 1998 campaign which saw Clemson go 3-8 and finish last in the ACC. West went on to be the head coach at Memphis.
Tommy Bowden era: 1999–2008
After Tommy West's dismissal following the 1998 season, Clemson hired Tommy Bowden, son of Bobby Bowden and coach at Tulane University. Bowden led the Tigers to a 6–6 record and a Peach Bowl bid in 1999, with the team that navigated its way through a schedule that included MAC champions and undefeated Marshall, Big East champion and BCS runner-up Virginia Tech (who went undefeated during the regular season), and eventual National Champion Florida State (who finished the year undefeated). The 1999 meeting between the Tigers and Seminoles was dubbed the "Bowden Bowl" and was the first time that a father and son coached against each other in Division I football. FSU won the game 17–[19] 14 in front of the largest crowd in the history of Death Valley.
During Bowden's tenure, the Tigers were bowl eligible every season but didn't win any ACC championships (the 2004 team turned down a bowl invitation as punishment for a massive brawl during a game against the University of South Carolina). Despite this, Bowden has been criticized for his teams underachieving. The 2000 Tigers started 8–0 and rose as high as #5 in the polls before losing three of their last four. The same thing happened during the 2006 season following a 7–1 start and with the team on the verge of winning the ACC Atlantic Division. The Tigers have also shown great resolve at points during Bowden's tenure. The 2003 team won four games at the end of the season to finish 9–4, which included victories over #3 Florida State and #7 Tennessee in the Chick-Fil-A Peach Bowl. The 2004 season saw the Tigers start 1–4 only to win five of their last six games (which included an overtime upset of #10 Miami), while the 2005 team overcame a 2–3 start to finish the season 9–4.
Tommy Bowden agreed to resign for $3.5 million on October 13, 2008, after leading the team to a disappointing 3–3 record (1–2 ACC) at the midpoint of a season in which the Tigers were an almost unanimous preseason pick to win their first ACC title under Bowden and were ranked #9 in the preseason polls. Assistant coach Dabo Swinney was named interim head coach.[20]
Dabo Swinney era: 2008–present
Following the departure of Tommy Bowden, Dabo Swinney led the Tigers to a 4–2 record, finishing the 2008 regular season at 7–6. On December 1, 2008, Swinney signed a five-year contract as Clemson's head coach.[21]
On November 21, 2009, Swinney and the Tigers qualified for their first ACC title game berth, only to lose to the Georgia Tech Yellow Jackets 39–34. They were awarded a trip to the 2009 Music City Bowl, and defeated the Kentucky Wildcats 21–13, avenging their upset loss in the 2006 Music City Bowl.
On December 31, 2010 Clemson was defeated by the South Florida Bulls, 31–26, in the Meineke Car Care Bowl in Charlotte, North Carolina. In January 2011, Swinney hired new offensive coordinator Chad Morris, In December 2011, Morris became tied with Gus Malzahn as the highest paid assistant in college football after Clemson gave Morris a six-year contract worth $1.3 million annually. Dabo also added on running backs coach Tony Elliott, and defensive line coach Marion Hobby.
On January 1, 2012 Swinney added new defensive coordinator Brent Venables to the Clemson coaching staff. After losing to West Virginia 70-33 in the Orange bowl.
On September 17, 2011, Clemson beat the 2010 National Champions, the #21-ranked Auburn Tigers, and ended Auburn's 17-game winning streak, the longest winning streak in the nation. On October 1, 2011, Clemson became the first ACC team to beat three nationally-ranked opponents in a row: #21-ranked Auburn, #11-ranked Florida State, and #11-ranked Virginia Tech. On November 12, 2011, Clemson defeated Wake Forest, winning the ACC Atlantic Division title. On November 26, 2011, Clemson lost to South Carolina for the third straight year, the first time Clemson had lost three straight to its instate rival since the seasons from 1968-1970. On December 3, the Tigers won their first ACC Championship since 1991, defeating Virginia Tech 38-10 in the Championship Game. #15 Clemson would go on to lose to the #23 West Virginia Mountaineers in the 2012 Orange Bowl 70-33, giving up an all-time record number of points scored in a quarter (35), half (49) and game (70) in the 109-year history of bowl games.[22]
Current coaching staff
Clemson traditions
Howard's Rock In the early 1960s, the rock was given to then head coach Frank Howard by a friend, Samuel Columbus Jones (Clemson Class of 1919).[24] It was presented to Howard by Jones, saying "Here's a rock from Death Valley, California, to Death Valley, South Carolina."[25] Howard didn't think anything else about the rock and it was used as a door stop in his office for several years. In September 1966, while cleaning out his office, Howard noticed the rock and told IPTAY executive director Gene Willimon, "Take this rock and throw it over the fence or out in the ditch...do something with it, but get it out of my office."[25] Willimon had the rock placed on a pedestal at the top of the east endzone hill that the team ran down to enter the field for games.[26] On September 24, 1966, the first time Clemson players ran by the rock, they beat conference rival Virginia, 40-35.[27] Howard, seizing on the motivational potential of "The Rock", told his players, "Give me 110% or keep your filthy hands off of my rock."[26] The team started rubbing the Rock for the first game of 1967, which was a 23-6 waxing of ACC foe Wake Forest. [4]
It is now a tradition for the Clemson Army

ROTC

to "protect" the Rock for the 24 hours prior to the Clemson-South Carolina game when held in Death Valley. ROTC cadets keep a steady

drum cadence

around the rock prior to the game, which can be heard across the campus. Part of the tradition comes after Gamecock fans attempted to smash the Rock with a sledgehammer before the 1992 game.
Running Down the Hill Probably the most highly publicized tradition of the Clemson Tigers football team is the entrance, which has been referred to as "The Most Exciting 25 seconds in College Football."[25] Running down "The Hill" originally started out of practicality. Before the west stands were built, the football team dressed across the street at Fike Field House and ran from there to the gate and down the hill onto the field. Now, after exiting the stadium on the west side, the players load into 2 buses which, escorted by police officers, make their way around the stadium to the east side where The Hill is located. This scene is shown on the JumboTron inside the stadium. When the buses arrive at the east side the players get out and gather at the top of the hill and stand around Howard's Rock, once most of the players are out of the buses and ready to go a cannon sounds, the band begins to play Tiger Rag and the players make their way down the hill. The spelling out of C-L-E-M-S-O-N during this Tiger Rag is one of, if not the, loudest times it will be spelled out during the game.[

citation needed

]
Ring of Honor Created in 1994, the Ring of Honor is the highest award given to former coaches, players, and other individuals who made a direct impact on the football program.[28]
The Graveyard The Graveyard is a mock cemetery near the football practice fields that features tombstones commemorating Clemson's victories over ranked opponents on the road.[29]
First Friday Parade The Clemson football season kicks off each year with the annual First Friday Parade. The once a year event takes place on the Friday afternoon prior to the first home football game. Floats from various fraternities and sororities and other campus organizations are represented in the parade that rolls down main street in Clemson. The parade culminates at the Amphitheater in the middle of campus where the first Pep Rally of the year takes place. The Grand Marshall of the Parade is featured at the Pep Rally. Recent Grand Marshall's have ranged from current PGA professional Dillard Pruitt, to College Football Hall of Fame legends Jess Neely and Frank Howard, to noted television announcers Brent Musburger and Ara Parseghian.
Tailgating On October 15, 2012, Southern Living named Clemson the South's best tailgate.[30]
Rivalries
South Carolina
Georgia Tech
Clemson's rivalry with Georgia Tech dates to 1898 with the first game being played in Atlanta. The game was played in Atlanta for 45 of the first 47 matchups. When Georgia Tech joined the ACC in 1978, The series went to a more traditional home-and-home setup beginning with the 1983 game. When the ACC expanded to 12 teams and split into two divisions in 2005, Clemson and Georgia Tech were placed in opposite divisions but were designated permanent cross-divisional rivals so that the series may continue uninterrupted. The two schools are 127 miles apart and connected to each other by Interstate 85. This distance is slightly closer than that between Clemson and traditional rival South Carolina (137 miles). As of 2011, Georgia Tech leads the series 51-25-2. The Jackets also lead the series 15-14 since Georgia Tech joined the ACC.
NC State
The yearly conference and divisional matchup between NC State is known as the Textile Bowl for the schools similar missions in research and development for the textile industry in the Carolinas. The first meeting of the two schools occurred in 1899 and as of 2010, Clemson holds a 52-28-1 series advantage.
Boston College
The O'Rourke-McFadden Trophy was created in 2008 by the Boston College Gridiron Club in order to honor the tradition at both schools and to honor the legacy of Charlie O'Rourke and Banks McFadden, who played during the leather helmet era. The club plans to make this an annual presentation. Clemson first met Boston College on the football field in the 1940 Cotton Bowl Classic, the first ever bowl game for the Tigers and Eagles. Over the next 43 years, the teams met a total of 13 times. In 2005, Boston College joined the ACC and the Atlantic Division. Since then, the game has been played on an annual basis with Boston College winning 3 of the first 5 games as divisional foes. As of 2012 the Tigers lead the series at 12-9-2.
Florida State
Between 1999 and 2007 the ACC Atlantic Division matchup between Clemson and Florida State was referred to as the "Bowden Bowl" to reflect the father-son head coach matchup between Bobby Bowden (Father, FSU) and Tommy Bowden (Son, Clemson). Their first meeting, in 1999, was the first time in Division I-A history that a father and a son met as opposing head coaches in a football game. Bobby Bowden won the first four matchups extending FSU's winning streak over Clemson to 11 dating back to 1992. Since 2002, Clemson won 4 of the last 5, including a 26-10 win in Clemson over then-#3 FSU, the highest ranking opponent to ever be defeated by the Tigers. Also during this time the Tigers recorded a 27-20 win in Tallahassee in 2006 which broke a 17-year losing streak in Doak Campbell Stadium. 2007 was the last Bowden Bowl game as Tommy resigned as head coach in October 2008. As of 2012, Florida State leads the overall series 18-8.
Georgia
The Bulldogs and the Tigers have been perpetual thorns in one another's sides; Clemson's only regular-season losses of the 1978, 1982, and 1991 campaigns all came between the hedges, whereas Georgia's only regular-season setback during the three years of the Herschel Walker era came in Death Valley during Danny Ford's 1981 national championship run.
During the two programs' simultaneous glory days of the early 1980s, no rivalry in all of college football was more important at the national level, as Scott Woerner's dramatic returns in 1980 and the nine turnovers forced by the Tigers the following fall effectively settled the eventual No. 1 ranking. Likewise, no rivalry of that period was more competitive, as evidenced by the critical eleventh-hour field goals kicked by Kevin Butler in 1984 and by David Treadwell more than once later in the decade. Despite blowouts in 1990, 1994, and 2003, the series typically has remained competitive in more recent days, as two of the last three meetings were decided by two points in 1995 and three points in 2002. However, Georgia maintains a 41-17-4 lead in the series, including 5 wins in a row dating back to 1991. The rivalry will be renewed in 2013 as part of a two-year home and home.
Auburn
These old rivals first played in 1899, but until 2010, had not faced each other in the regular season since 1971. Auburn leads the overall series 34-13-2 and had won 14 games in a row, dating back to 1952, before Clemson snapped the streak in 2011, by beating #21 ranked Auburn 38-24 in Death Valley, in front of a crowd of exactly 82,000. Along with snapping one streak, Clemson also snapped Auburn's seventeen game winning streak coming off of the 2009-2011 seasons. The Georgia Dome hosted the Auburn-Clemson rivalry in the 2012 Chick-fil-A College Kickoff. Clemson defeated Auburn 26-19 riding on a 231 yard performance by Andre Ellington. This game was notable due to Sammy Watkins' absence, having been suspended the first two games due to a drug-related arrest in May 2012.
All-time record vs. current ACC teams
Bowl games
| Season | Coach | Bowl | Game Date | W/L | Opponent | PF | PA |
| --- | --- | --- | --- | --- | --- | --- | --- |
| 1939 | Jess Neely | Cotton | January 1, 1940 | W | Boston College | 6 | 3 |
| 1948 | Frank Howard | Gator | January 1, 1949 | W | Missouri | 24 | 23 |
| 1950 | Frank Howard | Orange | January 1, 1951 | W | Miami | 15 | 14 |
| 1951 | Frank Howard | Gator | January 1, 1952 | L | Miami | 0 | 14 |
| 1956 | Frank Howard | Orange | January 1, 1957 | L | Colorado | 21 | 27 |
| 1958 | Frank Howard | Sugar | January 1, 1959 | L | LSU | 0 | 7 |
| 1959 | Frank Howard | Bluebonnet | December 19, 1959 | W | TCU | 23 | 7 |
| 1977 | Charley Pell | Gator | December 30, 1977 | L | Pittsburgh | 3 | 34 |
| 1978 | Danny Ford | Gator | December 29, 1978 | W | Ohio State | 17 | 15 |
| 1979 | Danny Ford | Peach | December 31, 1979 | L | Baylor | 18 | 24 |
| 1981 | Danny Ford | Orange | January 1, 1982 | W | Nebraska | 22 | 15 |
| 1985 | Danny Ford | Independence | December 21, 1985 | L | Minnesota | 13 | 20 |
| 1986 | Danny Ford | Gator | December 27, 1986 | W | Stanford | 27 | 21 |
| 1987 | Danny Ford | Florida Citrus | January 1, 1988 | W | Penn State | 35 | 10 |
| 1988 | Danny Ford | Florida Citrus | January 2, 1989 | W | Oklahoma | 13 | 6 |
| 1989 | Danny Ford | Gator | December 30, 1989 | W | West Virginia | 27 | 7 |
| 1990 | Ken Hatfield | Hall of Fame | January 1, 1991 | W | Illinois | 30 | 0 |
| 1991 | Ken Hatfield | Florida Citrus | January 1, 1992 | L | California | 13 | 37 |
| 1993 | Tommy West | Peach | December 31, 1993 | W | Kentucky | 14 | 13 |
| 1995 | Tommy West | Gator | January 1, 1996 | L | Syracuse | 0 | 41 |
| 1996 | Tommy West | Peach | December 28, 1996 | L | LSU | 7 | 10 |
| 1997 | Tommy West | Peach | January 2, 1998 | L | Auburn | 17 | 21 |
| 1999 | Tommy Bowden | Peach | December 30, 1999 | L | Mississippi State | 7 | 17 |
| 2000 | Tommy Bowden | Gator | January 1, 2001 | L | Virginia Tech | 20 | 41 |
| 2001 | Tommy Bowden | Humanitarian Bowl | December 31, 2001 | W | Louisiana Tech | 49 | 24 |
| 2002 | Tommy Bowden | Tangerine | December 23, 2002 | L | Texas Tech | 15 | 55 |
| 2003 | Tommy Bowden | Peach | January 2, 2004 | W | Tennessee | 27 | 14 |
| 2005 | Tommy Bowden | Champs Sports | December 27, 2005 | W | Colorado | 19 | 10 |
| 2006 | Tommy Bowden | Music City | December 29, 2006 | L | Kentucky | 20 | 28 |
| 2007 | Tommy Bowden | Chick-fil-A | December 31, 2007 | L | Auburn | 20 | 23 |
| 2008 | Dabo Swinney | Gator | January 1, 2009 | L | Nebraska | 21 | 26 |
| 2009 | Dabo Swinney | Music City | December 27, 2009 | W | Kentucky | 21 | 13 |
| 2010 | Dabo Swinney | Meineke Car Care | December 31, 2010 | L | South Florida | 26 | 31 |
| 2011 | Dabo Swinney | Orange Bowl | January 4, 2012 | L | West Virginia | 33 | 70 |
| | Total | | 34 Bowl Games | 16-18 | | 623 | 721 |
National championship
Clemson finished their undefeated 1981 season with a 22-15 victory over the #4 Nebraska Cornhuskers in the 1982 Orange Bowl, and were named the national champions.[31]
Year

Coach

Selector

Record

Bowl

Opponent

PF

PA

1981
Danny Ford
AP, UPI/Coaches' Poll†
12-0
Orange Bowl
Nebraska
22
15
National championships:
1
† Other consensus selectors included Berryman, Billingsley, DeVold, FACT, FB News, Football Research, FW, Helms, Litkenhous, Matthews, National Championship Foundation, NFF, NY Times, Poling, Sagarin, and Sporting News[32]
Undefeated seasons
Since its beginnings in 1896, Clemson has completed five undefeated seasons.[33] This includes three perfect seasons in which the Tigers were undefeated and untied:
Conference championships
Clemson won the Southern Inercollegiate Athletic Association in 1900 and 1902 along with the Southern Conference title in 1940 and 1948.[34] Their 14 ACC titles (13 outright, 1 tied) is the all-time ACC football record.
Note: Bold years indicate outright conference titles
† In 1965, South Carolina violated participation rules relating to two ineligibile players and was required to forfeit wins against North Carolina State and Clemson.[35] North Carolina State and Clemson were then declared co-champions.[36]
Conference affiliations
Divisional championships
In 2005, the Atlantic Coast Conference divided into two divisions of six teams each and began holding a ACC Championship Game at the conclusion of the regular football season to determine the ACC Football Champions. Clemson won its first outright ACC Atlantic Division championship in 2009 and again in 2011. In 2012, Clemson tied for share of the Atlantic Division Championship and was named co-champion of the division.
† On 7/18/2011, Georgia Tech was required to vacate their victory due to NCAA violations and the game is considered by the NCAA and ACC to have no winner.[37]
‡ Clemson finished 7-1 in the ACC and was named Co-champion of the Atlantic Division. Florida State played in the ACC Championship by owning the tie-breaker advantage.
National polls
Clemson has ended their football season ranked 26 times in either the AP or Coaches Poll.[38]
| Year | Record | AP Poll† | Coaches‡ | Harris |
| --- | --- | --- | --- | --- |
| 1939 | 9–1–0 | 12 | – | – |
| 1948 | 11–0–0 | 11 | – | – |
| 1950 | 9–0– 1 | 10 | 12 | – |
| 1951 | 7–3–0 | 20 | – | – |
| 1956 | 7–2–2 | 19 | – | – |
| 1957 | 7–3–0 | – | 18 | – |
| 1958 | 8–3–0 | 12 | 13 | – |
| 1959 | 9–2–0 | 11 | 11 | – |
| 1977 | 8–3–1 | 19 | – | – |
| 1978 | 11–1–0 | 6 | 7 | – |
| 1981 | 12–0–0 | 1 | 1 | – |
| 1982 | 9–1–1 | 8 | – | – |
| 1983 | 9–1–1 | 11 | – | – |
| 1986 | 8–2–2 | 17 | 19 | – |
| 1987 | 10–2–0 | 12 | 10 | – |
| 1988 | 10–2–0 | 9 | 8 | – |
| 1989 | 10–2–0 | 12 | 11 | – |
| 1990 | 10–2–0 | 9 | 9 | – |
| 1991 | 9–2–1 | 18 | 17 | – |
| 1993 | 9–3–0 | 23 | 22 | – |
| 2000 | 9–3–0 | 16 | 14 | – |
| 2003 | 9–4–0 | 22 | 22 | – |
| 2005 | 8–4–0 | 21 | 21 | 23 |
| 2007 | 9–4–0 | 21 | 22 | 16 |
| 2009 | 9–5–0 | 24 | – | – |
| 2011 | 10–4–0 | 22 | 22 | 14 |
† AP Poll began selecting the nation's Top 20 teams in 1939. Only the Top 10 teams were recognized from 1962-1967. The AP Poll expanded back to the Top 20 teams in 1968. In 1989, it began recognizing the Top 25 teams.
‡ UPI/Coaches Poll began selecting its Top 20 teams on a weekly basis in 1950 before expanding to the nations's Top 25 teams in 1990.
Individual award winners
College Football Hall of Fame inductees
In 1951, the College Football Hall of Fame opened in South Bend, Indiana. Clemson has had 3 players and 3 former coaches inducted into the Hall of Fame.[39]
Retired Numbers
National award winners
National coaching awards
Atlantic Coast Conference awards
Atlantic Coast Conference 50th Anniversary football team
On July 23, 2002 in celebration of the Atlantic Coast Conference's 50th Anniversary, a 120-member blue ribbon committee selected the Top 50 football players in ACC history. Clemson led all conference schools with the most players selected to the Golden Anniversary team.[40] Each of Clemson's honorees were All-Americans and former NFL players. The nine selectees from Clemson were:
Current NFL players
Future non-conference opponents
References
Further reading
Bob Bradley, Sam Blackman, Chuck Kriese (1999). Clemson: Where the Tigers Play - The History of Clemson University Athletics. Sports Publishing. ISBN 1-58261-369-9.
External links
Clemson Tigers football

Venues
Bowls & rivalries
Culture & lore
People

Seasons

National championship seasons in bold
Clemson University
Academics

Schools and Institutes

Clemson University Graduate School

Clemson University International Center for Automotive Research

Athletics

Baseball

(

2012

Coach

Stadium

)

Basketball

(

2011-12

Coach

Coliseum

)
Football (2011

Soccer

(

Coach

)

Rugby

Carolina-Clemson rivalry

Clemson Tigers Sports Network

Jervey Athletic Center

South Carolina-Clemson brawl

The Bowden Bowl

Campus

Clemson College Sheep Barn

Fort Hill

Fike Recreation Center

Hanover House

Johnstone Hall

Lee and Lowry Hall

South Carolina Botanical Garden

Old Stone Church and Cemetery

Historic District I

Historic District II

Walker Golf Course

Student life

Spittoono

Clemson Area Transit

WSBF-FM

ESSO Club

Crescent Amtrak

Lake Hartwell

People

Alumni

Thomas Green Clemson

John C. Calhoun

Benjamin Tillman

James F. Barker
---
---