Chris Simms

Simms after a Broncos game on November 22, 2009.

New England Patriots

Coaching assistant

Personal information

Date of birth: August 29, 1980
Place of birth: Franklin Lakes, New Jersey
Height: 6 ft 4 in (1.93 m)
Weight: 230 lb (104 kg)

Career information

College: Texas
NFL Draft: 2003 / Round: 3 / Pick: 97
Debuted in 2004 for the Tampa Bay Buccaneers
Last played in 2009 for the Denver Broncos

Career history

 As player:

 As coach:


Career highlights and awards

ESPN RISE National High School Junior Player of the Year (1997)
USA Today Offensive High School Player of the Year (1998)

Career NFL statistics as of 2009

Pass attempts  
  511
Pass completions  
  297
Percentage  
  58.1
TD-INT  
  12-18
Passing yards  
  3,117
QB Rating  
  69.1
Stats at NFL.com
Christopher David Simms (born August 29, 1980) is a former American football quarterback and current coaching assistant with the New England Patriots of the National Football League (NFL). He was drafted by the Tampa Bay Buccaneers in the third round of in the 2003 NFL Draft. He played college football at Texas.
Simms has also played for the Denver Broncos and Tampa Bay Buccaneers. He is the son of former New York Giants quarterback and Super Bowl XXI MVP Phil Simms and the older brother of former New York Jets quarterback Matt Simms.
Early years
Edit
Simms grew up in Franklin Lakes, New Jersey and attended Ramapo High School there, where he was a standout in both football and basketball.[1] In football, he was a two-time All-State honoree, and was named the 1998 USA Today National Offensive Player of the Year.[1] Simms graduated from Ramapo High School in 1999.[2] After committing to the University of Tennessee during his senior year, Simms decommitted and enrolled at the University of Texas instead.[3]
College career
Edit
Simms played college football at the University of Texas at Austin. In a controversial decision, Simms was named starter over Major Applewhite in 2001, before Applewhite's senior season. After turning the ball over four times in the 2001 Big Twelve Championship Game, Simms gave way to fan favorite Applewhite, who nearly led Texas to a victory against Colorado (Texas lost 37-39). Applewhite later passed for a then school record 473 yards as the starter in the Holiday bowl. Simms played with Cedric Benson and Roy Williams his last three years of his college career.
Career statistics
Edit
Year
Passing
Rushing
Comp
Att
Yards
TDs
Int
Att
Yds
Avg
TD
1999
19
36
223
2
1
11
22
2.0
0
2000
67
117
1,064
8
7
26
-25
-1.0
0
2001
214
362
2,603
22
11
52
-10
-0.2
6
2002
235
396
3,207
26
12
70
-124
-1.8
4
Totals
535
911
7,094
58
31
159
-137
-0.2
10
Accomplishments and records
Edit
University of Texas Records
2nd Highest Passer Rating (Career) - 138.4. (Behind Colt McCoy)
5th Best Winning Percentage (Career) - 26-6, 0.812 (Behind James Street, Bobby Layne, Vince Young and McCoy).
3rd Most Touchdowns (Career) - 58 (Behind Major Applewhite and McCoy).
2nd Most Touchdowns (Single Season) - 26 (Behind McCoy, tied with Young).
2nd Most Touchdowns (Single Game) - 5 (Behind McCoy, tied with Layne).
3rd most passing yards in a game (vs Nebraska) - 419 (Behind Applewhite & McCoy).[4]
Professional career
Edit
Tampa Bay Buccaneers
Edit
Simms was drafted with the last pick of the 3rd round in 2003 by the Tampa Bay Buccaneers with the expectation that he would eventually be the successor to Brad Johnson. He was cast 3rd on the Bucs depth chart behind Johnson and former Buccaneers starter Shaun King. Simms sat his entire rookie year without playing a single snap in the regular season.[5]
In 2004, Simms started the season as the 3rd string quarterback again, this time behind Johnson and former Denver Broncos and Miami Dolphins starter Brian Griese, but quickly advanced to backup quarterback after a poor preseason by Griese. Simms saw his first action on September 19, 2004 against the Seattle Seahawks after a below-average performance by Johnson, coming into the game with 10:32 left in the 2nd quarter. Simms went 21-32 with 175 yards and an interception.[6] Simms received his first start two games later against the New Orleans Saints on October 10, 2004 after the Bucs started 0-4 and Johnson was benched for his poor performance. Simms went 5-8 for 75 yards but injured his shoulder early in the game and missed three weeks, allowing Brian Griese to secure the position with 3 straight wins. Simms saw occasional action as the backup QB to Griese and started a meaningless final game against the Arizona Cardinals where he threw for 224 yards, 1 touchdown and 2 interceptions.[7]
In 2005, Simms was slated on the depth chart as the backup quarterback, behind Griese and ahead of former Cleveland Browns starting quarterback Luke McCown. Simms got his first snap of the season after Miami Dolphins linebacker Zach Thomas was pushed onto Griese's leg with several minutes left in the game on October 16, 2005. Despite the injury, the Buccaneers prevailed 27-13 in the game in which Griese was lost for the season. Simms performed well, completing 6 of 10 passes for 69 yards.[8] Simms got his first start of the season the following week against a weak San Francisco 49ers squad. While Simms had decent numbers (21-34, 264yds, 1TD, 2INT), his performance was considered poor, as there were many times when he underthrew his receivers, missed open receivers, or incorrectly read the defensive coverage. Simms followed up this performance with about the same performance (25-42, 259, 1TD, 2INT) against the division rival Carolina Panthers, who were considered a much better team than San Francisco. Since these two losses however, Simms performed better than expected and had a knack for late-game heroics. He led fourth-quarter charges against fellow division rival Atlanta twice, as well as the Washington Redskins. The Redskin game was his best performance of the year as Simms threw for 3 scores as the Buccaneers won 36-35 in a remarkable game. Simms had a much more impressive performance in the rematch against Carolina on the road. The two losses in this stretch were against the defending Super Bowl Champion New England Patriots, and the Chicago Bears, who were ranked #1 in the league in total defense, and in both of these games, Simms did not throw any interceptions, and was sacked a combined 11 times. He even led Tampa Bay to another fourth-quarter comeback against the Bears but a 29-yard field goal attempt floated wide right giving the Bears a 13-10 victory.[9]
Simms led the Buccaneers to their first playoff berth since their Super Bowl victory in the 2002. In the rematch vs. the Redskins Simms led Tampa Bay back again from a 17–3 halftime deficit. With the score at 17–10 late in the fourth quarter, Simms hit Edell Shepherd on an apparent 35-yard TD strike. However, Shepherd failed to maintain possession as he hit the ground. Tampa Bay lost 17–10 in a game where Washington gained only 120 yards of offense, the lowest total for a playoff winner in NFL history.[10]
Chris Simms had played well at the end of the 2005 season, and thus came into the 2006 season with high expectations around him. However, for no particular obvious reason, Simms's play in the first two weeks was abysmal. In back-to-back games against the Baltimore Ravens and Atlanta Falcons, Simms posted up 45 completions on 82 attempts for 446 yards, but had zero touchdowns and six interceptions. He continued to have several of his passes tipped by defensive linemen. Largely due to his inexplicably poor play, the Bucs scored a mere 3 points in two games.
Life-Threatening Injury
Edit
Simms suffered a season-ending injury in Game 3 of the 2006 schedule. On Sunday, September 24, he was taken off the field after taking hard hits from the Carolina Panthers defense. Simms returned to the game and even led a successful scoring drive, but remained in physical distress and was taken to a nearby hospital after the game. Tests revealed a ruptured spleen, and Simms immediately underwent emergency surgery. In the aftermath, Simms said he lost five pints of blood before the operation and conceded that another 45 minutes without treatment could have been fatal. The injury was caused by an illegal hit from Al Wallace who was later fined by the NFL.[11] Simms has become a spokesman in the Tampa area for blood donations.[12] Playing on a one-year/$2.1 million contract signed before the season, Simms was eligible for free agency for 2007.
On December 27, 2006, Simms announced that he had signed a two-year extension to remain with the Buccaneers with the expectation that he would start. However, due to complications from his recovery and the performance of Jeff Garcia in mini-camp, Simms was expected to serve as a backup to Garcia.[13] On October 9, Simms was placed on Injured Reserve for the rest of the season.[14] The Bucs were expected to keep Simms on the roster for mini camp as their fifth quarterback.
Simms' relationship with head coach Jon Gruden worsened significantly during this period. Simms attributed his lack of playing time to how Gruden treated Simms during his recovery from spleen injury. He has even said that "The relationship between me and coach Gruden, it's broken," Simms said. "And I don't see any way it's going to get better." Simms also said that he will never forgive Gruden, although he still respects the Buccaneers as an organization.[15]
On August 30, the Tampa Bay Buccaneers released Simms. He worked out with the Baltimore Ravens during the preseason but was not signed.
First stint with Titans
Edit
Simms signed with the Tennessee Titans on September 9, 2008 after starter Vince Young was sidelined with a sprained MCL.[16] In Young's absence, Simms served as the backup quarterback behind Kerry Collins until October 3, when Simms was released to make room for punter Josh Miller. Simms was re-signed the following week on October 6.
Denver Broncos
Edit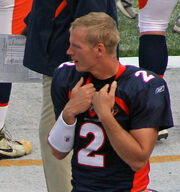 On March 4, 2009, Simms signed a two-year, $6 million contract with the Denver Broncos. The deal included a $1.5 million signing bonus and Simms could have earned an additional $3 million through incentives. He was the backup quarterback to Kyle Orton. However, he took over in the second half of a game against the Washington Redskins after Orton left with a sprained ankle, and eventually gave up the lead to the Redskins while going 3-13 passing for 13 yards with no touchdowns and one interception. He started against the San Diego Chargers on November 22, 2009 but was quickly replaced by Orton in the second quarter after going a disappointing 2 for 4 for only 10 yards. He was released on March 15, 2010 after the Broncos traded for Brady Quinn.[17]
Second stint with Titans
Edit
On April 12, 2010, Simms was re-signed by the Tennessee Titans.[18]
On September 4, 2010, Simms was cut from the Titans roster. On November 22, 2010, he was re-signed to backup quarterback Rusty Smith, after the season ending injury to Vince Young.
Career statistics
Edit
Year
Games
Passing
Rushing
Comp
Att
Pct
Yards
TDs
Int
Rating
Att
Yds
Avg
TD
2003
0
0
0
0.0%
0
0
0
0.0
0
0
0.0
0
2004
5
42
73
57.5%
467
1
3
64.1
7
14
2.0
0
2005
11
191
313
61.0%
2,035
10
7
81.4
19
31
1.6
0
2006
3
58
106
54.7%
585
1
7
46.3
4
7
1.8
1
2007
0
0
0
0.0%
0
0
0
0.0
0
0
0
0
2008
1
1
2
50.0%
7
0
0
58.3
0
0
0.0
0
2009
2
5
17
29.4%
23
0
1
15.1
0
0
0
0
Totals
22
297
511
58.1%
3,117
12
18
69.1
30
52
1.7
1
Coaching career
Edit
Simms was hired as a coaching assistant by the New England Patriots on March 26, 2012.[19] It is unknown what role Simms holds with the team, as he was not listed in the Patriots release of coaching positions.
Simms married Danielle Marie Puleo in August 2004, whom he first met in high school.[20] In 2006, Danielle gave birth to a girl.
On July 1, 2010, Simms was arrested on charges of driving while intoxicated with marijuana in New York.[21] In May 2011, Simms was acquitted on charges of DWI.[22]
His younger brother, Matt Simms,[23] was a quarterback at the University of Louisville before transferring to El Camino College, a junior college in Torrance, California. Matt signed a letter of intent to transfer and play for the University of Tennessee on December 16, 2009.[24] Matt was Tennessee's starting quarterback until November, 2010 when Tyler Bray replaced him. On May 6, 2012, Matt Simms was signed to a rookie contract with the New York Jets.[25]
References
Edit
↑ 1.0 1.1 Davis, Ken. "RUTGERS FANS HOLD A HOMECOMING BARBECUE FOR RETURNING SON CHRIS SIMMS TAKES HIS PLACE ON THE GRILL", Hartford Courant, September 15, 1999. Accessed May 26, 2011. "Freshman quarterback Chris Simms learned that Saturday. The son of former Giants quarterback Phil Simms, he grew up in Franklin Lakes, N.J., and played at Ramapo High School, where he was USA Today's high school offensive player of the year in 1998."
↑ "Simms Grows Up With Son". Daily News (New York). January 31, 1999. http://www.nydailynews.com/archives/sports/1999/01/31/1999-01-31_simms_grows_up_with_son.html.
↑ "Individual Passing Records" (PDF). MackBrown-TexasFootball.com. December 2006. http://www.mackbrown-texasfootball.com/doc_lib/records_ind_passing.pdf

. Retrieved 2007-01-25

.
↑ "St. Pete Times". Sptimes.com. http://www.sptimes.com/2004/10/06/Bucs/Future_is_now_for_Buc.shtml

. Retrieved 2010-09-22

.
↑ "Buccaneers' Team Website". Buccaneers.com. http://www.buccaneers.com/news/newsdetail.aspx?newsid=4785

. Retrieved 2010-09-22

.
↑ "FOX Sports". Msn.foxsports.com. 2010-08-26. http://msn.foxsports.com/nfl/story/6921568

. Retrieved 2010-09-22

.
↑ "" (2006-12-08). "YouTube Video". Youtube.com. http://www.youtube.com/watch?v=v8G0XVjQ35k

. Retrieved 2010-09-22

.
↑ "ESPN Gruden Hitches Future to Garcia". Sports.espn.go.com. 2007-06-21. http://sports.espn.go.com/nfl/columns/story?columnist=paolantonio_sal&id=2911482

. Retrieved 2010-09-22

.
↑ "News". Buccaneers.com. http://www.buccaneers.com/news/newsdetail.aspx?newsid=6055

. Retrieved 2010-09-22

.
↑ "Simms Calls Relationship With Gruden "Broken"". Tboblogs.com. 2008-06-09. http://www.tboblogs.com/index.php/sports/comments/simms-calls-relationship-with-gruden-broken/

. Retrieved 2010-09-22

.
↑ Clayton, John (2008-09-10). "Sprained MCL to keep Titans' Young out of lineup". ESPN. http://sports.espn.go.com/nfl/news/story?id=3578695

. Retrieved 2008-10-04

.
↑ Klis, Mike (March 15, 2010). "Broncos cut quarterback Chris Simms". The Denver Post. http://www.denverpost.com/ci_14679399

. Retrieved 2010-03-15

.
↑ Smith, Michael David (April 12, 2010). "Titans add Chris Simms". Profootballtalk.com. http://profootballtalk.nbcsports.com/2010/04/12/titans-add-chris-simms/

. Retrieved 2010-04-12

.
↑ "Chris Simms hired by New England". Boston Globe. 2012-03-26. http://articles.boston.com/2012-03-26/sports/31241246_1_chris-simms-new-england-coaching

. Retrieved 2012-05-10

.
↑ "NYT Wedding Accouncements". New York Times. 2004-08-08. http://query.nytimes.com/gst/fullpage.html?res=9B05E1DD133CF93BA3575BC0A9629C8B63

. Retrieved 2010-09-22

.
↑ Italiano, Laura; Schram,Jamie; and Aier, Doug (July 1, 2010). "Chris Simms arrested for driving while stoned". nypost.com. http://www.nypost.com/p/news/local/manhattan/chris_simms_arrested_on_driving_wWRUJkveAVjo84Cvb6q2kO

. Retrieved 2010-07-01

.
↑ Associated Press (May 4, 2011). "New York jury acquits Chris Simms". espn.com. http://sports.espn.go.com/nfl/news/story?id=6478409

. Retrieved 2011-05-04

.
↑ Matt Simms. "Player Bio: Matt Simms - University of Louisville Official Athletic Site". Uoflsports.cstv.com. http://uoflsports.cstv.com/sports/m-footbl/mtt/simms_matt00.html

. Retrieved 2010-09-22

.
↑ "Source: Junior college quarterback Matt Simms, son of Phil Simms, commits to Tennessee - ESPN". Sports.espn.go.com. 2009-12-16. http://sports.espn.go.com/ncaa/recruiting/news/story?id=4748144

. Retrieved 2010-09-22

.
↑ Vrentas, Jenny. "Jets sign QB Matt Simms, son of Phil Simms". nj.com. http://www.nj.com/jets/index.ssf/2012/05/jets_sign_qb_matt_simms_son_of.html

. Retrieved May 6, 2012

.
External links
Edit
ESPN RISE National High School Junior Football Player of the Year
Community content is available under
CC-BY-SA
unless otherwise noted.