The Chicago Enforcers were a short-lived American football team based in Chicago, Illinois at Soldier Field. This team was part of the failed XFL begun by Vince McMahon of World Wrestling Entertainment and by NBC, a major television network in the United States. NBC dropped the XFL concept after the first season in 2001 due to dismal ratings, and the dissolution of the league was announced shortly afterwards.
---
---
The team name references mob enforcers, alluding to Chicago's history of mafia influence (see, for instance, Al Capone) and continuing a theme of naming teams with themes of evil, insanity, or criminal activity ("Enforcers" falling into the last of these categories).
Originally, rumors swirled that former Chicago Bears defensive coordinator and Philadelphia Eagles head coach Buddy Ryan would be hired as the team's coach[1]; ultimately, Hall of Fame linebacker Dick Butkus was hired for the position. However, just before the season started, he resigned to take a position in the XFL office. He was replaced by coaching veteran Ron Meyer.
Among their players was former NFL running back LeShon Johnson, who had played for the Green Bay Packers, Arizona Cardinals and the New York Giants. He was starting tailback for the Cardinals for most of 1996. He led the Enforcers with 6 rushing touchdowns, which was second in the league. They also had former NFL running back John Avery who played for the Miami Dolphins. Their wide receiver/kick returner Roell Preston (who previously played for the Atlanta Falcons, Green Bay Packers, Miami Dolphins, San Francisco 49ers, and Tennessee Titans) held the distinction of being the only former Pro Bowler (1998 as a Packer) to play in the XFL. The team's starting right guard, Bennie Anderson, went on to be a starter for the Baltimore Ravens and Buffalo Bills, and last played professional football in 2006 for the Miami Dolphins.
The Enforcers got off to a slow start, losing their first four games with Tim Lester, who prior to joining the XFL was (as frequently noted) a math teacher, at starting quarterback. In week 5, the team replaced Lester with the former Notre Dame Quatrerback Kevin McDougal and the team went 5-1 in the rest of the season (winning their last four in a row), coming from behind to make the XFL playoffs at 2nd place in the Eastern Division. In addition to their potent rushing attack led by league leading running back John Avery, they were also known for their hard hitting defense. They lost to eventual XFL champion Los Angeles Xtreme in the crossover semifinals.
The Enforcers were part of the Eastern Division with the Orlando Rage, New York/New Jersey Hitmen and the Birmingham Thunderbolts. Their radio flagship station was WMVP, ESPN Radio 1000.
Chicago Enforcers Players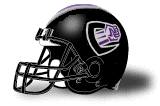 5 Paul Failla QB college (Notre Dame & Indiana (pa)) Failla played minor league baseball in the Anaheim Angels farm system before returning to college and to football with U-Of-Indiana in Penn. Failla saw playing time in the NFL and the Arena FL with the Carolina Panthers and the New Jersey Red Dogs.
83 Aaron Bailey WR college (Louisville) Bailey was a vet of five NFl seasons before joining the XFL playing with the Indianapolis Colts 1994-1998
87 Roell (Goat) Preston WR college ( Northeast Miss. C.C & Mississippi) Preston played five years in the NFL with five different teams after two seasons each in Atlanta (1995–96) and Green Bay (1997–98) Preston played with three teams in his fifth NFL season starting with Miami then San Francisco and finally Tennessee.
24 Corey Ivy CB college (Northeast Ok. A&M J.C & Oklahoma) Ivy saw little playing time in the NFL with New England and Cleveland before joining the XFL. After the XFL Ivy played in the NFL for five seasons with two different teams 2001-2004 with Tampa Bay and a year in St. Louis with the Rams in 2005.
20 John (Duna) Avery RB college (Northwest Miss. C.C & Mississippi) A former first-round pick, Avery played two seasons in the NFL before joining the XFL. Avery played with Miami in 1998 then Denver and Miami in 1999. After the XFL Avery returned to the NFL with the Minnesota Vikings in 2003. Avery is better known for his contributions to the Toronto Argonauts, for whom he played from 2004 to 2007.
?? Julian Pittman DT college (Florida State) Pittman played in the NFL with the New Orleans Saints in 1998
19 Thomas Molloy QB college (Rutgers) Once considered a first round draft pick, lost his eligibility for the NFL when he was on trial for the murder of Darious Colemon. Molloy was on pace for a record books year in the XFL until he suffered career ending knee surgery.
?? Quincy Coleman ?? college (Jackson State)
88 Zechariah Lord WR college (Guilford College) Lord played in NFL Europe with the Amsterdam Admirals
86 Tyji Armstrong TE college (Mississippi) A NFL vet of six seasons Armstrong played four seasons in Tampa Bay 1992-95 then a season in Dallas in 1996 before returning in 1998 with St.Louis
13 Tim Lester QB Led the nation in passing touchdowns his senior year. Also was noted by his coaches to be one of the most talented player they have ever seen. Took pride in tongue lashing his opponents and making them feel like dirt. Lester had been out of football for a fairly long time and had taken up a full-time job as a math teacher at the time he was picked up by the Enforcers. Nickname: God or just "The Cannon" college (Western Michigan)
53 Jaime Baisely ILB College (Indiana) Baisely was know for his hits on special teams as well as defense. He took advantage of the XFL's rules on fielding punts and was able to time several bruising hits on potential kick returners. One in particular was in Week 6 at Memphis where he flattened Maniax PR Damien Dodson.
?? Chike Egbuniwe OLB college (Duke)
?? Charles Ward DE college (Kentucky)
?? Jason Bray DB college (Auburn)
?? Octavius Bishop T college (Texas)
Team leaders
Rushing Yards: 800

John Avery

(league leader)
Receiving Yards: 546 Aaron Bailey
Passing Yards: 4580 Tim Lester
Passing Touchdowns: 48 Tim Lester
References
↑

"XFL May Bring Buddyball to Soldier Field"; Greg Couch, Chicago Sun-Times; June 13, 2000
External links