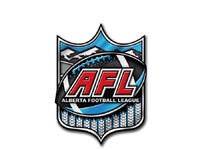 The Alberta Football League (AFL) is an amateur Canadian football league. For the 2010 season, 8 teams competed for the league championship. The league's schedule runs from the start of June through to the end of September.
The Alberta Football League was established in 1984 so that men over the age of 21 could continue to play organized competitive football within the province of Alberta. Before the creation of the league, the only way to play competitive football after university or junior was the Canadian Football League.
In 1984–85 the league consisted of seven teams. They were: the Calgary Raiders, the Calgary Cowboys, the Calgary Crude, the Red Deer Redskins, the Rocky Warriors, the Hinton Grizzlies, and the Brownfield Bruisers.
Today in 2010 the league consists of eight teams. They are: the Calgary Gators, the Calgary Wolfpack, the Red Deer Buccaneers, the Lloydminster Vandals (the only team to be based outside the province of Alberta), the Grande Prairie Drillers, the Edmonton Stallions, the Lancaster Legion (Canadian Forces Base Edmonton), and the Sherwood Park Renegades.
In 1999, the AFL became a founding member of the Canadian Senior Football League, which is now known as the Canadian Major Football League. The CMFL is the national governing body for semi-pro Canadian football. Every September the AFL champion meets the champions of the other semi-pro leagues across the country to determine the national champion.
Team
City
Established

Sid Forster Memorial Trophy

CMFL Championships

Plaunte Memorial Trophy

(NFC) Championships
Notes

Kingston Privateers

Trenton, Ontario

2001
0
0
Changed its name from Belleville to Quinte-Limestone in 2004. Then in 2008 changed their name to Kingston Privateers

Milton Marauders

Milton, Ontario

2002
1
1

North Bay Bulldogs

North Bay, Ontario

1992
0
0
Bought equipment from the Brampton Bulldogs

Brampton

.

Oakville Longhorns

Oakville, Ontario

1978
3
14

Oshawa Hawkeyes

Oshawa

, Ontario
2001
1
1

Sarnia Imperials

Sarnia, Ontario

2006
0
0
Sudbury Spartans

Sudbury

, Ontario
1952*
0
18
Changed its name from Hardrocks to Spartans in 1967. *Suspended Operations for 2007.

Sault Ste. Marie Steelers

Sault Ste. Marie, Ontario

1996
1
5
Changed its name from Storm to Steelers in 2003.

Toronto Maddogs

Toronto, Ontario
2001
0
0
Changed its name from Megacity Maddogs to Toronto Maddogs in 2006.

Toronto Raiders

Toronto, Ontario
1992
0
0
Changed its name from Toronto Eagles to Markham Raiders in 1998 and from Markham to Toronto in 2006.

Tri-City Outlaws

Kitchener, Ontario

2003
0
1
New Brunswick Senior Football League
Defunct Teams
Team
City
Existence
CMFL Championships
AFL/MFL/NFC Championships
League
Notes

Bramalea Satellites

Bramalea, Ontario

1973-74
0
2
Northern Football Conference

Brampton Bears

Brampton

, Ontario
1985-95
0
1
Northern Football Conference

Calgary Cowboys

Calgary, Alberta
1984-88; 1991–96
0
1
Alberta Football League
Calgary Coyotes
Calgary, Alberta
2001-03
0
0
Alberta Football League
Calgary Crude
Calgary, Alberta
1984-92
0
0
Alberta Football League
Calgary Raiders
Calgary, Alberta
1985-88
0
4
Alberta Football League
Calgary Razorbacks
Calgary, Alberta
2004-05
0
0
Alberta Football League
Calgary Thunder
Calgary, Alberta
2000-07
0
1
Alberta Football League

Deep River Rams

North Renfrew, Ontario

1956
0
1
Northern Football Conference

East Side Eagles

Winnipeg, Manitoba
0
Manitoba Football League
Edmonton Icemen
Edmonton, Alberta
1995–2004
0
0
Alberta Football League
Edmonton Seminoles
Edmonton, Alberta
1993-94
0
0
Alberta Football League

Etobicoke Argonauts

Etobicoke, Ontario

1978
0
0
Northern Football Conference

Hamilton Wildcats I

Hamilton, Ontario
1978-84
0
3
Northern Football Conference
Moved from

Stoney Creek

to Hamilton and changed its name from

Stoney Creek Patriots

to

Hamilton Wildcats

in 1982.

Hamilton Wildcats II

Hamilton, Ontario
1995-96
0
0
Northern Football Conference

Kirkland Lake Kougars

Kirkland Lake

, Ontario
1954-67
0
0
Northern Football Conference
Changed name from Alouettes to Kougars in 1968.

Laurentian Voyageurs

Sudbury

, Ontario
1972-73
0
0
Northern Football Conference

Medicine Hat Maurauders

Medicine Hat

, Alberta
2004-08
0
0
Alberta Football League

Mississauga Wolverines

Mississauga

, Ontario
2001-03
0
0
Northern Football Conference

North Bay Northmen

North Bay, Ontario

1954-82
0
4
Northern Football Conference
Changed name from Roughriders to Ti-Cats and from Ti-Cats to Northmen in 1980.
Okotoks Bearcats

Okotoks, Alberta

1995-97
0
0
Alberta Football League

Orillia Silver Bombers

Orillia

, Ontario
1976-80
0
0
Northern Football Conference

Peterborough Packers

Peterborough, Ontario

1997-99
0
0
Northern Football Conference
Red Deer Redskins

Red Deer, Alberta

1985-87
0
0
Alberta Football League
Red Deer Sooners

Red Deer, Alberta

1987-99
0
4
Alberta Football League

Rouyn-Noranda Fantassins

Rouyn-Noranda

, Quebec
1955-57; 1961–62; 1965
0
0
Northern Football Conference

St. Vital Bulldogs

St. Vital, Manitoba

0
Manitoba Football League

Sault Ste. Marie Steelers

Sault Ste. Marie, Ontario

1972-88
0
4
Northern Football Conference

Scarborough Crimson Tide

Scarborough, Ontario

1992-94
0
0
Northern Football Conference

South Porcupine Falcons

Timmins

, Ontario
1966-69; 1971
0
0
Northern Football Conference

Sturgeon Falls Bombers

Sturgeon Falls, Ontario

1955-63; 1965–68
0
3
Northern Football Conference

Thunder Bay Storm

Thunder Bay

, Ontario
1998–2000
0
1
Manitoba Football League

Tri-Town Raiders

Cobalt

/

Haileybury

/

New Liskeard, Ontario

1954-56; 1959
0
0
Northern Football Conference

Val-d'Or Jets

Val-d'Or

, Quebec
1965-68; 1970
0
0
Northern Football Conference
Wainwright Longhorns

Wainwright, Alberta

2005-08
0
0
Alberta Football League

Westman Wild

Brandon, Manitoba

0
Manitoba Football League

Winnipeg Mustangs

Winnipeg, Manitoba
2
2
Manitoba Football League

Winnipeg Rods

Winnipeg, Manitoba
0
Manitoba Football League