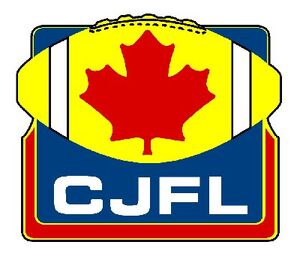 The Canadian Junior Football League is a national amateur Canadian football league consisting of 19 teams playing in six provinces across Canada. The teams compete annually for the Canadian Bowl. Many CJFL players have gone on to professional football careers in the CFL and elsewhere.
The CJFL's formal mission statement is: "The Canadian Junior Football League provides the opportunity for young men aged 17 to 22 to participated in highly competitive post-high school football that is unique in Canada. The goal of the league is to foster community involvement and yield a positive environment by teaching discipline, perseverance and cooperation. The benefits of the league are strong camaraderie, national competition and life-long friends."
A handful of standout players are typically signed directly to CFL rosters each season, while Canadian Interuniversity Sport permits up to two years of play in leagues such as the CJFL before a player begins to lose eligibility.
The 9-team Quebec Junior Football League was formerly part of the CJFL, but eventually withdrew and now operates independently.
Current Teams
Edit
B.C. Football Conference
Edit
Prairie Football Conference
Edit
Ontario Football Conference
Edit
Defunct Teams
Edit
External links
Edit
Community content is available under
CC-BY-SA
unless otherwise noted.