The California Golden Bears football team is the college football team of the University of California, Berkeley. The team plays its home games at California Memorial Stadium, however the team will play at San Francisco's AT&T Park in 2011 while Memorial Stadium is being renovated. Memorial Stadium was built to honor Berkeley alumni, students, and other Californians who died in World War I, and modeled after the Colosseum in Rome, Memorial Stadium was named one of the 40 best college football stadiums by the Sporting News.[4][5] The team also has produced two of the oddest and most memorable plays in college football: Roy "Wrong Way" Riegels' fumble recovery and run toward the Cal goal line in the 1929 Rose Bowl, and The Play in the 1982 Big Game with the winning kickoff return after five laterals. The current head coach is Jeff Tedford, who began his tenure in 2002.
---
---
Football was first played on the Berkeley campus in 1882, albeit in a form that resembled rugby. It was not until 1886 that American football began play. Football was put on hiatus in 1906 when it was decided by the administration that American football was too dangerous a sport and rugby once again took over the scene. Football returned for good in 1915 and Cal has fielded a team in every year since.
1920s "Wonder Teams"
Edit
The 1920s saw the first golden age of California football, as the Golden Bears went 50 straight games without a defeat from 1920 to 1925, with a record of 46 wins and 4 ties. As of 2010, this is the 3rd longest unbeaten (not to be confused with winning) streak in NCAA history. The 1920-1924 squads were so dominant that they were nicknamed "The Wonder Teams," and were coached by Andy Smith. One of the stars during this era was Brick Muller and the University later established a freshman leadership group called the Brick Muller Society. Cal won four Pacific Coast Conference championships and made three trips to the Rose Bowl during this decade, in 1921 (28-0 win over Ohio State), 1922 (0-0 tie with Washington & Jefferson College), and 1929 (8-7 loss to Georgia Tech). One of the most famous (or infamous) moments in college football history occurred in the 1929 Rose Bowl Game. In the second quarter, Cal's defense forced a Georgia Tech fumble on their own 30 yard line, and the loose ball was scooped up by Cal center Roy Riegels. He began to run towards the Georgia Tech end zone for a score, but then in trying to get around the Tech players he inexplicably turned around and headed in the other direction. Riegels advanced all the way to the Cal one yard line before teammate Benny Lom was able to stop him, whereupon he was immediately tackled by what seemed like the entire Georgia Tech team. Cal elected to punt on the next play; the punt was blocked for a safety, giving the Yellow Jackets a 2-0 lead and what turned out to be the decisive points.[6]
California football also achieved success in the 1930s, winning the PCC championship three times and appearing in the Rose Bowl in 1938, where they beat Alabama 13-0. Because of its staunch defense, the 1937 squad that went to the Rose Bowl was coined "The Thunder Team." In 11 games, Cal limited its opponents to only 33 points and 1,126 total yards.
1940s and 50s: Pappy's Boys
Edit
The early 1940s witnessed average success, but 1947 saw a dramatic turnaround as Lynn "Pappy" Waldorf became the head coach. Known as "Pappy's Boys," the Cal teams of 1947-1950 won 33 consecutive regular season games, earning three PCC championships and three Rose Bowl berths.[7] However Cal lost all three Rose Bowls (20-14 to Northwestern in 1949, 17-14 to Ohio State in 1950, and 14–6 to Michigan in 1951). Pappy Waldorf left Cal after the 1956 season, having compiled a record of 67-32-4. Cal again earned a conference title in 1958 and subsequently played in the 1959 Rose Bowl, where it lost to Iowa 38–12.
1960s to 80s: Campus turmoil and football mediocrity
Edit
The 1960s was a period of particular mediocrity. Marv Levy coached during the early 60's. Levy's best record during his four season tenure as head coach at Cal from 1960–1963 was 4–5–1. Cal had only one winning season (1968), although in that year after beating Syracuse Cal was ranked in the top 15. The coach during this era was Ray Willsey. Craig Morton, future Super Bowl quarterback for the Dallas Cowboys and Denver Broncos, was an All-American in 1964.
In 1972, Mike White was hired. After two losing seasons, he brought home three winning seasons over the next four. In 1975, behind an NCAA leading offense anchored by All Americans Chuck Muncie, Joe Roth, Wesley Walker, Steve Rivera and Ted Albrecht, the Golden Bears were co-Champions of the Pacific-8 Conference, but UCLA went to the Rose Bowl based on their head-to-head victory. Steve Bartkowski ('75) was another noted player who started for the Atlanta Falcons at quarterback. However, White left in a storm of controversy over recruiting violations. Roger Theder succeeded him and led the Bears to three winning seasons, but each was less successful than its predecessor. In 1979, Cal played in the Garden State Bowl, losing to Temple 28–17 after a 6–5 regular season.
The 1980s saw a return to mediocrity, with Cal posting only one winning season in the entire decade. Joe Kapp was the most famous coach in this period. Kapp had been the quarterback of the 1959 Rose Bowl team, and later led the Minnesota Vikings to the Super Bowl. Even so, he was not able to overcome the recruiting drag created by the off-field notoriety of the Berkeley campus. Of note, however, was the 1982 Big Game versus Stanford, which became famous for The Play. After Stanford had taken the lead on a field goal with four seconds left, the Golden Bears used five lateral passes on the ensuing kickoff return to score the winning touchdown and turn defeat into a 25-20 victory. The Play has been named by numerous media organizations as one of the best football, and even American sports, moments.[8]
1990s: A brief return of football success
Edit
Bruce Snyder arrived at Berkeley in 1987, and gradually turned the program around. He was able to recruit a number of outstanding players, such as Russell White, away from football powers such as USC and UCLA. The reemergence of Cal football as a thriving program was signaled by the October 19, 1991 game against the future national co-champion Washington Huskies. Cal lost 24–17 at home in a game that came down to the Bears' last possession deep in Husky territory and was probably the Huskies most difficult game that season. (The Oakland Fire erupted in the hills south of California Memorial Stadium that same day.) Cal football had some success in the early 1990s, earning three postseason bowl berths and winning all three. Cal beat Wyoming 17–15 in the Copper Bowl of 1990, Clemson 37–13 in the 1992 Citrus Bowl and Iowa 37-3 in the 1993 Alamo Bowl. Snyder resigned before 1992 bowl game to take a position at Pac-10 rival Arizona State. The Golden Bears attempted to steal some of the Huskies' magic by hiring away assistant Keith Gilbertson, but he delivered only one winning season in the next four.
After the loss of momentum, Cal hired Green Bay Packers assistant Steve Mariucci for the 1996 season. He led the Bears to a winning regular season (losing to Navy in the Aloha Bowl 42–38), but the San Francisco 49ers struck yet again (as with Waldorf) and hired away Mariucci as head coach for 1997, ending the promise of an early Cal revival. The rest the late 1990s saw little success, and the down period reached its nadir in 2001 when the Bears managed only one victory the entire season. The win came in the final game of the season in New Jersey against Rutgers, which was a re-scheduled game due to the September 11, 2001 attacks. Much-maligned coach Tom Holmoe resigned in November of this season and was replaced with Jeff Tedford, previously the offensive coordinator for the Oregon Ducks. Worse yet, Cal lost seven straight games to archrival Stanford.
Tedford Era
Edit
California began a renaissance under Tedford, who dramatically turned around the long-suffering program. Under Tedford the Golden Bears posted eight consecutive winning seasons, a feat that hadn't been accomplished since the days of Pappy Waldorf.[9] After being ruled ineligible for a bowl game in 2002 due to academic infractions under the previous administration, Cal has also appeared in seven straight bowl games.
The Jeff Tedford era began with a bang, as California defeated Baylor 70–22, and went on to finish 7–5, their first winning season since 1993. The 2002 team defeated three nationally ranked opponents on the road for the first time in school history including Cal's first win over conference foe Washington in 26 years, and won the annual Big Game against archrival Stanford for the first time in eight years.
In 2003 the Golden Bears posted an 8–6 record, highlighted by a dramatic 34-31 triple-overtime victory over No. 3 ranked and eventual national co-champion USC. This victory revived a long moribund rivalry with the Trojans, even as the Trojans reemerged as a national power under Pete Carroll. In the Insight Bowl, the Bears edged Virginia Tech 52–49 on a last-second field goal.
2004 Bowl Championship Series controversy
Edit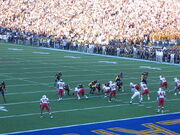 In 2004, the Bears posted a 10–2 record under Tedford and quarterback Aaron Rodgers, with their only regular season loss coming against the eventual national champion, USC. California finished the regular season ranked No. 4 according to polls, and appeared to have an excellent chance to receive an at-large BCS bowl berth, most likely in the Rose Bowl. Under normal circumstances, the Bears, as Pac-10 runner-up, would have had first crack at a Rose Bowl berth since conference champion USC was playing for the national championship.
Nonetheless, in a controversial case, the Texas coach Mack Brown made impassioned pleas to media asking poll voters reconsider their final votes. 10-1 Cal was mysteriously rated as low as 7th by some coaches, and Texas received an increase in votes in the last Coaches Poll of the season despite Cal's win in their final game, allowing the Longhorns to pass the Bears into the No. 4 spot in the BCS rankings and guaranteeing Texas the BCS berth. As a result heavy of lobbying of their reporters, the Associated Press poll withdrew from the BCS immediately afterward. The Longhorns went on to beat Michigan 38–37 in the Rose Bowl, while Cal was upset by No. 21 Texas Tech 45–31 in the Holiday Bowl and finished the season ranked No. 9.
The next year saw inconsistent quarterback play and an overall inexperienced roster. Nate Longshore, who was chosen to succeed Aaron Rodgers, who had left for the NFL, sustained a season-ending injury in the season's first game against Sacramento State. He was succeeded by junior transfer Joe Ayoob, who started nine games and went 5-4. Third string quarterback Steve Levy replaced Ayoob as the starter for the Big Game, leading the Bears to victory. Cal finished 8-4 and earned a berth in the 2005 Las Vegas Bowl, beating BYU 35–28.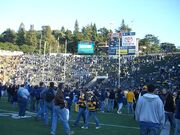 In 2006, Cal went on to post a 10–3 (7–2 in Pac-10) record. Despite falling to the Tennessee Volunteers in their first game of the season in Knoxville, the team rebounded, winning eight straight games, including impressive victories over the 20th ranked Arizona State and the 11th ranked Oregon at home. Two losses followed with a November 11, upset 24–20 by Arizona and a 23-9 defeat by USC, which cost Cal its Rose Bowl bid.
In the final game of the regular season on December 2, Cal defeated Stanford 26-17 in the 109th Big Game for the fifth straight time. Coupled with UCLA's upset of reigning conference champion USC on the same day, the victory earned Cal its first share of the Pac-10 championship since 1975.[10] Cal accepted an invitation to the 2006 Holiday Bowl, its second appearance there in three years. Cal routed Texas A&M 45-10, the largest margin of victory for a bowl game in the 2006-2007 season, and finished with a No. 14 ranking, an improvement from the No. 20 spot that it started with at the beginning of the season.
Cal began the 2007 season ranked 12th in both the AP/USA Today Polls. In a nationally televised game on September 1, the Bears defeated Tennessee 45-31. The Bears rose in the polls following subsequent victories against Colorado State, Louisiana Tech, and Arizona. Cal's defeat of then No. 11 Oregon in Eugene 31-24, combined with a series of losses from Oklahoma, Florida, and West Virginia, allowed Cal to break into the top five. Cal had a bye the following week, but as a result of Stanford's surprise upset of then No. 2 USC on October 6, the Bears were ranked No. 2 in the country in the AP, Coaches, and Harris polls behind No. 1 LSU. This was the highest the team had been ranked since 1951.[11]
With the Kentucky upset of LSU on October 13, the Bears had a shot at being the number one team in the nation along with Ohio State, but an upset loss to unranked Oregon State that same night dashed any hopes of a top ranking. The loss marked the beginning of a reversal in the second half of the season which saw the Bears winning only one game out of the next six and dropping out of the Top 25 entirely. The Bears lost to Washington for the first time in five years and to Stanford on the 25th anniversary of The Play, which resulted in the Cardinal regaining The Stanford Axe for the first time in six years under first year head coach Jim Harbaugh. Cal accepted an invitation to the 2007 Armed Forces Bowl against Air Force on December 31, where post a 42–36 victory to end the season 7-6. Before the season even ended, Tedford declared there would be open competition for all positions on the team in 2008 and reevaluate every aspect of Cal's football program.[12][13] Tedford made several coaching changes, most notably relinquishing offensive coordinator duties and hiring Frank Cignetti to playcall and take over quarterback coaching duties.[14]
Cal's 2008 campaign was marked with diminished expectations, as all of Cal's offensive stars at their skill positions (DeSean Jackson, Lavelle Hawkins, Robert Jordan, Justin Forsett and Craig Stevens) graduated or declared for the NFL Draft. Thus the Bears started the season unranked for the first time since 2003.[15] Their 2008 season would confirm this ranking, as they would finish the season undefeated at home but would only win one game on the road. The Bears won their opening game at home against Michigan State 38-31 and eviscerated Washington State in Pullman 66–3, but fell to Maryland 35–27 in College Park. The Bears won two straight home games against Colorado State and Arizona State but fell in the desert to Arizona. Although the Bears still controlled their destiny in the Pac-10 after two more home wins against UCLA and Oregon, two close losses to Pac-10 champion contenders USC and Oregon State on the road put an end to those hopes. Cal reclaimed the Axe by beating Stanford 37–16 in the 111th Big Game and kept Washington's season winless with a 48-7 victory. Cal finished the regular season 8–4 as Tedford claimed his seventh consecutive winning season for the Golden Bears and third unbeaten home record in five years. The Bears accepted an invitation to take on the Miami Hurricanes at the 2008 Emerald Bowl, which they won 24–17.
Cal began the 2009 season with early wins over Maryland, Eastern Washington, and Minnesota. However the team struggled with consistency, losing to Oregon and USC, then rebounding to defeat UCLA, Washington State, and Arizona State. Following a loss to Oregon State, Cal managed to upset Pac-10 title contender Arizona. Cal also upset Stanford in the Big Game. The season however ended on a low note with consecutive losses to Washington to end the regular season and Utah in the Poinsettia Bowl. The loss to Utah snapped a four bowl game winning streak going back to 2004. The Bears also did not produce a 1,000 yard rusher for the first time since 2002. The end of the season saw some coaching changes. Cal hired Jeff Genyk as special teams coach to replace the fired Pete Alamar, and Clancy Pendergast as defensive coordinator to replace Bob Gregory, who departed for Boise State.
Tedford surpassed the legendary Pappy Waldorf to become the Cal head coach with the most career victories when the Bears blew out UC Davis 52-3 in the season opener. Despite early successes however, the team had an inconsistent season. After starting senior quarterback Kevin Riley sustained a season-ending knee injury in a loss to Oregon State, Cal had only one win in the final four games, edging out Washington State for the team's sole road victory. The Bears finished the season on a three-game losing streak, getting edged out 15-13 by #1 Oregon, losing the Stanford Axe to archrival #8 Stanford in a 48-14 blowout, and sustaining a last second defeat by Washington. The team finished 5-7, Tedford's first losing season and the team's first losing season since 2001,[16] failing to become bowl-eligible for the first time during Tedford's tenure as head coach. Cal was ranked only once during the season with a No. 24 spot in the Coaches' Poll. One bright spot for the season was running back Shane Vereen going over the 1,000 rushing yard mark, as he finished with 1,167 yards.
National Championships
Edit
The NCAA's website states that "the NCAA does not conduct a national championship in Division I-A football and is not involved in the selection process." It goes on to say that "a number of polling organizations provide a final ranking of Division I-A football teams at the end of each season." California recognizes 5 national championships as recognized by other major polling entities.[17]
Year
Coach
Selector
Record
Bowl
Result
1920
Andy Smith
Billingsley, Football Research, Helms, Houlgate, National Championship Foundation
9-0
Rose Bowl
Cal 28, Ohio St. 0
1921
Andy Smith
Boand, Football Research
9-0-1
Rose Bowl
Cal 0, Washington & Jefferson 0
1922
Andy Smith
Houlgate, National Championship Foundation
9-0
--
--
1923
Andy Smith
Houlgate
9-0-1
--
--
1937
Stub Allison
Dunkel, Helms
10-0-1
Rose Bowl
Cal 13, Alabama 0
Total national championships:
5
Coaching history
Edit
* From 1906 to 1914, rugby was played instead of football. Cal's 13th coach was Oscar Taylor from 1906-08. Cal's 14th coach, James Schaeffer, coached rugby from 1909–14 and football in 1915.
Bowl history
Edit
Bowl history
Edit
Cal's All-Century Football Team
Edit
chosen by Contra Costa Times, Walnut Creek, CA, November 18, 1999
Offense

Defense

DL: Brick Muller (1920-22) Two-time All-American led ferocious defense and threw 50-yard touchdown pass in 28-0 win over Ohio State on Jan. 1, 1921, Cal's first Rose Bowl win.
DL: Stan Barnes (1918-21) Another Wonder Team member gets narrow nod over Pittsburg High School's Regan Upshaw.
DL: Ed White (1966-68) One of best NFL offensive linemen ever was four-time Pro Bowler and played in four Super Bowls with Vikings.
DL: Sherman White (1969-71) Didn't play in high school football, but was all-conference pick in 1970 and '71, and was first-round pick of Cincinnati Bengals in 1972.
LB: Ron Rivera (1980-83) Consensus All-American in 1983 holds Cal single-season records for tackles for loss (26.5) and sacks (13).
LB: Sekou Sanyika (1996-1999) Hercules resident is Cal's all-time leader in tackles for loss and is expected to be first-round NFL draft pick next spring.
LB: Matt Hazeltine (1951-54) Two-time All-American played with 49ers from 1955-68.
DB: Carl Van Heuit (1949-50) Gifted athlete averaged 11.1 yards per punt return while helping Cal go to back-to-back Rose Bowls in 1950 and '51. Was All-American in 1950.
DB: Ken Wiedemann (1967-69) School's all-time interception leader with 16.
DB: Deltha O'Neal (1996-[1999]) Four interceptions returned for touchdowns this season set NCAA record.
DB: Jackie Jensen (1946-48) First Cal player in history to rush for more than 100 yards in a game. Had five carries for 109 yards in 47-14 rout of Washington State on Nov. 2, 1946.
P: Nick Harris (1997-[2000]) Averaging 42.6 yards per punt despite many pooches. Sure NFL player.
UTL: Walter Gordon (1916-18) Could play any position on the field better than anyone else.
Coach

Andy Smith (1916–25) Never had losing season while going 74-16-7 in 10 seasons at Cal. Record included 7-0-1 mark against USC and 6-1-1 ledger in Big Game. Beat USC 12-0 on Oct. 28, 1922, in first game played at the Rose Bowl.
Current NFL Players
Edit
References
Edit
External links
Edit
Community content is available under
CC-BY-SA
unless otherwise noted.