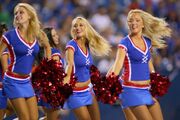 Buffalo Jills

250px

General Information

Team
Buffalo Bills
Established
1967
Director
Stephanie M
Members
39
Defunct
N/A
Captain
4 with 4 co-captains

History

Cheerleaders (1960-1965)
Buffalo Jills (1967- Present)

Alternate logo

External links
The Buffalo Jills are the cheerleading squad for the Buffalo Bills professional American football team.[1]
The Bills had cheerleaders in 1960 known simply as the Buffalo Bills Cheerleaders. At the time, they were a group of eight Buffalo State College cheerleaders. They ran this squad until 1965 and went without cheerleaders in 1966. In 1967, the Buffalo Jills were founded and have progressed from a few young men in wool uniforms to a squad of 43 young ladies in more-revealing attire.
They have annually sold a swimsuit calendar since the 2000-2001 season[2] and participate in various events in the Western New York area. Troop visits are a regular occurrence as well and a group of eight girls spent February 22 - March 4, 2007, visiting troops in Iraq, the only NFL squad on that tour at the time.[3]
Unlike some squads, the Jills are not sponsored by the NFL team for which they cheer. The squad is instead sponsored by a collection of smaller sponsors as an independent organization. Although the Bills' radio network was a prominent sponsor of the squad during the ownership of Citadel Broadcasting, the network has since changed hands and abandoned its sponsorship of the squad.
In 2002, the new director instituted an Ambassador Squad, a group of 8-12 Buffalo Jills who did not dance on the sidelines and field. This was not only to allow the squad to more easily meet the demands of all the public appearances they were asked to make, but allowed more young women to make the squad. The Ambassador Squad Jills became a good way to contribute for young women who either did not have the dancing ability required to make the field, or did not have the free time to attend all of the dance squad practices.
In 2006, a pair of Jills swept their first round events in the first year of the NFL Cheerleader Playoffs before falling in the second round.
In 2008, the Jills were the first NFL squad to be multi-national, performing at "home" games both in Orchard Park, New York, and in Toronto, Ontario.
Notable members
References
External links