---
---
The Buffalo Bulls football program is the intercollegiate American football team for the University at Buffalo located in the U.S. state of New York. The team competes at the NCAA Division I level in the Football Bowl Subdivision and is a member of the Mid-American Conference. Buffalo's first football team was fielded in 1894. The team plays its home games at the 31,000 seat UB Stadium on University at Buffalo's north campus in Amherst, New York. The team's main rival are the Temple Owls. The Bulls are coached by Jeff Quinn.[1]
UB's first run with football started in 1894 and lasted until 1970, when the football program was suspended due to the student body's vote to stop funding the program. The football program was reintroduced in 1977. When reintroduced, the team played in Division III level football until 1992. In 1993, the school made the jump to Division I-AA. In 1999, the Bulls moved up again to Division I-A Bowl Subdivision level football.
The early years: 1894–1903
Edit
In 1894, UB established an athletics association and fourteen UB Medical students formed the first UB football team.[2] This team played until 1903 with a record of 28-7-13. The team managed this despite lacking a coach for all but two of those years. In 1897, C. W. Dibble coached UB to a perfect 7-0-0 record and in 1903, Ray Turnbull led the UB team to a 3-3 record. After the 1903 season, UB would not again put a team on the field until 1915.
The UB Bisons: 1915–1930
Edit
In 1915, UB re-established the football program and instituted men's basketball. Both teams were named the 'Bisons' and used as their logo a caricature of a male American bison, often outfitted in a UB jersey. Frank Pleasant was called on to coach the football team but was replaced the following season after a 3-3 record. Art Powell would take over in 1916 and coach the team for six seasons (13-22-5). UB would go through two coaches in a span of two years - Jim Batterson in 1922 and James Bond in 1923 - before Russ Carrick would take over, serving five seasons despite winning only five games (while losing 30 and garnering two ties). The team would last be known as the Bisons under the command of Jay "Biffy" Lee, who coached for two seasons (until 1930), leading UB to a 8-7 record.
Welcome the Bulls: 1930–1942
Edit
In 1931, the University changed its mascot to the Bulls in order to distinguish UB from professional teams in the Queen City. The Bulls played every year until the outbreak of World War II mainly under the coaching guidance of Jim Peelle who was at the helm from 1935-1942 and would lead the Bulls to a 38-34-1 record including a 6-2 season in 1942.
Post-World War II: 1946–1954
Edit
After World War II, UB again took to the grid-iron under Jim Peelle, who led UB in two impressive seasons of 7-2 (1946) and 8-1 (1947), but were not selected to a bowl in either season. The program was next taken over by Frank Clair, who coached for two seasons, leaving with an impressive mark of 12-4-1. The following season represented one of the low points for UB when, under the guidance of coach Frtiz Febel, UB won only four games in three years with an overall record of 4-19-1.
Offenhamer era: 1955-1965
Edit
If the Febel season can be seen as one of the low points in UB football history, then Dick Offenhamer brought in UB's most successful era when from 1955 to 1965, he would coach UB to an impressive 58-37-5 record. In 1958, the football team won the Lambert Cup, emblematic of supremacy in Eastern U.S. small-college football. That led to the team's first bowl invitation, to the Tangerine Bowl in Orlando, Florida against Florida State University. But the Bulls would be allowed to participate only if back-up defensive end Mike Wilson and starting halfback Willie Evans, who were black, did not play. The team stood behind the two, and refused the bowl offer. The team was profiled on ESPN's Outside the Lines in 2008.[3] Buffalo would not be invited to or be bowl-eligible for another 50 years.
Several UB football stars from the Offenhamer years went on to play professional football, including quarterback John Stofa with the American Football League's Miami Dolphins and Cincinnati Bengals, and defensive lineman Gerry Philbin with the AFL's New York Jets. Philbin is a member of the AFL Hall of Fame and the All-time All-AFL Team. Philbin and UB's Willie Ross were the first two UB graduates to play on professional football championship teams: Ross with the 1964 AFL Champion Buffalo Bills; and Philbin with the 1968 AFL Champion New York Jets, who went on to win Super Bowl III. They have been followed by Ramon Guzman who played on two Grey Cup Championship teams with the Montreal Alouettes and James Starks with the Super Bowl XLV champion Green Bay Packers.
Out with a whimper: 1965-1970
Edit
Following the departure of Offenhamer in 1965, UB would last only five more years before suspending football in 1970. There was some success under coach Doc Urich, who led UB to an 18-12 record over three years, but declining performance under his successor, Bob Deming (1969-1970) and financial issues would cause UB to suspend its football program. The main reason that football was dropped was that the student body voted to stop funding the team. At the time athletics at UB were fully funded by student fees. It would be seven years until UB would again take the field.
Division III football: 1977-1992
Edit
In 1977 UB began playing football at the Division III level under Coach Bill Dando, who would be the Bulls' longest serving coach, lasting thirteen years. UB had moderate success during his tenure, and he retired after the 1989 season. Sam Sanders would take over, but lasted only two seasons. His coaching career ended because of medical issues and Jim Ward was promoted because of a New York State hiring freeze and ushered in UB's return to Division I football.
Division I-AA (FCS): 1993-1998
Edit
UB's return to Division I football started in Division I-AA (known today as the Football Championship Subdivision). UB would have only one winning season during their time in I-AA. Under Coach Craig Cirbus, UB would go 8-3 in 1996. This would be UB's last season at or above .500 for a dozen years.
1999-2005: return to Division I-A (Football Bowl Subdivision)
Edit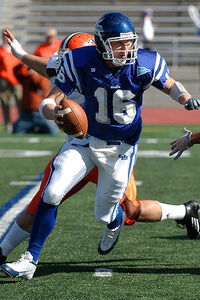 In 1999 UB joined the Mid-American Conference in Division I-A (Football Bowl Subdivision) football. They retained their head coach from their I-AA seasons, Craig Cirbus. After a few years of dismal results, the team hired Jim Hofher a former head coach at Division I-AA Cornell University to be the head coach. However, Hofher's teams were marked by poor discipline and lack of effort, and won only 8 games during his five seasons at UB. Buffalo won only 10 games and lost 69 during this seven-year period, the second-worst record in the Football Bowl Subdivision during that time. A 2002 win on the road over Rutgers remains their only win against a BCS team.
2006-2009: Turner Gill era
Edit
In early December 2005, Hofher was replaced by Green Bay Packers assistant coach and former Heisman Trophy candidate Turner Gill. The former University of Nebraska quarterback led the program in a remarkable turnaround, helping the team to a 5-7 (5-3 MAC East divisional co-champions) in 2007, their best season since the school joined the MAC.
On November 21, 2008, the Buffalo Bulls won their first outright MAC Eastern Division Championship, sealing the win with a thrilling 2-OT victory over Bowling Green, 40-34. Down 27-7 at the beginning of the 4th quarter, the Bulls stormed back to tie the game at 27 and force it into overtime. In the second OT, running back James Starks ran 25 yards on the first play for a touchdown and a Bulls win. The quarterback coach for Bowling Green that day was former UB head coach Jim Hofher.
Following a loss to Kent State that broke a five-game winning streak for Buffalo, the Bulls entered the conference title game at 7-5, while MAC West champion Ball State was an unblemished 12-0. However, on December 5, at Ford Field in Detroit, Buffalo's defense returned two fumbles for touchdowns and the Bulls defeated the Cardinals, 42-24, to become Mid-American Conference champions for 2008. Their successful season earned the Bulls an invitation to the International Bowl in Toronto, Ontario to face Connecticut. The Bulls went on to lose that game to UConn by a score of 38-20.
2009 would not be as successful as Starks was lost before the season even started to a shoulder injury. The offense also struggled without four-year starting quarterback Drew Willy as new quarterback Zach Maynard had an up-and-down season as UB finished 5-7. After the season, Gill left to become head coach of Kansas.
2010-present: Jeff Quinn era
Edit
On December 20, 2009, it was first reported that Jeff Quinn would be the new head coach. He took over after coaching Cincinnati in the 2010 Sugar Bowl. In Quinn's first season as coach, he was unable to build upon Gill's success as UB finished the season 2-10.
Notable former players
Edit
Notable alumni include:
Current NFL players
Edit
Buffalo Bulls in the NFL
NFL Draft selections
Total selected:
7
First picks in draft:
0
1st Round:
0
NFL achievements
Hall of Famers:
0
Pro Bowlers
0
Statistics correct as of the end of the 2011-12 college football season
All-time MAC records
Edit
Statistics correct as of the end of the 2011-12 college football season
This table includes all MAC games from 1999, the year the Bulls joined the Mid-American Conference. It includes only games that were MAC conference games, and does not include postseason games.
Statistics correct as of the end of the 2011-12 college football season
Following the 1995 season, the NCAA changed the rules to allow for overtime on games tied at the end of four quarters. Until that time, the Bulls had tied 28 times. Since then, Buffalo has participated in nine overtimes game and has won six of those games for a winning percentage of .667.
Buffalo vs. the BCS
Edit
Statistics correct as of the end of the 2011-12 college football season
Since 1999, the Bulls have played 28 regular season games and 1 postseason game against teams that are a member of one of the six conferences of the Bowl Championship Series, and have gone 1-29 all time against them (1-28 in the regular season, and 0-1 in the postseason). The Bulls have gone 0-2 against the ACC, 0-4 against the Big Ten, 0-3 against the Big 12, 1-17 against the Big East (0-1 in postseason play), and 0-2 against the SEC. The Bulls have yet to play against a team from the Pacific-12 Conference. This table includes only games with teams that were members of one of the six BCS conferences at the time the game indicated was played. The conferences indicated are also reflective of the conference the team was a member of at the time the game was played.
Season
Date
vs./@
Opponent
W/L
PF
PA
Conference
Site
Coach
Attendance
Opponent's Ranking
Bowl game
1999
11/13/1999
@
Virginia
L
21
50
ACC
Scott Stadium
Craig Cirbus
40,100
-
No
2000
9/2/2000
@
Syracuse
L
7
63
Big East
Carrier Dome
Craig Cirbus
40,634
-
No
2000
9/9/2000
@
Rutgers
L
0
59
Big East
Rutgers Stadium
Craig Cirbus
26,511
-
No
2001
8/30/2001
vs.
Rutgers
L
15
31
Big East
UB Stadium
Jim Hofher
22,658
-
No
2002
9/7/2002
@
Rutgers
W
34
11
Big East
Rutgers Stadium
Jim Hofher
19,101
-
No
2002
9/21/2002
@
Minnesota
L
17
41
Big Ten
Hubert H. Humphrey Metrodome
Jim Hofher
34,294
-
No
2003
8/30/2003
@
Rutgers
L
10
24
Big East
Rutgers Stadium
Jim Hofher
25,011
-
No
2003
9/6/2003
@
Iowa
L
7
56
Big Ten
Kinnick Stadium
Jim Hofher
54,471
-
No
2004
9/11/2004
vs.
Syracuse
L
17
37
Big East
UB Stadium
Jim Hofher
29,013
-
No
2004
11/20/2004
@
Connecticut
L
0
29
Big East
Rentschler Field
Jim Hofher
40,000
-
No
2005
9/1/2005
@
Connecticut
L
0
38
Big East
Rentschler Field
Jim Hofher
40,000
-
No
2005
9/10/2005
@
Syracuse
L
0
31
Big East
Carrier Dome
Jim Hofher
34,442
-
No
2005
9/17/2005
vs.
Rutgers
L
3
17
Big East
UB Stadium
Jim Hofher
17,620
-
No
2006
9/23/2006
@
Auburn
L
7
38
SEC
Jordan-Hare Stadium
Turner Gill
84,921
#3
No
2006
10/28/2006
@
Boston College
L
0
41
ACC
Alumni Stadium
Turner Gill
14,682
#17
No
2006
11/18/2006
@
Wisconsin
L
3
35
Big Ten
Camp Randall Stadium
Turner Gill
80,850
#10
No
2007
8/30/2007
@
Rutgers
L
3
38
Big East
Rutgers Stadium
Turner Gill
43,091
#16
No
2007
9/15/2007
@
Penn State
L
24
45
Big Ten
Beaver Stadium
Turner Gill
107,506
#12
No
2007
9/22/2007
vs.
Baylor
L
21
34
Big 12
UB Stadium
Turner Gill
22,676
-
No
2007
10/20/2007
@
Syracuse
L
12
20
Big East
Carrier Dome
Turner Gill
30,897
-
No
2008
9/6/2008
@
Pittsburgh
L
16
27
Big East
Heinz Field
Turner Gill
42,494
-
No
2008
9/20/2008
@
Missouri
L
21
42
Big 12
Faurot Field
Turner Gill
65,566
#5
No
2008
1/3/2009
vs.
Connecticut
L
20
38
Big East
Rogers Centre
Turner Gill
40,184
-
Yes
2009
9/12/2009
vs.
Pittsburgh
L
27
54
Big East
UB Stadium
Turner Gill
21,870
-
No
2010
9/11/2010
@
Baylor
L
6
34
Big 12
Floyd Casey Stadium
Jeff Quinn
40,853
-
No
2010
9/25/2010
@
Connecticut
L
21
45
Big East
Rentschler Field
Jeff Quinn
36,738
-
No
2011
9/3/2011
@
Pittsburgh
L
16
35
Big East
Heinz Field
Jeff Quinn
48,359
-
No
2011
9/24/2011
vs.
Connecticut
L
3
17
Big East
UB Stadium
Jeff Quinn
18,215
-
No
2011
10/1/2011
@
Tennessee
L
10
41
SEC
Neyland Stadium
Jeff Quinn
87,758
-
No
Totals
1-29
341
1071
1,210,515
Regular Season Totals
1-28
321
1033
1,170,331
Postseason Totals
0-1
20
38
40,184
Championships
Edit
Conference championships
Edit
Buffalo has won one Mid-American Conference championship.
Conference affiliations:
Divisional championships
Edit
As winners of the Mid-American Conference's East Division, Buffalo has made one appearance in the MAC Championship Game, in 2008. The Bulls also shared the Division title with Miami in 2007, but the tie-breaker allowed the RedHawks to represent the division in the championship game.
| Year | Division Championship | CG Result | Opponent | PF | PA |
| --- | --- | --- | --- | --- | --- |
| 2007 | MAC East (Co-Championship) | NA | Did Not Play | X | X |
| 2008 | MAC East | W | Ball State | 42 | 24 |
| Totals | 2 | 1-0 | - | 42 | 24 |
Bowl game appearances
Edit
Current coaching staff
Edit
Broadcasting
Edit
WECK currently holds the broadcast rights to Bulls games, with WIVB-TV sports anchor Paul Peck on play-by-play and former Navy quarterback Jim Kubiak on color commentary. UB basketball commentators Nick Mendola and Scott Wilson handle sideline and pregame duties, respectively. The broadcasts are also simulcast on WHTK in Rochester.
A separate feed is available from the student Part 15 radio station, WRUB.
Future non-conference opponents
Edit
References
Edit
External links
Edit
Template:Buffalo Bulls football navbox
University at Buffalo
The State University of New York
Academics</span></th></tr>
</tr>
College of Arts and Sciences
Architecture and Planning
Education
Engineering and Applied Sciences
Medicine and Biomedical Sciences
Nursing
Pharmacy
Public Health
Social Work
</tr></table></td></tr>
</tr>
</tr>
</tr>
 

Alumni

</tr>
</tr>
Media
UB Reporter
WBFO FM88.7
UB Today
News Services
</tr>
</tr>
Student life</span></th></tr>
</tr>
</tr></table></td></tr>
</tr>
Buildings
Abbott Hall
Alfiero Center
Baird Hall
Baldy Hall
Bell Hall
Bissell Hall
Bonner Hall
Capen Hall
Clark Hall
Clemens Hall
Cooke Hall
Diefendorf Hall
Fronczak Hall
Furnas Hall
Harriman Hall
Hayes Hall
Hochstetter Hall
Jacobs Management Center
Jarvis Hall
Ketter Hall
Knox Hall
Lockwood Library
Mathematics Building
Millard Fillmore Academic Center
Natural Sciences Complex
Norton Hall
O'Brian Hall
Park Hall
Slee Hall
Squire Hall
Student Union
Talbert Hall
</tr>
</tr>
Campuses</span></th></tr>
</tr>
</tr></table></td></tr>
</tr>
 

Around campus

</tr>
</tr>
 

UB miscellanea

</tr></table></td></tr></table>



---
---
Community content is available under
CC-BY-SA
unless otherwise noted.