The Big East Conference is a collegiate athletics conference consisting of sixteen universities in the eastern half of the United States. The conference's 17 members (15 full-time and 2 associate members) participate in 24 NCAA sports. Eight of the seventeen conference schools are football members and the Big East competes as a BCS conference in the Division I Football Bowl Subdivision (FBS), the top level of NCAA competition in that sport (also known by its former designation: Division I-A). Three members have football programs but are not Big East football schools: Georgetown and Villanova compete in the Football Championship Subdivision and Notre Dame plays as an FBS independent. The other five schools—DePaul, Marquette, Seton Hall, St. John's, and Providence—discontinued their football programs.
In football, the Big East has had all eight members play in bowl games since the 2005 realignment and has had seven of eight teams ranked in the Top 25 since 2003. In that time, the Big East has seen the emergence of new national players with West Virginia rising to as high as No. 1 and was ranked in the Top 10 for three-straight years (2005, 2006, 2007), South Florida rising as high as No. 2, Cincinnati and Louisville both as high as No. 3, Rutgers as high as No. 7, Pittsburgh as high as No. 9, and Connecticut as high as No. 13 in BCS standings. Also, Big East football has seen an increase in attendance and is enjoying a new, $250 million plus television package that lasts through 2013.[1][2]
In basketball, Big East teams have made 16 Final Four appearances and won six NCAA Championships (UConn with three, Villanova, Georgetown, and Syracuse with one each). Of the Big East's 16 full members, all but South Florida have been to the Final Four, the most of any conference,[3] though Marquette, DePaul, Notre Dame, Rutgers, Cincinnati, and Pittsburgh made all their trips before joining the Big East. In 2011, the Big East set the record for the most teams sent to the NCAA Men's Division I Basketball Championship by a single conference with eleven out of their sixteen teams qualifying.
The 2012–13 academic year is the Big East's 34th year of existence.
The early years
Edit
The Big East was founded in 1979 when Providence, St. John's, Georgetown, and Syracuse invited Seton Hall, Connecticut, Holy Cross, Rutgers, and Boston College to form a conference primarily focused on basketball, with Rutgers and Holy Cross declining to join.[4] Villanova joined a year later in 1980[5] and Pittsburgh joined in 1982.[6]
In 1982, Penn State applied for membership, but was rejected, with only five schools in favor (Penn State needed six out of eight). It was long rumored that Syracuse cast the deciding vote against Penn State, but Mike Tranghese confirmed that this was not the case and that Syracuse had, in fact, voted for Penn State's inclusion.[7]
Football expansion
Edit
About a decade after the conference's inception, Big East members decided to become a major football conference and thus added five schools including Rutgers, Miami, Temple, Virginia Tech, and West Virginia. The inaugural Big East football season launched in 1991.[8] West Virginia and Rutgers joined the Big East as full members in 1995,[9] and Virginia Tech joined as a full member in 2000.[10] Temple remained a football-only member until 2004, when it was voted out of the conference due to poor attendance figures, lack of playing success, and inadequate facilities.[11] The Big East offered Notre Dame a non-football membership effective 1995, which led to an unusual conference structure with some schools competing in Division I basketball only.[12]
Instability, departures, and replacements
Edit
The unusual structure of the Big East, with the "football" and "non-football" schools, led to instability in the conference. In 2003, the ongoing press reports of tensions between the football schools and the basketball-only schools finally exploded into a months-long public tug-of-war between the Big East and the Atlantic Coast Conference over several Big East members. The end result was that three Big East schools—Virginia Tech, Miami and Boston College—moved to the ACC, while five teams moved to the Big East from Conference USA—Louisville, Cincinnati, South Florida, Marquette, and DePaul.
The addition of the three football schools, along with Big East non-football member Connecticut moving up to the Big East football conference, ensured that the league would keep the minimum eight teams needed to keep its BCS bid. In addition, two traditional basketball teams, DePaul and Marquette, were added to gain the Chicago and Milwaukee television markets and help the already solid basketball status of the conference.[citation needed]
Meanwhile, Loyola University Maryland (then Loyola College in Maryland) also joined the Big East as an associate member in women's lacrosse for the 2005–06 academic year.[13]
Continuing instability
Edit
In 2010, Texas Christian University accepted an invitation to join the conference as an all-sports member beginning in the 2012–13 academic year.[14] On September 17, 2011 Syracuse, a charter member of the conference, and Pittsburgh announced that they would be leaving the Big East for the Atlantic Coast Conference.[15][16] Both schools originally intended to fulfill their commitment to the 27-month waiting period. TCU also reversed its decision and accepted an invitation from the Big 12 Conference to move there.[17][18]
On October 28, 2011 it was announced by the Big 12 Conference that West Virginia accepted its invitation to join, with membership beginning in 2012. This timeline was challenged by the Big East, and countersuits were launched by the school and conference. Eventually, a settlement was reached with allowed West Virginia's departure for 2012 in exchange for sizable compensation.[19] Syracuse and Pittsburgh then used the acquiescence of the Big East to West Virginia's departure to challenge the validity of their own commitment, and the Big East agreed to a settlement with both schools in July 2012 to allow their departure for the 2013 academic year.[20] [21]
In December, after the 2011 football regular season was completed announcements were made that Boise State University and San Diego State University, both of the Mountain West Conference, would join the Big East in football only; and that Conference USA members University of Central Florida, Southern Methodist University, and the University of Houston would join in all sports for the 2013 academic year.[22]
On January 24, 2012, the Navy Midshipmen accepted an invitation to join the Big East for football only starting in 2015.
On February 9, 2012, the Big East invited the University of Memphis to join as a full member in all sports to begin play in 2013.
On March 7, 2012, it was announced that Temple University would return to the conference for football in the 2012 season, filling the void left by West Virginia. Temple will join for all sports in 2013. Temple basketball will move over from the Atlantic 10 Conference, where they have been a perennial powerhouse.
On August 29, 2012, Loyola and the Patriot League announced that all Loyola athletic teams, including the school's Big East team in women's lacrosse, would join that conference on July 1, 2013.[23]
On September 12, 2012, Notre Dame announced it would follow Pittsburgh and Syracuse to the ACC, joining that league in all sports except football. No timeline was set for the Fighting Irish's departure, though the Big East has said they intend to hold them to the 27-month waiting period.
On November 20, 2012, Rutgers announced it would be leaving the Big East to join the Big Ten Conference as a full member, effective with the start of the 2014–15 academic year.[24] Rutgers' announcement came one day after the University of Maryland departed the ACC to join the Big Ten.[25] One week later, on November 27, Tulane University accepted the Big East's invitation to join as an all-sports member. East Carolina University's football program will also join the Big East in 2014; both schools were previously with Conference USA. [26] [26] The following day the ACC voted to invite Louisville to join in 2014, making them the seventh school since 2004 to leave the Big East in favor of the ACC. [27]
Less than two weeks after Louisville announced its departure for the ACC, multiple media reports indicated that the Big East's seven remaining non-FBS schools, all Catholic institutions, were considering a mass exit from the conference.[28][29][30][31] By December 13, it was likely that the non-FBS schools would indeed leave to form a new conference,[32] and on December 15, the seven schools made their departure official, effective with the 2015–16 school year.[33] Many details remain to be worked out, with one major issue being whether the "Big East" name would stay with the FBS schools.[34]
On December 31, Boise State announced they had decided to stay in the Mountain West conference, leaving the Big East, much like TCU, without ever playing a game in it. With Boise State staying in the Mountain West, it was noted that San Diego State will indeed try to rejoin the Mountain West as well. The Mountain West is also looking at potentially adding Houston or SMU as its 12th football member, both of which have stated they will join the Big East in 2013.[35]
For the 2013 season, the Big East currently has nine committed full members and an additional two football-only members for an eleven-team football conference.
Current status
Edit
Big East schools compete in Division I in basketball and Olympic sports. Football members of the conference participate in Division I FBS. Notre Dame remains an FBS independent, while Georgetown and Villanova have Division I FCS (formerly I-AA) football programs. Georgetown football competes in the Patriot League. Villanova competed in the Atlantic 10 through the 2006 season, but along with all other members of the A-10 football conference joined the new football conference launched by the Colonial Athletic Association in 2007. In September 2010, in the wake of a Division I realignment that affected a number of conferences around the country, the Big East extended an invitation to Villanova to become a football member. The school once considered the offer, which required the school to substantially expand its entire athletic program, as well as expand its stadium to meet FBS requirements or find another suitable venue in the Philadelphia area,[36] such as Lincoln Financial Field; however, Lincoln Financial Field is the exclusive home of the Temple Owls and Philadelphia Eagles.
The eight schools that play football in the conference are all state-supported (or in the case of Pittsburgh and Temple, state-related) with the exception of Syracuse (a private but secular institution), whereas the eight schools that do not play football in the conference are primarily much smaller, private Catholic universities.
The Big East began sponsoring a men's lacrosse league in 2010 with Georgetown, Notre Dame, Providence, Rutgers, St. John's, Syracuse and Villanova participating.[37] Marquette will offer men's and women's lacrosse beginning in 2012, and will join the Big East in that sport for the 2013 season.
Membership timeline
Edit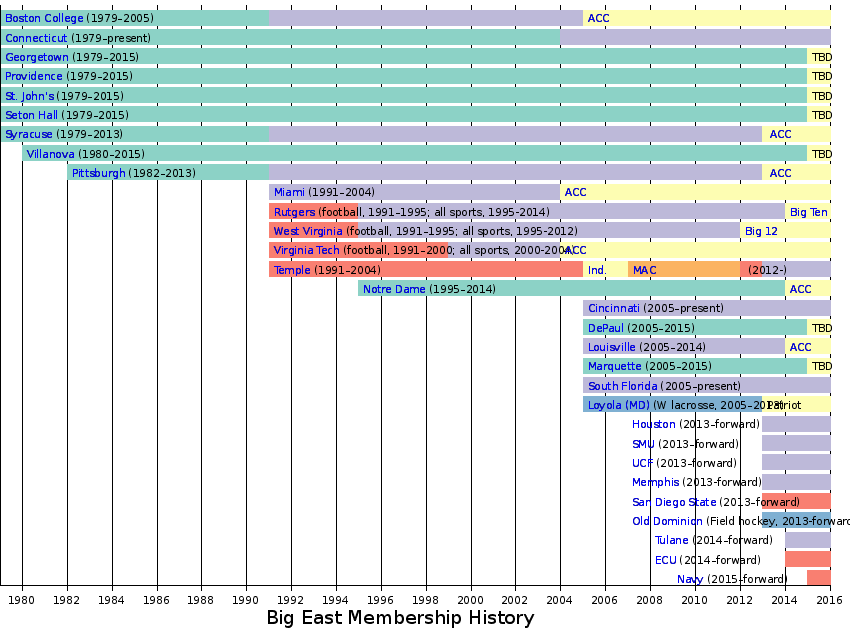 Full members Full members (non-football) Assoc. members (football only) Assoc. member (list sports) Other Conference Other Conference
Commissioners
Edit
Mike Tranghese retired at the end of the 2008–09 academic year, which he announced in June 2008, and was replaced by former senior associate commissioner John Marinatto. On May 7, 2012, John Marinatto resigned as commissioner. He was replaced by Joseph Bailey, on an interim basis, while the search for a new commissioner progresses.[38] Mike Aresco Executive Vice President, Programming of CBS Sports, was named Commissioner of The Big East on August 14.[39]
Member schools
Edit
Current members
Edit
As of the beginning of the 2012–13 academic year, there are 15 full members and two associate members.
Full members
Edit
Institution
Location
(Population)
Founded
Type
Enrollment
Year
Joined
Nickname
Endowment
University of Cincinnati[40]
Cincinnati, Ohio
(296,943)
1819
Public
41,357
2005
Bearcats
$1,004,000,000
University of Connecticut[41]
Storrs, Connecticut
(15,344)
1881
Public
30,034
1979
Huskies
$329,000,000
University of Louisville[42]†
Louisville, Kentucky
(597,337)
1798
Public
23,262
2005
Cardinals
$762,300,000
University of Pittsburgh †
Pittsburgh, Pennsylvania
(305,704)
1787
Public/State-Related[43]
28,823
1982
Panthers
$2,032,798,000
Rutgers University ±
New Brunswick, New Jersey
(55,181)
1766
Public
38,912
1995 </sup>
Scarlet Knights
$603,083,000
University of South Florida
Tampa, Florida
(335,709)
1956
Public
47,122
2005
Bulls
$339,000,000
Syracuse University †
Syracuse, New York
(145,170)
1870
Private/Non-sectarian
20,407
1979
Orange
$849,157,000
Pink indicates departing member
† Denotes schools that will be leaving Big East for the Atlantic Coast Conference; Syracuse and Pitt will leave on July 1, 2013. Louisville will leave on or around July 1, 2014.
± Denotes school that will leave the Big East for the Big Ten.
Full members except in football
Edit
Institution
Location
(Population)
Founded
Type
Enrollment
Year
Joined
Nickname
Endowment
DePaul University‡
Chicago, Illinois
(2,695,598)
1898
Private/Catholic
25,398
2005
Blue Demons
$384,255,000
Georgetown University‡
Washington, D.C.
(601,723)
1789
Private/Catholic
16,437
1979
Hoyas
$1,009,736,000
Marquette University‡
Milwaukee, Wisconsin
(594,833)
1881
Private/Catholic
11,599
2005
Golden Eagles
$326,003,000
University of Notre Dame †
South Bend, Indiana
(101,168)
1842
Private/Catholic
11,733
1995
Fighting Irish
$6,800,000,000
Providence College‡
Providence, Rhode Island
(178,042)
1917
Private/Catholic
4,585
1979
Friars
$122,110,000
St. John's University‡
Jamaica, Queens, New York (New York City)
(216,866/8,175,133)
1870
Private/Catholic
21,354
1979
Red Storm
$303,057,000
Seton Hall University‡
South Orange, New Jersey
(16,198)
1856
Private/Catholic
9,745
1979
Pirates
$162,889,000
Villanova University‡
Villanova, Pennsylvania
(9,189)
1842
Private/Catholic
10,482
1980
Wildcats
$370,292,000
† Denotes schools that will be leaving the Big East for the Atlantic Coast Conference.
‡ Denotes schools that will be leaving the Big East.
Associate members
Edit
Institution
Location
(Population)
Primary Conference
Type
Enrollment
Year Joined
Nickname
Big East Sport
Endowment
Loyola University Maryland†
Baltimore, Maryland
(620,961)
MAAC
Private/Catholic
6,531
2005
Greyhounds
Women's lacrosse
$143,000,000
Temple University‡
Philadelphia, PA
(1,526,006)
A-10
Public (state-related)
37,697
2012
Owls
Football
$280,000,000
† Loyola will join the Patriot League for all sports, including women's lacrosse, on July 1, 2013.
‡ Temple will become a full member of the Big East on July 1, 2013.
Future members
Edit
Future full members
Edit
Institution
Location
(Population)
Founded
Type
Enrollment
Year
Joined
Nickname
Endowment
University of Central Florida
Orlando, Florida
(238,300)
1963
Public
58,698
2013
Knights
$125,000,000
University of Houston
Houston, Texas
(2,099,451)
1927
Public
39,820
2013
Cougars
$662,200,000
University of Memphis
Memphis, Tennessee
(662,897)
1912
Public
23,000
2013
Tigers
$183,800,000
Southern Methodist University
University Park, Texas
(23,063)
1911
Private/United Methodist
12,000
2013
Mustangs
$1,400,000,000
Temple University
Philadelphia, Pennsylvania
(1,526,006)
1884
Public
37,697
2012 (football only)
2013 (full member)
Owls
$280,000,000
Tulane University
New Orleans, Louisiana
(360,740)
1834
Private/Non-sectarian
13,359
2014
Green Wave
$1,050,000,000
Future associate members
Edit
Institution
Location
(Population)
Primary Conference
Type
Enrollment
Year
Joined
Nickname
Big East Sport
Endowment
United States Naval Academy
Annapolis, Maryland
(38,394)
Patriot League (all sports)
FBS Independent (football)
Federal
4,603
2015
Midshipmen
Football
$7,107,000
San Diego State University
San Diego, California
(1,301,617)
Mountain West *
Public
33,790
2013
Aztecs
Football
$180,479,555
Old Dominion University[44]
Norfolk, Virginia
(242,803)
C-USA
Public
24,125
2013
Lady Monarchs
Field Hockey
$170,200,000
East Carolina University
Greenville, North Carolina
(86,017)
C-USA *
Public
27,816
2014
Pirates
Football
$130,000,000
* The Mountain West Conference and Conference USA do not allow schools to have Olympic sports in their respective conferences and a football team in another conference, and therefore San Diego State and East Carolina will both be moving to new primary conferences. San Diego State is set to join the Big West Conference on July 1, 2013, and East Carolina is currently considering the Atlantic 10, CAA and Big South for their 19 non-football sports.[45][46]
Former members
Edit
Former full members
Edit
* Virginia Tech was an associate member of the Big East from 1991–2000. ** West Virginia was an associate member of the Big East from 1991–1995.
Note: Syracuse, Pittsburgh and Louisville have accepted an invitation to join the ACC. Syracuse and Pittsburgh will depart the Big East on July 1, 2013; each will pay the Big East $7.5 million to depart on that date.[20][47] Notre Dame has announced they will also leave for the ACC, though no timetable for their departure has been announced. Louisville will join the ACC beginning with the 2014-2015 academic year.
Former associate members
Edit
* Rutgers and West Virginia joined the Big East as full members in 1995. ** Virginia Tech joined the Big East as a full member in 2000. *** Temple was removed from the Big East as a football only member after the 2004 football season. Temple was invited to the Big East as a full member in March 2012, with football returning in July 2012 and all other sports joining in July 2013.
Defected future members
Edit
* TCU was to join the Big East as a full member in 2012 before accepting an invitation to the Big 12. ** Boise State was to join the Big East as an associate member for football only in 2013 before deciding to remain in the Mountain West.[48]
The Big East Conference sponsors championships in eleven men's and thirteen women's sports. Under NCAA rules reflecting the large number of male scholarship participants in football and attempting to address gender equity concerns (see also Title IX), each member institution is required to provide two more women's varsity sports than men's.[49]
Men's sports
Edit
Women's sports
Edit
Men's basketball
Edit
2011–2012 Men's Basketball Average Home Attendance[50]
School
Average Attendance
Syracuse
23,618
Louisville
21,503
Marquette
15,183
Connecticut
12,640
Georgetown
11,283
West Virginia
9,930
Pittsburgh
9,321
Villanova
8,923
Cincinnati
8,069
Notre Dame
7,999
Providence
7,883
St. John's
7,831
DePaul
7,740
Seton Hall
6,941
Rutgers
5,362
South Florida
3,849
The Big East was founded by seven charter schools in 1979 (Providence, St. John's, Georgetown, Syracuse, Seton Hall, Connecticut, and Boston College) with the intent of creating a powerhouse basketball conference.[51] Villanova joined the following year, followed by Pittsburgh in 1982.
It would not take long for the conference to meet its original aim, with Georgetown, led by senior Sleepy Floyd and freshman Patrick Ewing, making the NCAA Championship Game in 1982. Just two years later, in 1984, Georgetown won the Big East's first NCAA basketball championship with a victory over the University of Houston.
The following year three Big East teams (Villanova, St. John's, and Georgetown) all advanced to the Final Four, culminating in Villanova's stunning championship game victory over the heavily favored Georgetown Hoyas. The conference's 1985 success was nearly duplicated in 1987, when Syracuse and a surprising Providence both made the Final Four, followed by the Orangemen's narrow loss to Indiana University in the tournament final. Two years later, the Seton Hall Pirates also advanced to the NCAA Championship Game, but were defeated by the Michigan Wolverines in an overtime heartbreaker.
Throughout the 1980s and early 1990s, Georgetown, Villanova, St. John's, and Syracuse were the primary powers in the conference. UConn became a power in 1990 with a # 1 seed and a trip to the Elite 8 before being defeated by Duke. Georgetown was led by John Thompson Jr., who was named three times as the conference Coach of the Year.[52] They won five regular season conference championships and six Big East Tournaments to go with their 1984 national title.[53] Villanova was coached by Rollie Massimino, who led them to the 1985 NCAA Championship in a histotic 66–64 win over No. 1 ranked Georgetown where forward Ed Pinckney was named the Most Outstanding Player. In their first 11 seasons in the Big East, Villanova made 9 trips to the NCAA Tournament including advancing to the NCAA Elite Eight in 1982, 1983 and 1988 as well as their 1985 Championship season. Massimino coached for 19 seasons at Villanova, compiling a record of 357–241 (.596). In the NCAA Tournament, Massimino had an incredible 20–10 record (.667). St. John's was led by Lou Carnesecca, who won the National Coach of the Year honor in 1983 and 1985. He led the Redmen (now the Red Storm) to the 1985 Final Four, and made a post-season appearance in each of his 24 years at the helm. Syracuse has been led by alumnus Jim Boeheim since the 1977 season. He was named conference Coach of the Year in 1984 and 1991. During this period, the Orangemen won five regular season conference championships, three Big East Tournaments, and were invited to the NCAA Tournament every year but two (1981 and 1982), losing the 1987 National Final to Indiana. Syracuse eventually won its first national title in 2003, led by coach Boeheim and freshman Carmelo Anthony.
Beginning with their first Big East championship in 1990, Connecticut has become the preeminent power in the Big East. Over the past two decades, UConn has made many deep runs in NCAA tournament, playing in the Elite 8 nine times and making four appearances in the Final Four. Hall of Fame coach Jim Calhoun's program, led by such stars as Ray Allen, Richard "Rip" Hamilton, Caron Butler, Emeka Okafor and Kemba Walker, averaged nearly 26 wins per year during that time span, won numerous Big East regular season and tournament championships, and claimed the National Championship in 1999, 2004 and 2011.
The conference got a then record eight teams into the NCAA Men's Tournament in 2006 and again matched their own record in both 2008 and 2010. At the start of the 2008–2009 season, many sports analysts predicted that the conference would surpass the record by sending 10 teams to the 2009 NCAA Men's Division I Basketball Tournament. When the brackets were revealed, seven made it, but three of them (Louisville, Pittsburgh and Connecticut) gained No. 1 seeds, and Louisville earned the top seed overall. Connecticut and Villanova (a No. 3 seed) both reached the Final Four. At the finish of the 2010–11 season, the Big East eclipsed its record, sending 11 teams to the 2011 NCAA Men's Division I Basketball Tournament[54][55][56]
The conference has a number of former players currently playing in the National Basketball Association with some of the most recent being Ray Allen, Caron Butler, Carmelo Anthony, Ryan Gomes, Austin Croshere, Richard "Rip" Hamilton, Ben Gordon, Emeka Okafor, Troy Murphy, Hakim Warrick, Quincy Douby, Dante Cunningham, Randy Foye, Kyle Lowry, Rudy Gay, Matt Carroll, Jake Voskuhl, Etan Thomas, Samuel Dalembert, Charlie Villanueva, Donte Greene, Ron Artest, Chris Quinn, Jason Hart, Tim Thomas, Aaron Gray, Sam Young, DeJuan Blair, Wilson Chandler, Jeff Green, Joe Alexander, Marcus Williams, Jonny Flynn, Terrence Williams, Earl Clark, Roy Hibbert, Wesley Johnson, Wesley Matthews, Lazar Hayward, Jimmy Butler, Steve Novak, Jae Crowder, Maalik Wayns, and Darius Johnson-Odom.
Women's basketball
Edit
Big East women's basketball is nearly as powerful as the conference's men's programs. Connecticut coach Geno Auriemma has led his women's team to seven national championships (including four between 2000 and 2004) and four undefeated seasons (1995, 2002, 2009, and 2010). Connecticut set the record for longest winning streak in all of NCAA women's basketball history with a 70-game winning streak stretching from 2001–2003. This streak was ended in 2003 when Villanova beat Connecticut for the Big East tournament title, in what is considered one of the biggest upsets in women's basketball (Villanova would go on to reach the Elite Eight that year). The Huskies broke their own record with consecutive unbeaten championship seasons in 2009 and 2010, and stretched their streak to 90, a Division I record for both sexes, before losing to Stanford during the 2010–11 season.
Due to the strength of the Connecticut program, 2001 national champion and 2011 and 2012 national runner-up Notre Dame, and 2007 national runner-up Rutgers, the Big East has emerged as one of the major powers in women's college basketball. In 2009 two Big East schools met in the national championship game (Connecticut and Louisville) and the South Florida women's basketball team defeated Kansas to become the WNIT champions. In 2011, UConn and Notre Dame both made the Final Four; the Irish defeated the Huskies in their semifinal but lost to Texas A&M in the NCAA Championship Game. The Irish returned to the championship game in 2012, losing there to unbeaten Baylor.
2012 Average Football Attendance
School
Average Attendance
Louisville
49,991
Rutgers
49,188
South Florida
44,130
Pittsburgh
41,494
Syracuse
37,953
Connecticut
34,672
Cincinnati
29,138
Temple
26,580
Big East Conference Average 2012
39,143
Big East Conference Average 2011
43,028
Big East Conference Average 2010
45,743
Big East began football during the 1991–1992 season with the addition of Miami and was a founding member of the Bowl Championship Series.[57] The league obtained immediate legitimacy with the addition of powerhouse Miami.[citation needed]
In the league's early years the University of Miami dominated, winning nine of the first thirteen championships and two national championships in 1991 and 2001. Virginia Tech also did well, winning the conference in 1995, 1996, and in 1999, when they also earned a No. 2 national ranking. West Virginia and Syracuse were the only other teams to win conference titles during the league's original alignment.
The conference experienced a major reconstruction when Miami and Virginia Tech left for the Atlantic Coast Conference in 2004, followed by Boston College in 2005. Initially, Syracuse University was in place to make the jump instead of Virginia Tech, but in 2003, the governor of Virginia Mark Warner put pressure on the ACC (via the vote of the University of Virginia) to ensure that Virginia Tech was not left out of the conference expansion. Syracuse, then, was not invited to the ACC and was left to remain in the Big East. Temple had joined the Big East for football only in 1991, but found it difficult to compete with the other league teams and drew very poor attendance to its games. The conference was compelled to expel the Owls voluntarily in 2004 (after playing two seasons as an independent, Temple joined the MAC in 2007).
The universities that replaced them were Louisville, South Florida and Cincinnati from Conference USA. The league also invited the University of Connecticut to play football a year earlier than planned.
At about this time, the BCS announced that it would adjust the automatic bids granted to its six founding conferences based on results from 2004–07, and that there would be five, six, or seven such bids starting in 2008. The obvious inference was that soon the Big East might lose its bid.
The conference's fortunes improved in 2005. The three new teams from Conference USA began play that year, restoring the league to eight teams. West Virginia won the conference title and the Sugar Bowl,[58] and finished 11–1 and finished No. 5 in the AP poll. Newcomer Louisville also ranked in the Top 20.
In 2006, West Virginia, Louisville, and Rutgers all entered November undefeated. However, they did not stay that way, as in a trio of exciting games over the next month, Louisville defeated West Virginia 44–34, Rutgers defeated Louisville 28–25, and West Virginia defeated Rutgers 41–39 in three overtimes. Rutgers' resurgence after a century of mostly futile play was a national story, but Louisville won the conference title in the end. In bowl action, the Big East went 5–0, including an Orange Bowl[58] victory for Louisville over Wake Forest and a win by West Virginia over Georgia Tech in the Gator Bowl. Louisville would finish the season ranked 6th, West Virginia 10th, and Rutgers 12th in the final AP Poll.
In 2007, USF rose to No. 2 in the BCS rankings. They lost their next three games, however, to drop out of the rankings. They eventually finished the season No. 21 in the final BCS polls. The Connecticut Huskies, getting as high as No. 13, and West Virginia remained in the top 25. Cincinnati also rose as high as No. 15 in the rankings eventually finishing the season with 10 wins and a No. 17 ranking. Connecticut lost subsequent games and dropped substantially in the rankings, ultimately finishing 25th. On the final day of the season, Pittsburgh upset No. 2 WVU 13–9 in the 100th edition of the Backyard Brawl to give the Huskies a share of the conference championship, while WVU was stopped on the doorstep of the BCS National Championship Game. In bowl games, WVU upset the Big 12 Champion Oklahoma in the Fiesta Bowl,[58] despite having lost their highly touted coach, Rich Rodriguez to Michigan less than a month before the game. West Virginia finished the season ranked No. 6 and Cincinnati finished ranked #17.
The 2009 season saw Cincinnati finish the regular season undefeated at 12–0 and climb to No. 3 in the final BCS standings. After completing a fourth quarter comeback to beat Pittsburgh on the final day of the season, the Bearcats narrowly missed a spot in the BCS national championship game, as No. 2 Texas pulled out a last second win in the Big 12 Championship Game. The Bearcats would go on to lose the Sugar Bowl to No. 5 Florida and finish the year 12–1.
On September 18, 2011, both Pittsburgh and Syracuse were accepted as Atlantic Coast Conference members although the exact date of the move is still uncertain. ("ESPN".) There are also rumors that UConn is also looking to leave the Big East and join Pittsburgh and Syracuse in the ACC. ("ESPN".) On October 28, 2011, West Virginia announced it was leaving the Big East to join the Big 12 in 2012. TCU, who had accepted an invitation to join the Big East in the 2012 season, withdrew its acceptance and instead accepted an invitation to join the Big 12.[18]
In 2011, as a response to major shifts in the college football conference landscape, the conference added five new members to help offset the losses of Pittsburgh, Syracuse, and West Virginia. On December 7, 2011, the conference officially added the University of Houston, Southern Methodist University, and the University of Central Florida as all-sports members. Additionally, Boise State and San Diego State of the Mountain West Conference were added as football-only members.[59] On November 19, 2012, Rutgers left the conference to join the Big Ten.
Champions
Edit
*No official championship awarded in 1991 and 1992, as the conference did not start full league play until 1993.
**Louisville received the BCS bid since they were the highest ranked team in the final BCS poll.[60]
Bowl games
Edit
Notes on bowl game selection
† The Big East's BCS representative is not tied directly to a specific BCS Bowl. It is selected to a bowl in the same manner as an at-large team. The BCS may select a second team to play in another BCS bowl game.
Notre Dame is eligible to be chosen in lieu of a Big East team for the Champs Sports Bowl one time during the current 4-year contract. In a separate rule specific only to Notre Dame that does not affect the Big East's BCS representative, Notre Dame is eligible to receive a BCS automatic berth if they finish within the top 8 of the BCS Rankings.
Men's lacrosse
Edit
In 2010, the Big East created a men's lacrosse league with Georgetown, Notre Dame, Providence, Rutgers, St. John's, Syracuse, and Villanova participating.[37] Men's lacrosse is the 24th sport sponsored by the Big East Conference and is the 11th men's sport. The teams play a six-game single round-robin regular-season schedule. There will be no Big East men's lacrosse championship tournament for 2010. Instead, the Big East champion will be determined by conference-game winning percentage at the conclusion of the regular season. This winner will then receive the league's automatic bid to the 16-team NCAA Division I Men's Lacrosse Championship.
Cross country
Edit
The Big East Conference has been crowning men's cross country champions since 1979 and women's cross country champions since 1982. Over the years six different women's teams have won Big East Championships: Boston College, Georgetown, Notre Dame, Providence, Villanova and West Virginia. On the men's side six teams have won Big East Championships as well: Georgetown, Louisville, Notre Dame, Providence, Syracuse and Villanova.[61]
In both the 2009 and 2010 season, the Villanova women captured the NCAA Cross Country Team Championship as they have largely dominated the Big East over the years with numerous Conference Titles. Led by Sheila Reid, a junior from New Market,Ont. who won the 2010 individual champion, the top-ranked Wildcats captured their second straight NCAA Division I women's cross country championship. Reid sprinted past Georgetown's Emily Infeld and Jordan Hasay in the final 200 meters to win the individual title. It was the Villanova Women's ninth NCAA Team Championship overall in Cross Country. The Wildcats captured six consecutive NCAA Championships from 1989–94 and also won the title again in 1998, 2009 and 2010.[62]
Rivalries
Edit
Conference champions by year
Edit
Year
Men's B-ball Regular Season Champion
Men's B-ball Tournament Champion
Women's B-ball Regular Season Champion
Women's B-ball Tournament Champion
Football Champion
1979-80
Georgetown/St. John's/Syracuse
Georgetown
1980-81
Boston College
Syracuse
1981-82
Villanova
Georgetown
1982-83
Boston College/St. John's/Villanova
St. John's
Providence/St. John's
St. John's
1983-84
Georgetown
Georgetown
Pittsburgh/Villanova
Pittsburgh
1984-85
St. John's
Georgetown
St. John's/Villanova
St. John's
1985-86
St. John's/Syracuse
St. John's
Providence
Providence
1986-87
Georgetown/Pittsburgh/Syracuse
Georgetown
Villanova
Villanova
1987-88
Pittsburgh
Syracuse
Syracuse
Syracuse
1988-89
Georgetown
Georgetown
Connecticut
Connecticut
1989-90
Connecticut/Syracuse
Connecticut
Connecticut/Providence
Connecticut
1990-91
Syracuse
Seton Hall
Connecticut
Connecticut
1991-92
Georgetown/St. John's/Seton Hall
Syracuse
Miami
Miami
Miami
1992-93
Seton Hall
Seton Hall
Georgetown/Miami
Georgetown
Miami
1993-94
Connecticut
Providence
Connecticut
Connecticut
West Virginia
1994-95
Connecticut
Villanova
Connecticut
Connecticut
Miami
1995-96
Connecticut
Connecticut
Connecticut
Connecticut
Virginia Tech/Miami
1996-97
Boston College/Villanova
Boston College
Connecticut
Connecticut
Virginia Tech/Miami/Syracuse
1997-98
Connecticut
Connecticut
Connecticut
Connecticut
Syracuse
1998-99
Connecticut
Connecticut
Connecticut/Rutgers
Connecticut
Syracuse†
1999-2000
Syracuse/Miami
St. John's
Connecticut
Connecticut
Virginia Tech†
2000-01
Boston College (east)
Notre Dame (west)
Boston College
Connecticut/Notre Dame
Connecticut
Miami†
2001-02
Connecticut (east)
Pittsburgh (west)
Connecticut
Connecticut
Connecticut
Miami†
2002-03
Boston College & Connecticut (east)
Pittsburgh & Syracuse (west)
Pittsburgh
Connecticut
Villanova
Miami†
2003-04
Pittsburgh
Connecticut
Connecticut
Boston College
Miami†/West Virginia
2004-05
Boston College/Connecticut
Syracuse
Rutgers
Connecticut
Pittsburgh†/Boston College/Syracuse/West Virginia
2005-06
Connecticut/Villanova
Syracuse
Rutgers
Connecticut
West Virginia†
2006-07
Georgetown
Georgetown
Connecticut
Rutgers
Louisville†
2007-08
Georgetown
Pittsburgh
Connecticut
Connecticut
West Virginia†/Connecticut
2008-09
Louisville
Louisville
Connecticut
Connecticut
Cincinnati†
2009-10
Syracuse
West Virginia
Connecticut
Connecticut
Cincinnati†
2010-11
Pittsburgh
Connecticut
Connecticut
Connecticut
Connecticut†/West Virginia/Pittsburgh
2011-12
Syracuse
Louisville
Notre Dame
Connecticut
West Virginia†/Cincinnati/Louisville
†Received the Conference's BCS (or Alliance Bowl) berth[63]
Facilities
Edit
School
Football stadium
Capacity
Basketball arena
Capacity
Baseball park
Capacity
Cincinnati
Nippert Stadium
Paul Brown Stadium1
35,097
65,790
Fifth Third Arena
13,176
Marge Schott Stadium
3,085
Connecticut
Rentschler Field
40,000
Harry A. Gampel Pavilion
XL Center
10,167
16,294
J. O. Christian Field
2,000
DePaul
Non-football school
Allstate Arena (men)
Sullivan Athletic Center (women)
17,500
3,000
Non-baseball school
Georgetown
Sponsors football in the Patriot League
Verizon Center (men)
McDonough Gymnasium (women)
20,035
2,500
Shirley Povich Field
1,500
East Carolina
Dowdy–Ficklen Stadium
50,000
Football-only member
Houston
New Houston Cougars Stadium
40,000
Hofheinz Pavilion
8,479
Cougar Field
5,000
Louisville
Papa John's Cardinal Stadium
57,000
KFC Yum! Center
22,090
Jim Patterson Stadium
2,500
Marquette
Non-football school
Bradley Center (men)
Al McGuire Center (women)
18,850
4,000
Non-baseball school
Memphis
Liberty Bowl Memorial Stadium
61,008
FedExForum (men)
Elma Roane Fieldhouse (women)
18,119
2,565
FedExPark
2,000
Navy
Navy–Marine Corps Memorial Stadium
34,000
Football-only member
Notre Dame
Sponsors football as a Division I-FBS independent
Purcell Pavilion at the Edmund P. Joyce Center
9,149
Frank Eck Stadium
2,500
Pittsburgh
Heinz Field
65,050
Petersen Events Center
12,508
Petersen Sports Complex
900
Providence
Non-football school
Dunkin' Donuts Center (men)
Alumni Hall (women)
12,400
2,603
Non-baseball school
Rutgers
High Point Solutions Stadium 2
52,454
Louis Brown Athletic Center (The RAC)
8,000
Bainton Field
1,500
San Diego State
Qualcomm Stadium
71,294
Football-only member
Seton Hall
Non-football school
Prudential Center (men)
Walsh Gymnasium (women)
10,862
2,600
Owen T. Carroll Field
600
SMU
Gerald J. Ford Stadium
32,000
Moody Coliseum
8,998
Non-baseball school
South Florida
Raymond James Stadium
65,908
USF Sun Dome
10,411
USF Baseball Stadium
3,211
St. John's
Non-football school
Madison Square Garden (some men's games)
Carnesecca Arena 3
19,979
5,602
Jack Kaiser Stadium
3,500
Syracuse
Carrier Dome
49,250
Carrier Dome 4
33,000
Non-baseball school
Temple6
Lincoln Financial Field
68,532
Liacouras Center
10,207
Skip Wilson Field
1,000
Tulane
Yulman Stadium
Mercedes-Benz Superdome7
30,000
73,208
New Orleans Arena (men)
Devlin Fieldhouse (women)
18,500
3,600
Turchin Stadium
5,000
UCF
Bright House Networks Stadium
45,301
UCF Arena
10,045
Jay Bergman Field
1,980
Villanova
Sponsors football in the Colonial Athletic Association
Wells Fargo Center
The Pavilion 5
20,328
6,500
Villanova Ballpark at Plymouth
1,500
Departing members highlighted in pink. Future members highlighted in gray.
Notes:
1 For certain high-profile home games, Cincinnati uses the Cincinnati Bengals' Paul Brown Stadium. In 2010, Cincinnati hosted the University of Oklahoma at Paul Brown Stadium. In 2011, Cincinnati used Paul Brown Stadium as an alternate home field for games against Louisville and West Virginia.
2 Late in 2006, Rutgers added approximately 3,000 temporary end zone seats that remained for the 2007 season (total 45,000). In 2008, Rutgers began a stadium expansion project which is expected to increase capacity to over 55,000 seats and add luxury and club seats. The premium seating is projected to be ready for the 2008 season and the additional 12,000 end zone seats are expected for the 2009 season. The stadium is also expected to receive a new name as part of the financing package depends on a name sponsorship.
3 St. John's men generally play their Big East home schedule in Madison Square Garden and their non-conference home schedule on campus at Carnesecca Arena. In 2005–06, St. John's played only one non-conference game at MSG and one Big East game on campus.
4 For Syracuse basketball games in the Carrier Dome, the court is laid out on one end of the field and stands are erected beside it. This makes the Carrier Dome the largest on-campus venue for college basketball in the nation.
5 For certain high-profile home games, Villanova uses the Wells Fargo Center, and previously used the Wachovia Spectrum. In 2005–06, Villanova played three home games at the Wells Fargo Center and the rest on campus at The Pavilion. In 2006, the Wells Fargo Center was also a first-round site for the NCAA Tournament. Under NCAA rules, a venue is not considered a home court unless a school plays four or more regular-season games there; this enabled Villanova to play its first two tournament games at the Wells Fargo Center (but Villanova was not considered the host school for that sub-region – the Atlantic 10 Conference was). This situation occurred again in 2009, with Villanova playing (and winning) its first two tournament games at Wells Fargo Center.
6 For the 2012 football Season, Temple is a member of the Big East and will join the conference as a full member for all other sports on July 1, 2013.
7 For certain high-profile home games, Tulane will use the Mercedes-Benz Superdome, its home stadium from 1975 until the opening of Yulman Stadium.
References
Edit
External links
Edit
Big East Conference
Football members
100px
Future football members
Future football-only members
Former/departing members

† Schools that field football teams outside of the Big East
---
---
Community content is available under
CC-BY-SA
unless otherwise noted.