The Big 12 Conference is a college athletic conference of ten schools, with headquarters located in Irving, Texas. It is a member of the NCAA's Division I for all sports; its football teams compete in the Football Bowl Subdivision (FBS; formerly Division I-A), the higher of two levels of NCAA Division I football competition. Member schools are located in Iowa, Kansas, Oklahoma, Texas, and West Virginia.
According to the Big 12 Conference's website, the alternate names "Big Twelve" and "Big XII" are incorrect. The trademarked name of the conference is Big 12 Conference, notwithstanding the Roman numeral XII featured on the conference logo.[2] The current Big 12 Commissioner is Bob Bowlsby.
The Big 12 Conference is the second youngest of the major college athletic conferences in the United States, having formed in 1994 from a merger of one of the oldest conferences, the Big Eight, with four prominent colleges from Texas. From its formation until 2011, its 12 members competed in two divisions. Two charter members left the conference in 2011, and in 2012, two more universities left, while another two joined from other conferences. In 2012, the Big 12 formed an alliance with the Southeastern Conference to host a joint post-season college bowl game between the champions of each conference.
In the early 1990s, most of the colleges in the Division I Football Bowl Subdivision (FBS), then known as Division I-A, were members of the College Football Association; this included members of the Big Eight and Southwest Conferences. Following a Supreme Court decision in 1984, the primary function of the CFA was to negotiate television broadcast rights for its member conferences and independent colleges. In February 1994, the Southeastern Conference announced that they, like the Big Ten, Pac-10, and Notre Dame before them, would be leaving the CFA and negotiate independently for a television deal that covered SEC schools only. This led The Dallas Morning News to proclaim that "the College Football Association as a television entity is dead".[3] More significantly, this change in television contracts ultimately would lead to significant realignment of college conferences, with the biggest change being the dissolution of the Big Eight and the Southwest Conferences and the formation of the Big 12.
After the SEC's abandonment of the CFA, the Southwest Conference and the Big Eight Conference saw potential financial benefits from an alliance to negotiate television deals, and quickly began negotiations to that end, with ABC and ESPN. Though there were complications over the next several weeks (some of which are detailed below), on February 25, 1994, it was announced that a new conference would be formed from the members of the Big Eight and four of the Texas member colleges of the Southwest Conference.[4][5][6] Though the name would not be made official for several months, newspaper accounts immediately dubbed the new entity the "Big 12".[7] Charter members of the Big 12 included: Baylor University, the University of Colorado at Boulder, Iowa State University, University of Kansas, Kansas State University, the University of Missouri, the University of Nebraska–Lincoln, the University of Oklahoma, Oklahoma State University–Stillwater, the University of Texas at Austin, Texas A&M University, and Texas Tech University.
During the negotiations for television rights, the University of Texas started to flirt with the idea of joining the Pacific-10 Conference. Additionally, Texas A&M was also investigating a potential membership in the SEC. However, these courtships were aborted when Texas lawmakers made it clear that they wanted as many Texas schools as possible to stay together. In the meantime, the Big Eight had not stopped to wait for the Texas schools, and had continued to negotiate with the television networks. Ultimately, this pressured the Texas schools to join with the Big Eight schools.
Furthermore, both Brigham Young University and the University of New Mexico, then in the Western Athletic Conference (WAC), were also considered for membership in the new conference;[8] in anticipation of this possibility, the new conference trademarked not only the name "Big 12" but also the name "Big 14", in case of future expansion.[9] However, ultimately the two WAC schools were left out, and three months after formation, the schools of the new conference officially selected the conference's name: the Big 12 Conference.[6] Athletic competition in the conference commenced on August 31, 1996. Although at the time of its formation the Big 12 was composed of the old Big Eight plus the four Texas schools, it regards itself as a separate conference, not an expanded Big Eight, and as such does not claim the Big Eight's history as its own.
From the conference's formation until the 2010–11 season, the Big 12 was split into two divisions for most major sports. The six northernmost schools Colorado, Iowa State, Kansas, Kansas State, Missouri, and Nebraska constituted the North Division, while the Texas and Oklahoma schools constituted the South Division.
Conference instability and realignment
Edit
During the 2010–12 NCAA conference realignment, the Big 12 was one of the more heavily impacted all-sports conferences; Colorado announced plans to join the Pac-10, then Nebraska accepted an invitation to join the Big Ten Conference. This ended the Big 12's divisional format, as the NCAA only allows football championship games in conferences with at least twelve teams.
In May 2010, American intercollegiate sports news became rife with speculation that the Big 12 Conference was on the verge of dissolution. One reason for this speculation was the inability of the Big 12 to come to an agreement on equal revenue sharing in the conference. Nebraska, Texas, Texas A&M, and Oklahoma objected to equal sharing, according to former Commissioner Dan Beebe. Later, after being fired by the Big 12, Beebe was quoted as saying, "Nebraska was one of the biggest objectors of equal revenue rights, and their president Harvey Perlman said that."[10] After his 2011 firing, Beebe said in a phone interview with The Associated Press that Oklahoma, Nebraska, and even Texas A&M were interested in "developing their own distribution systems" for their sports programs.[11]
The Big 12's collapse seemed imminent amid rampant speculation that teams were defecting to various conferences.[12] Colorado was eying the Pac-10. Nebraska was eying the Big Ten. The Big Ten also considered the addition of Texas a possibility.[13] Texas, Texas A&M, Texas Tech, Oklahoma, Oklahoma State, and Colorado were talking with the Pac-10.[14]
On June 10, Colorado accepted an invitation to become the Pac-10's eleventh member; Colorado reportedly moved quickly for fear that Baylor would force its way into the Pac-10, leaving Colorado behind in a dissolving conference. The Colorado move to the Pac-10 was to be effective in 2012,[15][16] but the school later negotiated a settlement with the Big 12 to leave on July 1, 2011. The day following Colorado's defection announcement, on June 11, Nebraska applied for membership in the Big Ten Conference and was unanimously accepted, becoming the Big Ten's twelfth member, effective July 1, 2011.[17]
The departures of Colorado and Nebraska, combined with reports that Texas, Texas A&M, Texas Tech, Oklahoma, and Oklahoma State were close to accepting invitations to join the Pac-10, made the Big 12's demise seem to be a foregone conclusion. However, on June 14, those five schools announced that they had decided to stay in the Big 12, after agreeing to an eleventh-hour deal to save the conference.[18] The decisions reportedly came after furious lobbying by the other five remaining Big 12 schools (Baylor, Iowa State, Kansas, Kansas State, and Missouri), as well as intervention by athletic directors around the country who were concerned about the prospect of a 16-team "superconference". The deal was made possible because of a restructured revenue sharing agreement and the promise of a lucrative new television deal.[19] As part of the deal, member schools were permitted to launch their own television networks, which eventually led to the creation of the University of Texas Longhorn Network, which would broadcast Texas Longhorn sporting events including non-conference football games and at least one conference football game. Additionally, Texas A&M and Oklahoma ended contact with the Southeastern Conference, which had been pursuing both schools as potential candidates if their conference decided to expand past 12 members.[20]
On June 16, 2010, Texas state lawmakers Garnet Coleman and Bill Callegari, both from the Houston area, co-wrote a letter asking Big 12 officials to consider adding the University of Houston (a Conference USA member) to the Big 12.[21]
Departures
Edit
Texas A&M
Edit
In August 2011, Texas A&M announced plans to apply to join another unspecified conference.[22] Texas A&M's desire to leave the Big 12 Conference was reportedly driven both by concern about conference stability and also by concerns that the Longhorn Network, controlled by A&M's arch rival Texas, would give Texas an unfair advantage in recruiting and other aspects of competition.[23] On September 2, David Boren, president of the University of Oklahoma, announced that his school was actively reevaulating its conference membership.[24] Several days later, Southeastern Conference officials voted to accept Texas A&M as its thirteenth member,[25] conditional upon a reaffirmation that the remaining Big 12 schools would not pursue legal action to block the move.[26] Several schools refused to waive their rights to pursue legal action against the Southeastern Conference for tortious interference.[27][24] Despite this, on September 25, the SEC announced that Texas A&M was being accepted unconditionally—regardless of legal threats. Texas A&M officially joined the SEC on July 1, 2012.[28] As part of the settlement of the exit, the Big 12 Conference will withhold $12.4 million of the revenue the Big 12 Conference would have shared with Texas A&M.[29] Texas A&M will still receive a portion of the revenue from the recently signed contract between the Big 12 Conference and Fox Sports.[29]
The Big 12 Conference said it would form a committee to replace Texas A&M with at least one other school.[22] The Boards of Regents of Oklahoma, Oklahoma State, and Texas all authorized their presidents to make decisions related to conference alignment.[30] These three schools, along with Texas Tech, were reportedly considering applying to the Pacific-12 Conference,[31] while the remaining schools entered talks with the Big East football schools to potentially combine conferences.[32] Further realignment was temporarily halted on September 20, when the Pac-12 reiterated its desire to remain a twelve-team conference.[33] There was another step towards conference stability on October 5, 2011, when the Big 12 Conference agreed to equally distribute Tier I and II television revenues.[34]
At the same time as the remaining members of the former South Division were being secured in the fold, there was another defection brewing in the north. On October 4, 2011, Missouri's Board of Curators authorized the school's president to explore applying to other conferences.[35] A year earlier, there had been widespread speculation that Missouri was interested in defecting to become the Big Ten's twelfth member, but that had ended when Nebraska, not Missouri, was invited to join the Big Ten. On October 11, in a notably non-prescient comment, interim Big 12 Conference Commissioner Chuck Neinas stated categorically Missouri would remain in the Big 12 Conference for the 2012 season.[36]
Despite his confidence, Missouri inched closer to leaving on October 21 when its Board of Curators authorized Chancellor Brady Deaton to move the school out of the Big 12 Conference if it would be in the school's best interest to do so.[37] On October 28, the Big 12 Conference's press release announcing its invitation to West Virginia University hinted at Missouri's imminent departure, as Missouri was not listed among the "expected" members for the 2012–13 school year.[38]
On November 6, Missouri announced that it would join the Southeastern Conference effective July 1, 2012.[39] Missouri will compete in the conference's East division. As compensation for the departure, the Big 12 Conference is withholding $12.4 million of the revenue it would have shared with Missouri; additionally, it was announced that Missouri would not share the revenue from a newly-signed contract between the Big 12 Conference and Fox Sports.[29] Missouri also agreed to pay the Big 12 Conference for its share of officiating costs of its final year in the conference, as it has done in prior years (an estimated payment of $500,000).[29]
Following these departures, the Conference retained the "Big 12" name and logo despite dropping to ten teams,[40] a decision ostensibly similar to the Big Ten Conference's choice to keep its name after its membership increased first to eleven and then to twelve.
Additions
Edit
Texas Christian
Edit
On October 6, the Big 12 Conference Board of Directors, acting upon a unanimous recommendation of the expansion committee, authorized negotiations with Texas Christian University (TCU) to become a member of the Conference even though TCU had previously agreed to join the Big East Conference in the near-future.[41] A Big 12 official named Brigham Young University and the University of Louisville as other candidates for expansion.[42][43] On October 10, Texas Christian University's Board of Trustees voted to accept the invitation from the Big 12 Conference, and the school joined the conference on July 1, 2012. TCU had been a member of the Southwest Conference, one of the original constituent conferences that were incorporated into what became the Big 12 and has long and historical rivalries with several Big 12 schools, the most notable of which is with Baylor, a rivalry dating back to 1899—making it one of the longest ongoing series in the nation.[44]
West Virginia
Edit
On October 28, West Virginia University accepted an invitation to join the Big 12 Conference, effective the 2012 season.[45] However, because the Big East Conference requires 27 months of notice prior to withdrawal, Big East Commissioner John Marinatto said that West Virginia may not leave before July 1, 2014.[46] In response, West Virginia filed a lawsuit to declare invalid the withdrawal-notice requirement stipulated in the Big East's bylaws.[47][48] The WVU lawsuit alleged that the Big East Conference breached its fiduciary duty by allowing several football-playing members to depart, causing the conference to no longer be a major football conference and jeopardizing the conference's continued existence.[49][50] Because of this, West Virginia alleged, its continued performance under the contract had become unreasonably burdensome and that its original purpose in entering into the contract had been eliminated.[51] Additionally, West Virginia also stated its belief that its notice to withdraw in 2012 was indeed accepted, when the Big East Conference accepted its payment of half the $5 million withdrawal penalty.[51] Marinatto denied the allegations.[52] The Big East Conference filed a countersuit against West Virginia, alleging that West Virginia breached its contract by withdrawing from the conference without 27 months of notice.[53][54] West Virginia requested a dismissal of the Big East's lawsuit; this was denied. The Big East Conference's lawsuit was scheduled to begin being argued in court in April 2012,[55] but on February 14, 2012, West Virginia announced that it had settled[56] its lawsuit with the Big East Conference. This cleared the final hurdle for West Virginia to join the Big 12 Conference in time for the 2012 season.[57] While terms of the settlement were kept confidential, West Virginia's athletic director said that the settlement would be paid only from private donations and money the athletes raise themselves.[57] According to an anonymous source, the Big East Conference will be paid $20 million, of which $11 million will be paid by West Virginia and $9 million by the Big 12 Conference.[58] The agreement apparently stipulated that the $2.5 million exit fee that West Virginia paid to the Big East Conference in October 2011 will be counted towards the settlement,[59] and that the revenue-sharing money owed by the Big East Conference to West Virginia would not be paid to West Virginia but instead would be applied towards the settlement with West Virginia.[59]
Member schools
Edit
Current members
Edit
Institution
Location
(Population)
Founded
Type
Enrollment
Joined
Nickname
Mascot
Varsity
Sports
National
Titles
Baylor University
Waco, Texas
(126,697)
1845
Private
15,195
1996
Bears
Judge / Bruiser
16
4
Iowa State University
Ames, Iowa
(59,042)
1858
Public
31,040
1996
Cyclones
Cy the Cardinal
10
9
University of Kansas
Lawrence, Kansas
(88,727)
1865
Public
30,004[60]
1996
Jayhawks
Big Jay / Baby Jay / Centennial Jay
16
12
Kansas State University
Manhattan, Kansas
(52,281)
1863
Public
23,588[61]
1996
Wildcats
Willie the Wildcat
14
0
University of Oklahoma
Norman, Oklahoma
(113,273)
1890
Public
29,721
1996
Sooners
Sooner Schooner / Boomer and Sooner
19
26
Oklahoma State University
Stillwater, Oklahoma
(46,048)
1890
Public
23,307
1996
Cowboys/Cowgirls
Pistol Pete / Bullet
16
51
University of Texas
Austin, Texas
(820,611)
1883
Public
51,195[62]
1996
Longhorns
Bevo / Hook 'em
18
50
Texas Christian University
Fort Worth, Texas
(758,738)
1873
Private
9,142
2012
Horned Frogs
Super Frog
18
6
Texas Tech University
Lubbock, Texas
(233,740)
1923
Public
32,327[63]
1996
Red Raiders
Masked Rider / Raider Red
16
1
West Virginia University
Morgantown, West Virginia
(30,293)
1867
Public
29,306
2012
Mountaineers
The Mountaineer
17
15
</div>
Former members
Edit
Institution
Location
(Population)
Founded
Type
Enrollment
Joined
Left
Nickname
Mascot
Varsity
Sports
National
Titles[64][65]*
Current
Conference
University of Colorado
Boulder, Colorado
(100,160)
1876
Public
30,128
1996
2011
Buffaloes
Ralphie the Buffalo / Chip
14
24
Pac-12
University of Missouri
Columbia, Missouri
(110,438)
1839
Public
34,255[66]
1996
2012
Tigers
Truman the Tiger
18
2
SEC
University of Nebraska
Lincoln, Nebraska
(225,581)
1869
Public
24,100[67]
1996
2011
Cornhuskers
Herbie Husker / Lil' Red
21
23
Big Ten
Texas A&M University
College Station, Texas
(94,347)
1876
Public
52,585
1996
2012
Aggies
Reveille
18
14
SEC
Membership timeline
Edit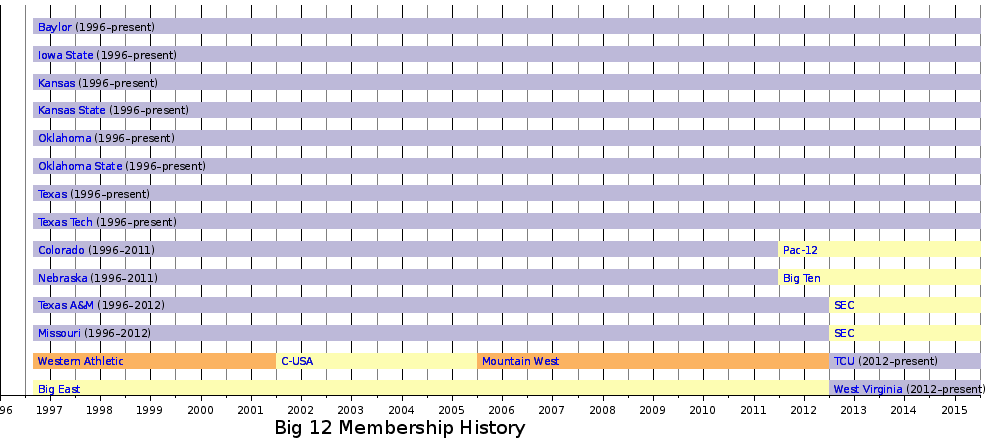 Full members Other Conference
Endowments
Edit
Texas (System-wide) – $17.1 billion[68]
Kansas (System-wide) – $1.3 billion[68]
TCU – $1.2 billion[68]
Oklahoma – $1.2 billion[68]
Baylor – $1.0 billion[68]
Texas Tech (System-wide) – $891 million[68]
Oklahoma State (System-wide) – $682 million[68]
Iowa State – $612 million[68]
West Virginia (System-wide) – $406 million
Kansas State – $338 million[68]
Commissioners
Edit
Big 12 Conference annual revenue distribution
Year
Revenue distributed
Annual Increase
1997
$53.6 million
–
1998
$58 million
8.2%
1999
$64 million
10.3%
2000
$72 million
12.5%
2001
$78 million
8.3%
2002
$83.5 million
7.1%
2003
$89 million
6.6%
2004
$101 million
13.5%
2005
$105.6 million
4.6%
2006
$103.1 million
−2.4%
2007
$106 million
2.8%
2008
$113.5 million
7.1%
2009
$130 million
14.5%
2010
$139 million
6.9%
Total
$1.296 billion
–
Average
$92.6 million
–
source: Big 12 Conference[75]
The Big 12 Conference distributes revenue, mostly collected from television contracts, bowl games, the NCAA, merchandise, licensing, and conference-hosted sporting events, annually to member institutions.[76] From 1996 to 2011, 57 percent of all distributed revenue was allotted equally; with the other 43 percent distributed based upon the number of football and men's basketball television appearances and other factors.[77][78] The 2011 annual meeting of the conference resulted in a distribution of 76 percent equal allotment and 24 percent based on television appearances. Changing the revenue-sharing arrangement requires a unanimous vote; as a Big 12 member, Nebraska had withheld support for more equitable revenue distribution.[77]
With this exposure-based revenue-sharing model, larger schools in the conference, such as the University of Texas, can receive more revenue because television channels will schedule such schools more frequently than smaller schools that may have less national audience appeal. In 2006, for example, Texas received $10.2 million, 44% more than Baylor University's $7.1 million.[citation needed]
Compared to other conferences, the Big 12's revenue is low for a BCS conference; this is due in part to television contracts signed with Fox Sports Net (four years for $48 million) and ABC/ESPN (eight years for $480 million) that are set to expire in 2012 and 2016, respectively.[79]
As of the current 2012–13 academic year, the conference sponsors championships in the following sports: baseball (m), basketball (m,w), cross-country (m,w), equestrian (w), football (m), golf (m,w), gymnastics (w), rowing (w), soccer (w), softball (w), swimming and diving (m,w), tennis (m,w), track and field (m,w), volleyball (w), wrestling (m). The most recently added sports were equestrian and rowing, previously unofficial sports, which debuted as fully sponsored sports with official championships in 2011–12.[40]
Among the sponsored sports, all ten universities participate in 12 sports, while the following sports do not have full participation:
From 1996–2010, Big 12 Conference teams played eight conference games a season. Each team faced all five opponents within its own division and three teams from the opposite division. Inter-divisional play was a "three-on, three-off" system, where teams would play three teams from the other division on a home-and-home basis for two seasons, and then play the other three foes from the opposite side for a two-year home-and-home.[citation needed]
This format came under considerable criticism, especially from fans at Nebraska and Oklahoma, who were denied a yearly matchup between two of college football's most storied programs.[citation needed] The Nebraska-Oklahoma rivalry was one of the most intense rivalries in college football history.[citation needed] (Until 2006, the teams had never met in the Big 12 Championship.) Due to the departure of Nebraska and Colorado in 2011, the Big 12 eliminated the divisions (and championship game) and instituted a nine-game round-robin format.[citation needed]
Championship game
Edit
The Big 12 Championship Game was held by the Big 12 Conference each year. The idea of having a championship game was voted on at a Big 12 Conference meeting; Nebraska voted against, while the other schools voted in favor.[91] The championship game pitted the Big 12 North Division champion against the Big 12 South Division champion in a game held after the regular season has been completed. The first championship game was held during the 1996 season. Since the 1996 season, most football championship games were held at Arrowhead Stadium in Kansas City, Missouri.
The final game was played in Cowboys Stadium in Arlington, Texas, which had also hosted the previous games, with the Oklahoma Sooners defeating the Nebraska Cornhuskers 23–20.[92]
In 2010, the Big 12 Conference decided to move the location of the championship game to Dallas for 2011, 2012, and 2013.[93] This became moot following the 2010 season because the NCAA only allows conferences with at least twelve teams to hold a championship game; as the conference only has ten teams following the 2010 season, the conference will not hold a championship game.[94]
Bowl games
Edit
Rivalries
Edit
The Big 12 Conference has many rivalries among its member schools, primarily in football. Most of the rivalries existed before the Big 12 was established. The Kansas-Missouri rivalry was the longest running in the Big 12, the longest running west of the Mississippi, and the second longest running in college football. It was played a duration of 119 years before Missouri left the Big 12. As of October 2012, the University of Kansas' athletic department has not accepted Missouri's invitations to play inter-conference rivalry games, putting the rivalry on hold. Sports clubs sponsored by the two universities have continued to play games.[96]The Oklahoma-Texas rivalry is also unique, as it was a major rivalry decades before the two schools were in the same conference.
Some of the longstanding football rivalries between Big 12 schools include:
Before their departure to other conferences, a number of former member schools held longtime rivalries within the conference:
Men's basketball
Edit
From 1996–2011, standings in conference play were combined and not split among divisions, the schedule was structured as if the schools were split into two divisions. Teams played a home-and-home against teams within its division and a single game against teams from the opposite division for a total of 16 conference games. This denied Oklahoma and Oklahoma State, formerly in the Big Eight, two games a season against their opponents from that former conference, but did allow most of the other traditional rivalries to be played home-and-home. However, after the departures of Nebraska and Colorado, Big 12 play transitioned to an 18-game, double round robin schedule, allowing Oklahoma and Oklahoma State to once again play their former Big 8 rivals twice each season, in addition to adding second annual games to lucrative, nationally prominent series like Texas-Kansas.[98]
Big 12 men's basketball champions
Edit
Kansas has the most Big 12 regular season titles, winning or sharing the title 12 times in the league's 16 seasons. The 2002 Kansas team became the first, and so far, only team to complete an undefeated Big XII regular season, going 16–0. Kansas has won or shared 8 straight league titles and 10 of the past 11. Kansas has won the most Big 12 postseason titles as well, winning 8 out of 16. However, Missouri was the most recent Big 12 Tournament champion, winning the 2012 edition of the tournament, the Tigers' final appearance in the event before leaving for the SEC.
In 2005, Oklahoma won the post-season tournament seeding tiebreaker over Kansas based on their 71–63 home victory over the Jayhawks.[99]
In 2006, Texas won the post-season tournament seeding tiebreaker over Kansas based on their 80–55 home victory over the Jayhawks.[100]
In 2008, Texas won the post-season tournament seeding tiebreaker over Kansas based on their 72–69 home victory over the Jayhawks.[101]
Big 12 in the NCAA tournament
Edit
[

citation needed

]
Big 12 men's basketball programs all time
Edit
Through the end of the 2008–09 season
| School | Year Started | All Time Wins | All Time Winning Percentage |
| --- | --- | --- | --- |
| Baylor | 1907 | 1,180 | .479 |
| Iowa State | 1908 | 1,163 | .493 |
| Kansas | 1899 | 2,038 | .718 |
| Kansas State | 1903 | 1,434 | .580 |
| Oklahoma | 1908 | 1,499 | .614 |
| Oklahoma State | 1908 | 1,475 | .589 |
| Texas | 1906 | 1,586 | .627 |
| Texas Tech | 1925 | 1,250 | .568 |
[

citation needed

]
Big 12 cumulative conference record
Edit
From 1996–97 through 2009–10
| School | Conference Wins | Conference Losses | Conference Winning % |
| --- | --- | --- | --- |
| Baylor | 70 | 154 | .313 |
| Iowa State | 97 | 127 | .433 |
| Kansas | 187 | 37 | .835 |
| Kansas State | 91 | 133 | .406 |
| Oklahoma | 143 | 81 | .638 |
| Oklahoma State | 132 | 92 | .589 |
| Texas | 154 | 70 | .688 |
| Texas Tech | 92 | 132 | .411 |
[

citation needed

]
Records do not include conference tournament games, only regular season conference games
The top 8 teams compete in the conference tournament at the conclusion of each season. Iowa State has not sponsored baseball since dropping its intercollegiate program after the 2001 season.[citation needed]
Number of baseball titles by school

Edit

Texas: 11 (7 regular-season, 4 tournament)
Nebraska: 7 (3 regular-season, 4 tournament)
Baylor: 3 (3 regular-season, 0 tournament)
Texas Tech: 2 (1 regular-season, 1 tournament)
Kansas: 1 (0 regular-season, 1 tournament)
Oklahoma: 1 (0 regular-season, 1 tournament)
Oklahoma State: 1 (0 regular-season, 1 tournament)
Kansas State: 0
Iowa State: 0

Season
Regular-Season
Champion
Tournament
Champion
1997
Texas Tech
Oklahoma
1998
Texas A&M
Texas Tech
1999
Texas A&M
Nebraska
2000
Baylor
Nebraska
2001
Nebraska
Nebraska
2002
Texas
Texas
2003
Nebraska
Texas
2004
Texas
Oklahoma State
2005
Baylor
Nebraska
2006
Texas
Kansas
2007
Texas
Texas A&M
2008
Texas A&M
Texas
2009
Texas
Texas
2010
Texas
Texas A&M
2011
Texas
Texas A&M
Texas A&M
2012
Baylor
Missouri
By school
Edit
[

citation needed

]
As of the end of the 2012 tournament.
Facilities
Edit
School
Football stadium
Capacity
Basketball arena
Capacity
Baseball stadium
Capacity
Baylor
Floyd Casey Stadium
Baylor Stadium (2014)
50,000[102]
45,000
Ferrell Center
10,284
Baylor Ballpark
5,000
Iowa State
Jack Trice Stadium
55,000[103]
Hilton Coliseum
14,356
Non-baseball school*
Kansas
Memorial Stadium
50,071[104]
Allen Fieldhouse
16,300
Hoglund Ballpark
2,500
Kansas State
Bill Snyder Family Football Stadium
50,000[105]
Bramlage Coliseum
12,528
Tointon Family Stadium
2,000
Oklahoma
Gaylord Family Oklahoma Memorial Stadium
82,112[106]
Lloyd Noble Center
12,000
L. Dale Mitchell Baseball Park
3,180
Oklahoma State
Boone Pickens Stadium
60,218[107]
Gallagher-Iba Arena
13,611
Allie P. Reynolds Stadium
3,821
Texas
Darrell K Royal – Texas Memorial Stadium
100,119[108]
Frank Erwin Center
16,734
UFCU Disch-Falk Field
6,649
TCU
Amon G. Carter Stadium
45,000
Daniel–Meyer Coliseum
7,200
Lupton Stadium
4,500
Texas Tech
Jones AT&T Stadium
60,454[109][110][111][112]
United Spirit Arena
15,091
Dan Law Field at Rip Griffin Park
5,050
West Virginia
Mountaineer Field
60,000[113]
WVU Coliseum
14,000[114]
Hawley Field
1,500[115]

*Iowa State discontinued its participation in baseball as an NCAA-recognized activity following the 2001 season.[83] It participates in club baseball as a member of the National Club Baseball Association. Games are played at Cap Timm Field, capacity 3,000.[116]
</div>
National championships
Edit
The following is a list of all NCAA championships won by teams that were representing the Big 12 Conference in NCAA-recognized sports at the time of their championship.[64][65]
Football (3):
1997 – Nebraska
2000 – Oklahoma
2005 – Texas

Equestrian (3):
2012 – Texas A&M (Overall)
2012 – Baylor (Hunter)
2012 – Texas A&M (Western)

Baseball (2):
2002 – Texas
2005 – Texas

Men's Basketball (1):
2008 – Kansas

Women's Basketball (3):
2005 – Baylor
2011 – Texas A&M
2012 – Baylor

Women's Bowling (5):
1999 – Nebraska
2001 – Nebraska
2004 – Nebraska
2005 – Nebraska
2009 – Nebraska

Men's Cross Country (6):
2001 – Colorado
2004 – Colorado
2006 – Colorado
2009 – Oklahoma State
2010 – Oklahoma State
2012 - Oklahoma State

Men's Swimming (5):
1996 – Texas
2000 – Texas
2001 – Texas
2002 – Texas
2010 – Texas

Men's Tennis (1):
2004 – Baylor

Women's Volleyball (3):
2000 – Nebraska
2006 – Nebraska
2012 - Texas

Wrestling (4):
2003 – Oklahoma State
2004 – Oklahoma State
2005 – Oklahoma State
2006 – Oklahoma State

National team titles by institution
Edit
The national championships listed below are as of June 2011 and exclude football, Helms, and AIAW titles.
School – Number – NCAA Championships
Conference champions
Edit
The Big 12 Conference sponsors 23 sports, 10 men's and 13 women's.[118]
In football, divisional titles were awarded based on regular-season conference results, with the teams with the best conference records from the North and South playing in the Big 12 Championship Game for the Big 12 title from 1996–2010. Baseball, basketball, softball, tennis, and women's soccer titles are awarded in both regular-season and tournament play. Cross country, golf, gymnastics, swimming and diving, track and field, and wrestling titles are awarded during an annual meet of participating teams. The volleyball title is awarded based on regular-season play.[citation needed]
Big 12 Conference titles by school
Edit
As of May 3, 2012. List includes both regular-season, tournament titles, and co-championships. List does not include conference championships won prior to the formation of the Big 12 Conference in 1996.[119]
Current members
Edit
Former members
Edit
References
Edit
External links
Edit
Big 12 Conference
Current teams
Former teams
Championships & awards
---
---
Community content is available under
CC-BY-SA
unless otherwise noted.