Jurassic World: Dominion Dominates Fandom Wikis - The Loop
Play Sound
The Auburn Tigers football team represents Auburn University in the Football Bowl Subdivision of the National Collegiate Athletics Association (NCAA) and the Western Division of the Southeastern Conference. Since its beginnings in 1892, Auburn football has accumulated 2 national championships, 11 conference championships, 7 divisional championships, 7 perfect seasons, and 3 Heisman Trophy winners. Auburn is the thirteenth winningest football program in FBS history, and has compiled over 700 victories, while appearing in 37 postseason bowl games and ranking fifth nationally for bowl winning percentage. Auburn's home stadium is Jordan-Hare Stadium, which becomes Alabama's fifth largest city on gamedays with a capacity of 87,451. Auburn's archrival is in-state foe Alabama. The Tigers and Crimson Tide meet annualy in the Iron Bowl, one of the biggest rivalries in all of sports. The Tigers also maintain rivalries with SEC foes Georgia and LSU. Auburn's winningest coach is Ralph "Shug" Jordan, who led the Tigers from 1951 to 1975, and won the school's first national championship in 1957. The team is currently coached by Gene Chizik, who was hired on December 13, 2008. They are the reigning national champions after defeating the Oregon Ducks 22-19 in the BCS National Championship Game on January 10, 2011.
Beginnings (1892-1903)
The organization of Auburn's first football team is credited to George Petrie, who led the 1892 Tigers to a 2-2 record. Petrie also chose burnt orange and navy blue as the official colors for Auburn athletic teams, which was inspired by his alma mater, the University of Virginia. The first game was against the University of Georgia at Piedmont Park in Atlanta, Georgia. Auburn won 10-0 in front of a crowd of 2,000, in a game that would establish the Deep South's Oldest Rivalry. Auburn met in-state rival Alabama for the first time ever at Lakeview Park in Birmingham, Alabama during the 1893 season, which ended with a 32-22 victory for the Tigers. Auburn was led by nine different coaches over a 12-year span, which most notably included John Heisman (1895–1899), for whom the Heisman trophy is named. During five years, Heisman compiled a 12-4-2 record, before departing for Clemson in 1900. Auburn's first conference membership came in 1895, when it joined the Southern Intercollegiate Athletic Association (SIAA). The first conference championship and undefeated season came in 1900, when the Tigers went 4-0 under coach Billy Watkins.
Mike Donahue era (1904-1922)
In 1904, Mike Donahue became the tenth head coach of the Auburn Tigers. His first team finished with a 5-0 record, marking Auburn's second undefeated season. The 1907 season would mark the last time Auburn would play Alabama until 1948, after a 7-7 tie between the two rivals. Donahue's most notable season came in 1913, when Auburn claimed its second conference championship with an 8-0 record. The Tigers were retroactively awarded a national title by numerous polls, including Billingsley Report, James Howell, and 1st-N-Goal. The 1914 team also won a conference championship with an 8-0-1 record, and was retroactively awarded a national title by James Howell. The Tigers would return to the top of the conference once again in 1919, with an 8-1 record. Auburn moved to the Southern Conference in 1921, one year before Donahue's departure from Auburn in 1922, before becoming the coach at LSU in 1923.
Searching for success (1923-1950)
Auburn experienced a decline in success during the late 1920s, 1930s, and 1940s. The Tigers underwent nine different coaching changes over a 28-year period. The only conference championship during this time came in 1932, after a 9-0-1 season under coach Chet A. Wynne. In 1933, Auburn, along with 12 other institutions, left the Southern Conference to form the Southeastern Conference (SEC). Auburn's first bowl appearance came in 1936 under coach Jack Meagher after a 7-2-2 season. The Tigers traveled to Havana, Cuba to play Villanova in the Bacardi Bowl, which ended in a 7-7 tie. Auburn's first bowl win came after the 1937 season against Michigan State in the Orange Bowl. Due to the events surrounding World War II, Auburn did not field a team in 1943, but resumed competition in 1944 under Carl Voyles. During Earl Brown's tenure, Auburn met Alabama for the first time since 1907, which ended with an Alabama victory. The Tigers quickly responded in 1949, as they stunned the heavily-favored Crimson Tide in a 14-13 victory. An 0-10 season in 1950 called for a change, and marked the end of a trying era for Auburn football.
Ralph "Shug" Jordan era (1951-1975)
In 1951, Auburn hired Ralph "Shug" Jordan to become the new head coach of the Tigers. During his first season, Auburn finished with a 5-5 record. He led the Tigers to three consecutive bowl appearances in 1953, 1954, and 1955. Jordan is most recognized for his 1957 squad, which finished the season with a 10-0 record, and won Auburn's first SEC Championship. The Associated Press named the Auburn Tigers no. 1 in its postseason poll, which marked the first official national championship in school history. Auburn was ineligible to participate in postseason play during 1957 and 1958 seasons due to NCAA sanctions for illegal recruiting inducements. The 1958 team was also named national champions by Montgomery Full Season Championship poll, after a 9-0-1 season. Auburn went on to appear in bowl games in 1963 and 1965. Beginning in 1968, the Tigers enjoyed seven consecutive bowl appearances under coach Jordan. In 1971, Auburn quarterback Pat Sullivan led the Tigers to a 9-2 record, and became the school's first Heisman Trophy winner. Auburn would go on to lose the 1972 Sugar Bowl to Oklahoma, 40-22. One of Jordan's biggest victories came against Alabama in 1972, when the Tigers shocked the Crimson Tide in a 17-16 upset. The 1972 Iron Bowl became known as the "Punt Bama Punt" game, due to two blocked Alabama punts in the fourth quarter, which were both returned for Auburn touchdowns. In 1973, Auburn's Cliff-Hare Stadium was renamed Jordan-Hare Stadium, which was the first stadium in the nation to be named for an active coach. After the 1975 season, Jordan retired after a 25-year tenure at Auburn. He has remained Auburn's winningest coach, with a 176-83-7 record, and a .675 winning percentage.
Struggle for respect (1976-1980)
Following Jordan's retirement, Auburn hired Doug Barfield to become the new head coach. From 1976 to 1980, Barfield's Tigers compiled a 27-27-1 on-field record, with no bowl appearances. He lost all five games to rival Alabama during his tenure, and was later awarded two victories due to forfeits by Mississippi State in 1976 and 1977, making his record 29-25-1. He was dismissed from his position after a disappointing season in 1980, as the Tigers finished with a 5-6 record. Auburn then hired Pat Dye, a former assistant coach at Alabama under Coach Paul W. Bryant, and head coach at Wyoming at the time. During his first season in 1981, Auburn finished with a 5-6 record.
Pat Dye era (1981-1992)
In 1982, Pat Dye led Auburn to a 9-3 record and its first bowl appearance in eight years. The 1982 season would also begin a streak of nine consecutive bowl game appearances. The most notable game of the season came against Alabama in the Iron Bowl, when Auburn snapped the Tide's 9-game winning streak. The 1982 Iron Bowl is widely known as the "Bo Over the Top" game, for Auburn running back Bo Jackson's leap over the top of a pile from the one yard line to secure a 23-22 victory over Alabama. This would be the final Iron Bowl for Alabama's legendary coach, Paul W. Bryant, who retired after the 1982 season. Dye's most storied season came in 1983, when the Tigers went 11-1, claiming the conference championship. Auburn went on to defeat Michigan in the Sugar Bowl 9-7. Some felt that #3 Auburn should have been crowned the national champions, due to #5 Miami's upset of #1 Nebraska in the Orange Bowl, and #7 Georgia's upset of #2 Texas in the Cotton Bowl. Nonetheless, Miami jumped from No. 5 to No. 1 in both the AP and Coaches polls, while Auburn remained in the No. 3 spot behind #2 Nebraska. The Tigers were named national champions by various polling organizations, such as the New York Times and Billingsley Report. In 1985, running back Bo Jackson would become the school's second Heisman Trophy winner. Auburn would go on to win three consecutive SEC Championships in 1987, 1988, and 1989. In 1988, defensive tackle Tracy Rocker became the school's first Lombardi Award winner and also won the Outland Trophy. Pat Dye is credited for organizing the first ever Iron Bowl played in Auburn. On December 2, 1989, Bill Curry's #2 Crimson Tide (10-0) traveled to Jordan-Hare Stadium, which had surpassed the seating capacity of Legion Field, to face the #11 Auburn Tigers, who defeated the Tide 30-20. The 1989 Iron Bowl would continue a 4-game winning streak over Alabama. Since 1981, Auburn has a 17-13 edge over Alabama in Iron Bowl wins. Dye's tenure on the plains ended when Auburn was penalized for payments by boosters and assistant coaches to a player, Eric Ramsey. Tape recordings were released that implicated a booster named "Corky" Frost, and present Troy University head coach Larry Blakeney. The controversy landed the Auburn program a spot on 60 Minutes and an eventual NCAA investigation. While the investigation did not find Dye personally responsible for rules violations, the NCAA determined that as head coach and athletic director, Dye should have known about and stopped the payments to Ramsey. The fallout from the NCAA probation against the football team pushed Dye out as athletic director in 1991 and as head coach the following year. Over twelve seasons, Dye achieved a 99-39-4 record, making him the third winningest coach in Auburn football history, only behind Mike Donahue and Ralph "Shug" Jordan. In 2005, the playing surface of Jordan-Hare Stadium was named "Pat Dye Field" in honor of Dye's achievements and contributions he made to Auburn during his tenure.
Terry Bowden era (1993-1998)
Following the departure of Pat Dye, Auburn named Terry Bowden, son of legendary coach Bobby Bowden, head coach of the Tigers. In 1993, while serving a one-year television ban and two-year postseason bowl ban due to NCAA probation, Auburn shocked the nation by completing the season with a perfect 11-0 record. The Tigers were not eligible to play in the SEC Championship Game, nor a bowl game, but were named national champions by the National Championship Foundation. The most memorable game, of the 1994 season was the "Interception Game" versus LSU. In which the Auburn deference intercepted 7 LSU passes, returning 3 for touchdowns in the 4th quarter (Ken Alvis, Fred Smith and Brian Robinson). During the first 2 seasons under Bowden, the Tigers amassed a 20-1-1 record. After serving two years of probation, Auburn made three consecutive bowl game appearances from 1995 to 1997. Bowden's 1997 team won the SEC Western Division title, and played in the SEC Championship Game, falling to Tennessee 30-29. In 1998, Bowden faced criticism for recruiting woes, off-the-field issues, and player discipline, which eventually led to his resignation after a 1-5 start on the season. Interim head coach Bill Oliver finished out the season, which ended with a 3-8 record. Bowden compiled a 47-17-1 record at Auburn after six seasons as head coach.
Tommy Tuberville era (1999-2008)
Following the 1998 season, Ole Miss head coach Tommy Tuberville left Oxford to become the new head coach of the Auburn Tigers. In his first season, the Tigers finished with a 5-6 record, but would return to the SEC Championship Game in 2000, following a 9-0 victory over Alabama, which was played in Tuscaloosa for the first time in 99 years. The Tigers fell to Florida 28-6, but would begin a streak of eight consecutive bowl appearances. Auburn would win a share of the SEC Western Division title in 2001 and 2002. His 2002 season is most notably known for Auburn's 17-7 upset victory over Alabama, which began a six-year winning streak over the Tide. Tuberville's 2004 team completed the season with a perfect 13-0 record and an SEC Championship. Auburn was left out of the BCS National Championship Game, due to its low preseason ranking and the presence of two other undefeated teams ranked higher, #1 USC (12-0) and #2 Oklahoma (12-0). The Tigers went on to defeat Virginia Tech 16-13 in the Sugar Bowl, completing Auburn's third perfect season in the modern era of college football. USC defeated Oklahoma 55-19 to win the national championship, while Auburn was ranked No. 2 in the final AP and Coaches polls. The Tigers were recognized as national champions by various polling organizations, including FansPoll and Golf Digest. Tuberville came under much criticism during the 2008 season for his lackluster performance and coaching staff, including offensive coordinator Tony Franklin, whom he fired after a shocking 14-13 loss to Vanderbilt in October. Auburn finished the year with a 5-7 record, after a disappointing 36-0 loss to rival Alabama in the Iron Bowl, marking the Tide's first victory over Auburn in Tuscaloosa and snapping Auburn's six-year winning streak. Tuberville voluntarily resigned the following week, stating that he would take a year off from coaching. Over ten seasons, Tuberville compiled an 85-40 record at Auburn, while winning one conference championship, five division championships, and completing Auburn's third perfect season in modern history.
Gene Chizik era (2009-present)
On December 13, 2008, Athletic Director Jay Jacobs announced Gene Chizik, former Auburn defensive coordinator and then Iowa State head coach, as the new Auburn head coach. He received early criticism for his 5-19 record during his time at Iowa State during 2007 and 2008. He quickly began forming his new coaching staff, including offensive coordinator Gus Malzahn, who had coached the nation's top offense at Tulsa for the past two seasons. During his first season, Auburn finished with a 7-5 record, and defeated Northwestern 38-35 in the Outback Bowl, its first bowl game since 2007. Following the 2009 season, Chizik and his staff secured a top-5 recruiting class, highlighted by junior college transfer quarterback Cam Newton and running back Mike Dyer. Auburn's 2010 "A-Day" spring scrimmage drew a crowd of 63,217 fans to Jordan-Hare Stadium, setting a new spring game attendance record. Auburn, led by quarterback Cam Newton, running back Mike Dyer, and defensive tackle Nick Fairley, completed the regular season with a perfect 12-0 record, highlighted by a comeback victory over Alabama. The Tide led Auburn 24-0 in the first half, only to lose the game in the second half 28-27. It was the largest lead ever blown by Alabama in Tuscaloosa. Auburn went on to defeat South Carolina 56-17 in the SEC Championship Game, which secured a spot in the BCS National Championship Game. This would be the first BCS bowl game appearance for Auburn since 2004, when the Tigers were left out of the national championship picture. Cam Newton became the third Heisman Trophy winner in school history, while also winning the AP Player of the Year Award, the Walter Camp Award, the Davey O'Brien Award, the Manning Award, and the Maxwell Award. Nick Fairley became the second Auburn player in school history to win the Lombardi Award. Auburn faced the Oregon Ducks on January 10, 2011 in Glendale, Arizona, which ended with a 22-19 Auburn victory, secured by a game-winning field goal kick by senior Wes Byrum, who also kicked the game-winning field goals against Clemson and Kentucky during the regular season. Auburn finished the season with a perfect 14-0 record, and its first official national championship since 1957. Auburn celebrated their national championship with a special ceremony at Jordan-Hare Stadium two weeks following the championship game in Arizona. The coaches and players were honored, along with players from the 1957, 1993, and 2004 undefeated teams. The event drew over 78,000 fans, covering Pat Dye Field and the lower bowl, spilling into both upper decks. A special "reverse" Tiger Walk and special rolling of Toomer's Corner also took place. After settling down from the magical 2010 season, Chizik and his staff began preparing to defend their national title. Auburn opened the 2011 season with dramatic wins against Utah State and Mississippi State. Auburn then fell to eventual ACC Champion Clemson on the road in Death Valley, which snapped Auburn's 17-game winning streak (began on January 1, 2010, vs. Northwestern in Outback Bowl). The Tigers would go on to complete the regular season with a 7-5 record and ranked no. 25 in the final BCS poll, with wins against Florida Atlantic, no. 9 South Carolina, Florida, Ole Miss, and Samford. Auburn fell to Arkansas, LSU (SEC Champion, BCS no. 1), Georgia (eastern division champion), and archrival Alabama (BCS no. 2). The Tigers' 37th bowl appearance will be against the Virginia Cavaliers in the 2011 Chick-fil-A Bowl on December 31, 2011.
Historical ranking
Auburn has the 13th most wins in D-1A college football.[2] In terms of winning percentage, Auburn ranks as the 9th most successful team in the past 25 years with a 71% win rate (213-86-5)[3] and 9th over the last half century (1955–2010) with 69%.[4] Of the 93 current I-A football programs that been active since Auburn first fielded a team 116 years ago, Auburn ranks 15th in winning percentage over that period.[5]
The College Football Research Center lists Auburn as the 14th best college football program in history,[6] with eight Auburn squads listed in Billingsley's Top 200 Teams of All Time (1869–2010).[7] After the 2008 season, ESPN ranked Auburn the 21st most prestigious program in history.[8]
The Associated Press poll statistics show Auburn with the 11th best national record of being ranked in the final AP Poll[9] and 13th overall (ranked 496 times out of 1021 polls since the poll began in 1936), with an average ranking of 11.02.[10] Since the Coaches Poll first released a final poll in 1950, Auburn has 26 seasons where the team finished ranked in the top 20 in both the AP and Coaches Polls.[11]
Heisman links
Three Auburn players, Pat Sullivan in 1971, Bo Jackson in 1985, and Cam Newton in 2010, have won the Heisman Trophy. The Trophy's namesake, John Heisman, coached at Auburn from 1895 until 1899. Of the eight schools of which Heisman coached (among others, Georgia Tech and Clemson), Auburn is the only school that has produced a Heisman Trophy winner. The Auburn Athletic Department has announced that it will honor the school's three Heisman winners with statues, along with a bust of coach John Heisman, outside the east side of Jordan-Hare Stadium.[12]
Modern history
While Auburn football has a long and storied history, the Tigers have been quite successful in recent years. Since the expansion of the SEC and the split into divisions, Auburn has been the winningest SEC West team in league play since the conference realignment in 1992.[13] As of the end of the 2010 season, Auburn teams have won 41 of their last 58 conference matchups including 20 of the last 28 SEC away games. The Tigers seem to perform best when facing their greatest challenge as, in addition to the success on the road in the SEC, Auburn teams have won 12 of their last 19 matchups versus top-10 opponents. The Tigers also have done well protecting Jordan-Hare Stadium, particularly at night where the home team has won 21 of the 25 night games since 2000. Over the five previous seasons, Auburn won 47 games (72.3%).
1983 season
The 1983 Auburn Tigers, led by head coach Pat Dye and running back Bo Jackson, finished 11-1 after playing the nation's toughest schedule. Their only loss came against #3 Texas, who defeated the Tigers 20-7. Auburn went on to defeat #8 Michigan 9-7 in the Sugar Bowl. Despite entering the bowl games ranked third in both major polls, and with both teams ranked higher losing their bowl games, the Tigers ended ranked third in the final AP poll. This despite the fact that Miami had played a dead average schedule while Auburn had played one of the toughest schedules in Championship contender history. Auburn received 21 polls to Miami's 14.
1993 season
Head coach Terry Bowden led the 1993 team to a perfect season in his first year on the Plains. The Tigers were the only undefeated team in major college football, however were banned from playing on television or post-season games due to NCAA violations. Rival Alabama was sent to the SEC Championship Game as the substitute representative of the Western Division. Auburn finished ranked fourth in the nation by the Associated Press but was named a co-National Champion by the National Championship Foundation along with Florida State, Nebraska and Notre Dame.
2004 season
The Auburn Tigers ended the 2004 season undefeated, but were left out of the BCS title game because they ranked third in the final BCS rankings. That left undefeated USC and Oklahoma (ranked No. 1 and No. 2 respectively) to play in the Orange Bowl for the National Championship. Auburn went on to win the Sugar Bowl against Virginia Tech. The team finished No. 2 in both the final AP Poll and USA Today Coaches Poll, following Oklahoma's loss in the National Championship game to the University of Southern California (USC). USC was later stripped of the National Championship for violating NCAA rules.
2010 season
On October 24, 2010, Auburn was ranked first in the BCS polls for the first time in school history. Their quarterback, Cameron Newton, became a Heisman Trophy winner. He had a total of 2,854 yards passing and 30 passing touchdowns. He also rushed for 1,473 yards and 20 touchdowns. Auburn ended the 2010 regular season a perfect 12-0 after a come-back win over cross-state rival, Alabama, in the 75th "Iron Bowl" game by a score of 28-27. Auburn defeated South Carolina in the December 4th, 2010 SEC Championship game in Atlanta, GA by a score of 56 -17. This SEC Championship victory clinched Auburn's berth in the BCS National Championship Game which took place in Glendale, Arizona against the Oregon Ducks. The Tigers defeated the Ducks 22-19 with a last-second field goal to win their second national championship.
Team Awards and records
National championships
Nine Auburn teams have been awarded some form of "National Champions" title, though Auburn only officially claims two—a share of the 1957 title, awarded by the Associated Press;[14] and an undisputed national championship in 2010.
Over the seasons, other polls and organizations have named Auburn national champions,[15] although none of these championships are recognized by the school:
The AP Poll did not begin selecting a champion until 1936 nor the AFCA Coaches Poll until 1950, so many national champion titles previous to those date were awarded retroactively. The undefeated 1913 and 1914 teams coached by Mike Donahue were some of the best defenses in Auburn history. In fact, the 1914 squad allowed zero points all season, outscoring opponents 193-0. The 1983 team featuring Bo Jackson went 11–1 and finished the season by beating Michigan in the Sugar Bowl. Despite the team entering the game ranked third in the AP and both teams ranked ahead losing their bowl games, Auburn was jumped by fifth ranked Miami for the AP National Title. The 1993 team was ineligible to play in a postseason bowl game due to NCAA-imposed sanctions for paying Eric Ramsey[16] and finished ranked fourth by the AP. The undefeated 2004 squad (13–0) finished second in the AP and Coaches Top 25 polls, but the team was awarded the 2004 Fanspoll.com People's National Champion title.[17] After USC was stripped of the FWAA title, the organization discussed awarding the Grantland Rice Award to Auburn but ultimately voted not to award a trophy for 2004.[18] On June 6, 2011, the BCS officially stripped USC of its 2004 national championship, stating that there would be no champion for the 2004 season. Nonetheless, Auburn acknowledges the 2004 title, along with the 1913, 1983 and 1993 titles, in its media guide.[19]
Undefeated seasons
Since its beginnings in 1892, Auburn has completed twelve undefeated seasons.[20] This includes seven perfect seasons in which the Tigers were undefeated and untied:
Conference championships
Auburn has won a total of 11 conference championships, including 7 SEC Championships.
Conference affiliations:
Divisional championships
Since 1992, Auburn has won the SEC Western Division championship outright on four occasions, and is 2-2 in the SEC Championship Game. The most recent appearance came in 2010, as Auburn completed the regular season 12-0, and defeated South Carolina 56-17 in the 2010 SEC Championship Game. Auburn has also shared the western division title, but did not play in the championship game, on three occasions.
Rivalries
Primary Auburn Football Rivalries: All-Time Records

| Name of Rivalry | Rival | Games Played | First Meeting | Last Meeting | AU Won | AU Lost | Ties | Streak | Latest win |
| --- | --- | --- | --- | --- | --- | --- | --- | --- | --- |
| Iron Bowl | Alabama | 75 | 1893 | 2011 | 34 | 42 | 1 | 1 Loss | 2010, 28-27 |
| Deep South's Oldest Rivalry | Georgia | 114 | 1892 | 2011 | 54 | 53 | 8 | 1 loss | 2010, 49-31 |
| Tiger Bowl | LSU | 45 | 1901 | 2011 | 20 | 25 | 1 | 1 loss | 2010, 24-17 |
| Auburn–Florida football rivalry | Florida | 83 | 1912 | 2011 | 43 | 38 | 2 | 3 wins | 2011, 17-6 |
| Totals | -- | 317 | -- | -- | 151 | 154 | 12 | -- | -- |
Traditions
Tiger Walk
Before each Auburn home football game, thousands of Auburn fans line Donahue Drive to cheer on the team as they walk from the Auburn Athletic Complex to Jordan-Hare Stadium. The tradition began in the 1950s when groups of kids would walk up the street to greet the team and get autographs. During the tenure of coach Doug Barfield, the coach urged fans to come out and support the team, and thousands did. Today the team walks down the hill and into the stadium surrounded by fans who pat them on the back and shake their hands as they walk. The largest Tiger Walk occurred on December 2, 1989, before the first ever home football game against rival Alabama—the Iron Bowl. On that day, an estimated 20,000 fans packed the one block section of road leading to the stadium. According to former athletic director David Housel, Tiger Walk has become "the most copied tradition in all of college football."[21]
"War Eagle"
There are many stories surrounding the origins of Auburn's battle cry, "War Eagle." The most popular account involves the first Auburn football game in 1892 between Auburn and the University of Georgia. According to the story, in the stands that day was an old Civil War soldier with an eagle that he had found injured on a battlefield and kept as a pet. The eagle broke free and began to soar over the field, and Auburn began to march toward the Georgia end-zone. The crowd began to chant, "War Eagle" as the eagle soared. After Auburn won the game, the eagle crashed to the field and died but, according to the legend, his spirit lives on every time an Auburn man or woman yells "War Eagle!" The battle cry of "War Eagle" also functions as a greeting for those associated with the University. For many years, a live golden eagle has embodied the spirit of this tradition. The eagle was once housed on campus in The A. Elwyn Hamer Jr. Aviary (which was the second largest single-bird enclosure in the country), but the aviary was taken down in 2003 and the eagle moved to a nearby raptor center. The eagle, War Eagle VI (nicknamed "Tiger"), was trained in 2000 to fly free around the stadium before every home game to the delight of fans. The present eagle, War Eagle VII (nicknamed "Nova"), continues the tradition.
Toomer's Corner
The intersection of Magnolia and College streets in Auburn, which marks the transition from downtown Auburn to the university campus, is known as Toomer's Corner. It is named after Toomer's Drugs, a small store on the corner that has been an Auburn landmark for over 150 years. Hanging over the corner are two massive old-growth oak trees, and anytime anything good happens concerning Auburn, toilet paper can usually be found hanging from the trees. Also known as "rolling the corner," this tradition is thought to have originated in the 1970s and until the mid 1990s was relegated to only to celebrating athletic wins.
Wreck Tech Pajama Parade
The Wreck Tech Pajama Parade originated in 1896, when a group of mischievous Auburn ROTC cadets, determined to show up the more well-known engineers from Georgia Tech, snuck out of their dorms the night before the football game between Auburn and Tech and greased the railroad tracks. According to the story, the train carrying the Georgia Tech team slid through town and didn't stop until it was halfway to the neighboring town of Loachapoka, Alabama. The Georgia Tech team was forced to walk the five miles back to Auburn and, not surprisingly, were rather weary at the end of their journey. This likely contributed to their 45–0 loss. While the railroad long ago ceased to be the way teams traveled to Auburn and students never greased the tracks again, the tradition continues in the form of a parade through downtown Auburn. Students parade through the streets in their pajamas and organizations build floats.[22]
Current Coaching Staff
| Name | Position |
| --- | --- |
| Gene Chizik | Head Coach |
| Trooper Taylor | Assistant Head Coach/Wide Receivers Coach |
| Gus Malzahn | Offensive Coordinator/Quarterbacks Coach |
| Vacant | Defensive Coordinator/Linebackers Coach |
| Jay Boulware | Special Teams Coordinator/Tight Ends Coach |
| Curtis Luper | Recruiting Coordinator/Running Backs Coach |
| Jeff Grimes | Offensive Line Coach |
| Mike Pelton | Defensive Line Coach |
| Tommy Thigpen | Safeties Coach |
| Phillip Lolley | Cornerbacks Coach |
Head coaches
Auburn has had 25 head coaches, and 1 interim head coach, since it began play during the 1892 season.[23] Since December 2008, Gene Chizik has served as Auburn's head coach.[24] The team has played more than 1,150 games over 119 seasons.[23] In that time, six coaches have led the Tigers in postseason bowl games: Jack Meagher, Ralph Jordan, Pat Dye, Terry Bowden, Tommy Tuberville and Gene Chizik.[25] Billy Watkins, Mike Donahue, Chet A. Wynne, Jordan, Dye, Tuberville and Chizik won a combined eleven conference championships.[26] During their tenures, Jordan and Chizik each won national championships with the Tigers.[26][27]
Award winners
A number of Auburn players and coaches have won national awards, including 66 players being named as college football All-Americans. The Tigers also have eleven coaches and players that have been inducted into the College Football Hall of Fame in South Bend, Indiana.
Hall of Fame
National Awards
Players
Coaches
All-Americans
Name
Position
Years
Source
Jimmy Hitchcock
HB
1932
WCFF

Walter Gilbert

C
1933–1936
Monk Gafford
RB
1942
Caleb "Tex" Warrington
C
1944
FWAA, WCFF
Travis Tidwell
RB
1949
Williamson
Jim Pyburn
WR
1954
Joe Childress
RB
1955
FWAA
Frank D'Agostino
T
1955
AFCA
Fob James
RB
1955
INS

Jimmy Phillips

DE
1957
AFCA, FWAA, WCFF
Zeke Smith
OG
1958–1959
AFCA, FWAA, WCFF
Jackie Burkett
C
1958
AFCA
Ken Rice
OT
1959–1960
AFCA, FWAA, WCFF
Ed Dyas
RB
1960
FWAA
Jimmy Sidle
RB
1963
FWAA
Tucker Frederickson
RB
1964
FWAA, WCFF
Jack Thornton
DT
1965

NEA

Bill Cody
LB
Freddie Hyatt
WR
1967

TFN

David Campbell
DT
1968

NEA

Buddy McClinton
DB
1969
AFCA, FWAA, WCFF
Larry Willingham
DB
1970
AFCA, FWAA, WCFF
Pat Sullivan
QB
1971
AFCA, FWAA, WCFF
Terry Beasley
WR
1971
AFCA, FWAA, WCFF
Mike Fuller
S
1974
Ken Bernich
LB
1974
AFCA, WCFF
Neil O'Donoghue
PK
1976

TFN

Keith Uecker
OG
1981
Mizlou
Bob Harris
SS
David King
CB
Donnie Humphrey
DT
1983

WTBS

Gregg Carr
LB
1984
AFCA, WCFF
Bo Jackson
RB
1983–1985
AFCA, FWAA, WCFF
Lewis Colbert
P
1985
AFCA
Ben Tamburello
C
1986
AFCA, FWAA, WCFF
Brent Fullwood
RB
1986
AFCA, FWAA, WCFF
Aundray Bruce
LB
1987
AFCA, WCFF
Kurt Crain
LB
1987
AP
Stacy Searels
OT
1987
AP,

TFN

Tracy Rocker
DT
1987–1988
AFCA, FWAA, WCFF
Walter Reeves
TE
1988
TSN
Benji Roland
DT
Ed King
OG
1989–1990
AFCA, FWAA, WCFF
Craig Ogletree
LB
1989
TSN
David Rocker
DT
1990
AFCA, WCFF
Wayne Gandy
OT
1993
AP, FWAA,

SH

Terry Daniel
P
1993
AFCA, FWAA, WCFF
Brian Robinson
SS
Frank Sanders
WR
1994
AP, FWAA,

SH

Chris Shelling
SS
1994
FWAA,

SH

Victor Riley
OT
1997
AFCA
Takeo Spikes
LB
1997
TSN
Damon Duval
PK
2001
AFCA, WCFF
Karlos Dansby
LB
2003
AFCA
Marcus McNeill
OT
2004–2005
AP, CBS, FWAA, SI, Rivals, CFN, WCFF
Carlos Rogers
CB
2004
AP, FWAA, WCFF
Junior Rosegreen
SS
2004
SI, CBS
Carnell Williams
RB
2004
AFCA

Kenny Irons

RB
2005
Rivals
Tim Duckworth
OG
2006
Rivals
Quentin Groves
DE
2006
Rivals
Ben Grubbs
OG
2006
Rivals, ESPN, PFW

David Irons

CB
2006
Rivals
Cam Newton
QB
2010
AFCA, AP, Rivals, SI, WCFF
Lee Ziemba
OT
2010
AFCA, FWAA, SI, WCFF
Nick Fairley
DT
2010
AP, FWAA, Rivals, SI, WCFF
Tigers in the NFL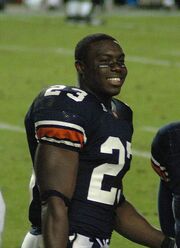 There have been 245 Auburn players drafted into the National Football League, with 15 earning 30 All-Pro honors, 27 making Pro Bowl appearances, and 23 playing in the Super Bowl.

The Dow Jones College-Football Success Index ranked Auburn as the eighth best program in the nation, with the second highest Draft Value which indicate "that a school's players perform better than NFL scouts seem to expect".[37] Auburn is tied (with Miami) for second most Top 5 NFL Draft picks this decade, and The Plains have produced 25 first round draft picks overall.
"Running Back U"
Auburn has several former running backs currently playing that position in the NFL (see below). They carry on a long legacy of top NFL backs from Auburn such as Tucker Frederickson,

William Andrews

, Joe Cribbs,

James Brooks

, Rudi Johnson, Stephen Davis, James Bostic, Brandon Jacobs, Lionel James, Brent Fullwood, Carnell Williams, Ronnie Brown, Heath Evans,

Kenny Irons

, Ben Tate, Fred Beasley,Kevin McCleod,

Tommie Agee

and Bo Jackson. Over the years 1987-2008, there have been 15 Tiger running backs drafted into the NFL, with several more successfully signing as undrafted free-agents.
Current NFL players
There are a number of former Auburn players currently listed on NFL rosters. These players include five running backs, four linebackers, four wide receivers, six cornerbacks, two quarterbacks, one placekicker and eleven linemen including five nose tackles, two guards, two offensive tackles and two defensive ends.
2011 NFL Draft
The following former Tigers were drafted in the most recent NFL Draft:
Hall of Fame
Bowl history
Auburn football teams have been invited to participate in 36 total bowls and have garnered a record of 21–13–2. Auburn ranks as one of the best programs in the nation in success in bowl games. Auburn ranks 15th in all-time bowl appearances with 36, 12th in all-time bowl wins with 21, and 9th in all-time bowl win percentage (minimum of 10 games) at .611. On January 10, 2011, Auburn defeated Oregon in the BCS National Championship Game, 22-19. Auburn has won 4 straight bowl games and 7 out of their last 8.
Future schedules
2011 schedule
The 2011 Auburn Tigers defended their national championship with the youngest team in NCAA Division I FBS. The Tigers went 7-5, with victories against Utah State, Mississippi State, Florida Atlantic, South Carolina, Florida, Ole Miss, and Samford. Auburn fell to two conference champions (Clemson; BCS no. 1-ranked LSU), SEC eastern division champion Georgia, BCS no. 2-ranked Alabama, and Arkansas (second straight 10-win season). Auburn will represent the SEC in the Chick-fil-A Bowl against the Virginia Cavaliers, who finished second in the ACC Atlantic division behind Virginia Tech. Auburn finished at no. 25 in the final 2011 BCS poll.
Date
Time
Opponent#

Rank

#
Site
TV
Result
Attendance
September 3*
11:00 am

Utah State

#23
Jordan–Hare Stadium • Auburn, AL
ESPN2
W 42–38  
85,245
September 10
11:21 am
#16 Mississippi State
Jordan–Hare Stadium • Auburn, AL
SEC Network
W 41–34  
87,451
September 17*
11:00 am
at Clemson
#21
Memorial Stadium • Clemson, SC
ABC
L 38-24  
82,000
September 24*
6:00 pm

Florida Atlantic

Jordan–Hare Stadium • Auburn, AL

FSN

W 30-14  
82,249
October 1
2:30 pm
at #10 South Carolina
Williams-Brice Stadium • Columbia, SC
CBS
W 16-13  
81,767
October 8
6:00 pm
at #10 Arkansas
#15
Donald W. Reynolds Razorback Stadium • Fayetteville, AR
ESPN
L 14-38  
74,191
October 15
6:00 pm
Florida
#24
Jordan–Hare Stadium • Auburn, AL
ESPN
W 17-6  
87,451
October 22
2:30 pm
at #1 LSU
#19
Tiger Stadium • Baton Rouge, LA (Tiger Bowl)
CBS
L 10-45  
93,039
October 29
6:00 pm
Ole Miss
Jordan–Hare Stadium • Auburn, AL
ESPNU
W 41-23  
85,347
November 12
2:30 pm
at #14 Georgia
#24
Sanford Stadium • Athens, GA (Deep South's Oldest Rivalry)
CBS
L 7-45  
 
November 19*†
12:00 pm
at Samford
#24
Jordan–Hare Stadium • Auburn, AL

PPV

W 35-16  
 
November 26
2:30 pm
at #2 Alabama
#24
Jordan–Hare Stadium • Auburn, AL (Iron Bowl)
CBS
L 42-14  
 
*Non-Conference Game. †Homecoming. #Rankings from AP Poll. All times are in Central Time.
References
External links