The Atlantic 10 Conference (A-10) is a college athletic conference which operates mostly on the United States' eastern seaboard. It also has several members in the Midwest, including two member schools in Ohio, Dayton and Xavier (located in Dayton and Cincinnati, respectively); Saint Louis (in St. Louis, Missouri); and Butler (located in Indianapolis). Virginia Commonwealth and Butler joined the A-10 on July 1, 2012.[1] Although some of its members are state-funded, more than half of its membership is made up of private, Catholic institutions. Despite the name, there are 17 partial or full-time members: 16 basketball and other sports, and one affiliate member that participate in women's field hockey only.
The Atlantic 10 Conference was founded in 1975 as the Eastern Collegiate Basketball League (ECBL), and began conference play in 1976. At that time, basketball was its only sport. After its first season, it added sports other than basketball and changed its name to the Eastern Athletic Association. However, despite its official names, it was popularly known as the Eastern 8, as it then had eight members (Villanova, Duquesne, Penn State, West Virginia, George Washington, Massachusetts, Pittsburgh, and Rutgers).
After changes in membership that saw charter members Pittsburgh and Villanova leave and new members St. Bonaventure (1979), Rhode Island (1980), Saint Joseph's (1982) and Temple (1982) enter, establishing the league with 10 members, the conference adopted the current Atlantic 10 name in 1982.
Further membership changes saw the league expand to its 16 current members. From 1997 through 2006, the league also operated a football conference; during that period, more than 20 schools were participating in A-10 competition in at least one sport. This ended when the A-10 football programs all departed to join a new football conference sponsored by the Colonial Athletic Association (CAA). In 2012, Butler joined the conference after leaving the Horizon League and VCU joined after leaving the CAA.
The league office headquarters has been located in Newport News, Virginia since the Fall of 2009.[2] Prior to that, the headquarters was in Philadelphia, within a few miles of three member schools (Temple, Saint Joseph's, and La Salle).
Member schools
Edit
Full members
Edit
The following is a list of the full members of the conference and the year they joined:
Institution
Location
Founded
Type
Enrollment
US News Ranking
Joined
Nickname
Butler University
Indianapolis, Indiana
1855
Private
4,667
2 (Regional-Midwest)
2012
Bulldogs
University of North Carolina at Charlotte
Charlotte, North Carolina
1946
Public
25,144
194 (National)
2005†††
49ers
University of Dayton
Dayton, Ohio
1850
Private
10,920
101 (National)
1995
Flyers
Duquesne University
Pittsburgh, Pennsylvania
1878
Private
10,106
101 (National)
1976,
1993†
Dukes
Fordham University
Bronx, New York
1841
Private
14,666
53 (National)
1995
Rams
George Washington University
Washington, D.C.
1821
Private
25,116
50 (National)
1976
Colonials
La Salle University
Philadelphia, Pennsylvania
1863
Private
6,176
41 (Regional-North)
1995
Explorers
University of Massachusetts*
Amherst, Massachusetts
1863
Public
26,359
94 (National)
1976
Minutemen
University of Rhode Island*
Kingston, Rhode Island
1892
Public
15,904
147 (National)
1980
Rams
University of Richmond
Richmond, Virginia
1830
Private
4,249
27 (National Liberal Arts Colleges)
2001
Spiders
St. Bonaventure University
St. Bonaventure, New York
1858
Private
2,406
32 (Regional-North)
1979
Bonnies
Saint Joseph's University
Philadelphia, Pennsylvania
1851
Private
7,900
8 (Regional-North)
1982
Hawks
Saint Louis University
St. Louis, Missouri
1818
Private
16,500
90 (National)
2005
Billikens
Temple University
Philadelphia, Pennsylvania
1884
Public
35,490
132 (National)
1982††
Owls
Virginia Commonwealth University
Richmond, Virginia
1838
Public
32,303
170 (National)
2012
Rams
Xavier University
Cincinnati, Ohio
1831
Private
6,584
4 (Regional-Midwest)
1995
Musketeers
Notes
† - Duquesne left the A-10 for the Midwestern Collegiate Conference (now known as the Horizon League) only for the 1992-93 season; but re-joined back in the 1993-94 season.
†† - Temple will be joining the Big East Conference for all sports beginning on July 1, 2013.
††† - Charlotte will be re-joining C-USA for all sports on July 1, 2013.
* - Massachusetts and Rhode Island also played football within the A-10 when the Yankee Conference was absorbed from 1997 to 2006.
Associate members
Edit
Former members
Edit
Institution
Location
Nickname
Membership Type
Years
Conference Moved To
Boston University
Boston, Massachusetts
Terriers
Football member
1973–1997†
America East, dropped football after 1997 season (to join Patriot League in July 2013)
University of Connecticut
Storrs, Connecticut
Huskies
Football member
1947–1999†
Big East
University of Delaware
Newark, Delaware
Fightin' Blue Hens
Football member
1986–2006†
CAA
Hofstra University
Hempstead, New York
Hofstra Pride
Football member
2001–2006
CAA (dropped football after 2009 season)
James Madison University
Harrisonburg, Virginia
Dukes
Football member
1993–2006†
CAA
University of Maine
Orono, Maine
Black Bears
Football member
1947–2006†
America East, CAA (football)
University of New Hampshire
Durham, New Hampshire
Wildcats
Football member
1947–2006†
America East, CAA (football)
Northeastern University
Boston, Massachusetts
Huskies
Football member
1993–2006†
CAA (dropped football after 2009 season)
Pennsylvania State University
University Park, Pennsylvania
Nittany Lions
Full member (excluding football)
1976–1979, 1982–1991
Big Ten
University of Pittsburgh
Pittsburgh, Pennsylvania
Panthers
Full member (excluding football)
1976–1982
Big East (to join ACC in July 2013)
Rutgers University
New Brunswick, New Jersey
Scarlet Knights
Full member (excluding football)
1976–1995
Big East (to join Big Ten in 2014 or 2015)
Towson University
Towson, Maryland
Tigers
Football member
2004–2006
CAA
Villanova University
Villanova, Pennsylvania
Wildcats
Full member (excluding football)
1976–1980
Big East
Football member
1988–2006†
CAA
Virginia Polytechnic Institute and State University
Blacksburg, Virginia
Hokies
Full member (excluding football and wrestling)
1995–2000
Big East (now in ACC)
West Virginia University
Morgantown, West Virginia
Mountaineers
Full member (excluding football)
1976–1995
Big East (now in Big 12)
The College of William & Mary
Williamsburg, Virginia
Tribe
Football member
1993–2006†
CAA
† - Includes time in the Yankee Conference, which merged with the Atlantic 10 for football in 1997.
Membership timeline
Edit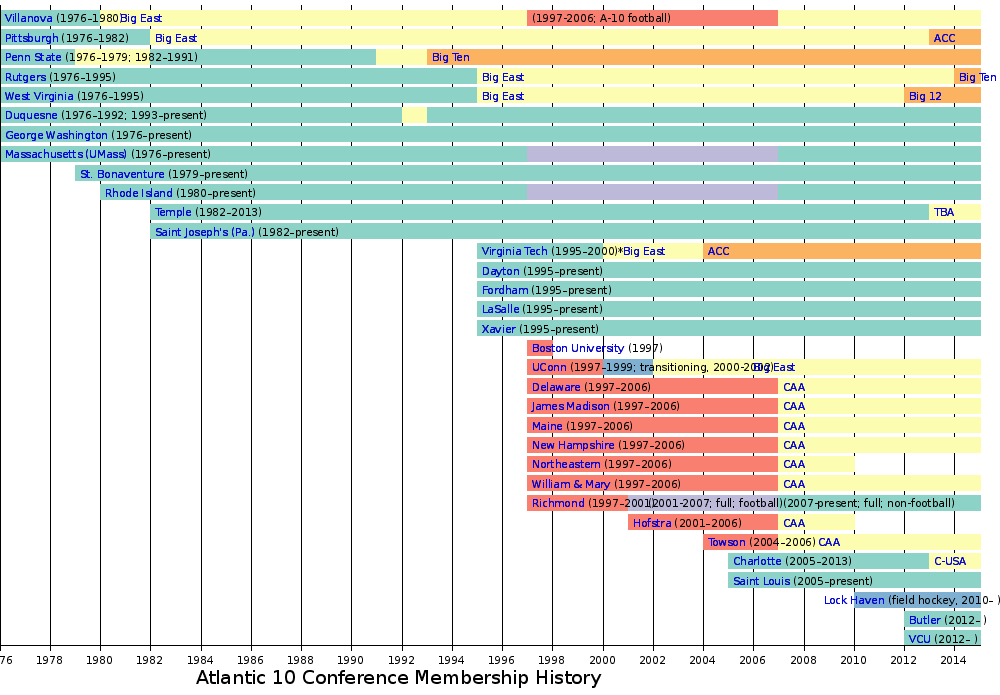 Full members Full members (non-football) Associate members (football only) Assoc. member (list sports)
Notes
* - Virginia Tech did not participate in wrestling.
Atlantic 10 rivalries
Edit
There are a number of intense rivalries within the Atlantic 10.
REDIRECT Template:Under discussion-inline Rivalries that carry over from the Big 5 which includes Saint Joseph's, Temple, and La Salle include those games between La Salle and Saint Joseph's and especially Temple and Saint Joseph's, a rivalry that has intensified in recent years. Like the Big 5, Dayton and Xavier are near one another and have an intense rivalry that began in 1920. URI and UMass also maintain a long-standing rivalry. St. Bonaventure and Duquesne also maintain a rivalry that predates their affiliation with the conference. A fledgling rivalry that has spawned has been one between Temple and Xavier, two of the most consistent schools in the A-10. UMass and Temple also had a basketball rivalry while John Chaney was coaching Temple but it has died down a bit since. Due to both teams sharing the Ram mascot, the Fordham - URI rivalry has increased in recent years as the competitions are heralded as "The Battle of the Rams." The already-existing crosstown rivalry between Richmond and VCU, known as the Black & Blue Classic, became a conference rivalry with VCU's arrival in the A10.
The Atlantic 10 Conference sponsors championship competition in nine men's and twelve women's NCAA sanctioned sports:[3]
Men's basketball champions
Edit
Women's basketball champions
Edit
The A-10 began sponsoring football in 1997 when it absorbed the Yankee Conference, a Division I-AA (now known as Division I FCS) football-only conference. The move was triggered by a change in NCAA rules that reduced the influence of single-sport conferences over NCAA legislation. The following schools were in the Yankee Conference at the time of its demise:
Boston University dropped football after the first season of A-10 football. After the 1999 season, UConn started a transition from Division I-AA to Division I-A football (now Division I FBS) that was completed in 2002. In 2004, UConn, already a member of the Big East for other sports, became a football member of that conference. The other schools all remained in the A-10 football conference until the A-10 dropped sponsorship after the 2006 season.
Football champions
Edit
| Season | Regular Season Champion |
| --- | --- |
| 1997 | Villanova |
| 1998 | Richmond |
| 1999 | James Madison, Massachusetts |
| 2000 | Delaware, Richmond |
| 2001 | Hofstra, Maine, Villanova, William & Mary |
| 2002 | Maine, Northeastern |
| 2003 | Delaware, Massachusetts |
| 2004 | Delaware, James Madison, William & Mary |
| 2005 | New Hampshire, Richmond |
| 2006 | Massachusetts |
| 2008 | Richmond |
Demise/"Rename"
Edit
The 2005 move of Northeastern University, a football-only member of the A-10, to the Colonial Athletic Association for basketball and Olympic sports began a chain of events that would lead to the demise of the A-10 football conference, at least under the A-10 banner.
At that time, the CAA did not sponsor football, but five of its members in the 2004-05 academic year (Delaware, Hofstra, James Madison, Towson, and William & Mary) were football members of the A-10. The addition of Northeastern gave the CAA six schools with football programs, which under NCAA rules allows a conference to sponsor football. Northeastern agreed to join any future CAA football conference, which meant that the A-10 football conference would drop to six members once CAA football began operation.
With six football members in place, the CAA decided to start a football conference in 2007. The league then invited Richmond, a member of the CAA from 1983 to 2001, to rejoin for football only, because of UR's long-standing in-state rivalries with William & Mary and James Madison. UR accepted the invitation, taking the A-10 football conference below the NCAA minimum of six. Shortly after this, the A-10 football conference opted to disband, with all of its members becoming charter members of the CAA football conference. For all intents and purposes, including the conference's automatic bid to the FCS playoffs, the A-10 football conference became the CAA football conference.
A-10 schools in I-A/FBS
Edit
A-10 charter members Penn State, Pittsburgh, Rutgers, West Virginia and Villanova played I-A football as independents while members of the A-10 in other sports. Villanova became a member of the Big East in 1980 with Pittsburgh following in 1982. Temple joined the A-10 that year. Penn State joined the Big Ten in 1991, and three A-10 members joined the Big East as football-only members: Rutgers, West Virginia, and Temple.
All but Temple would join the Big East in all sports in 1995, but Virginia Tech joined the A-10 as a result of the merger that created Conference USA; they were already Big East football members, and would join that conference as full members in 2000. Temple remained a football-only member of the Big East until 2004; they would join the MAC for football in 2007-2012, and rejoin the Big East for the 2012 season, with all sports moving in 2013. Massachusetts joined them in FBS football with membership in the MAC beginning in the 2012 season. Charlotte, which will start a football program in 2013, will be leaving for Conference USA that year. It will start as an FCS program and fully transition to FBS in 2015.
Facilities
Edit
School
Basketball arena
Capacity
Baseball stadium
Capacity
Soccer stadium
Capacity
Butler
Hinkle Fieldhouse
10,000
Bulldog Park
500
Butler Bowl
7,500
Charlotte
Dale F. Halton Arena
9,105
Hayes Stadium
3,000
Transamerica Field
4,000
Dayton
University of Dayton Arena
13,435
Woerner Field
500
Baujan Field
2,000
Duquesne
A. J. Palumbo Center
4,406
Non-baseball school
Rooney Field
2,200
Fordham
Rose Hill Gymnasium
3,470
Houlihan Park
1,000
Coffey Field
7,000
George Washington
Smith Center
4,338
Barcroft Park
1,000
Mount Vernon Athletic Fields
N/A
La Salle
Tom Gola Arena
4,000
Hank DeVincent Field
1,000
McCarthy Stadium
7,500
Massachusetts
Mullins Center
9,493
Earl Lorden Field
N/A
Rudd Field
N/A
Rhode Island
Ryan Center
7,657
Bill Beck Field
1,000
URI Soccer Complex
1,547
Richmond
Robins Center
9,071
Malcolm U. Pitt Field
600
E. Claiborne Robins Stadium
8,700
St. Bonaventure
Reilly Center
5,480
Fred Handler Park
N/A
McGraw-Jennings Field
N/A
St. Joseph's
Hagan Arena
4,200
Smithson Field
400
Finnesey Field
600
St. Louis
Chaifetz Arena
10,600
Billiken Sports Center
500
Hermann Stadium
6,050
Temple Owls
Liacouras Center
10,206
Skip Wilson Field
1,000
Ambler Soccer Field
N/A
Virginia Commonwealth
Stuart C. Siegel Center
7,617
The Diamond
9,560
Sports Backers Stadium
3,250
Xavier
Cintas Center
10,250
J. Page Hayden Field
500
Xavier University Soccer Complex
N/A
The conference does not sponsor football. Members who participate in football do so as affiliate members of other conferences:
References
Edit
External links
Edit
Community content is available under
CC-BY-SA
unless otherwise noted.