| | |
| --- | --- |
| | This article needs additional citations for verification. (August 2011) |
Bell Helicopter Armed Forces Bowl
Bell Helicopter Armed Forces Bowl
175px
Armed Forces Bowl logo
Stadium
Amon G. Carter Stadium (2003-2009, 2012-)
Location
Fort Worth, Texas (2003-2009, 2012-)
Previous stadiums
Gerald J. Ford Stadium (2010-2011)
Previous locations
University Park, Texas (2010-2011)
Operated
2003-present
Conference tie-ins
C-USA (2012)
MW (2012, 2013)
Navy (2013, 2016)
Army (2014, 2017)
Payout
US$1,200,000 (As of 2011 )[1]
Sponsors
PlainsCapital Bank (2003–2004)
Bell Helicopter (2006-present)
Former names
PlainsCapital Fort Worth Bowl (2003–2004)
Fort Worth Bowl (2005)
2011 matchup
BYU vs. Tulsa (BYU 24–21)
2012 matchup
Rice vs. Air Force (December 29, 2012)
The Bell Helicopter Armed Forces Bowl is an annual postseason college football bowl game that was inaugurated in 2003 as PlainsCapital Fort Worth Bowl reflecting the sponsorship of PlainsCapital Bank. In 2005, the game was without corporate sponsorship. In 2006, Fort Worth based Bell Helicopter Textron took over sponsorship, and thus it became officially known as the Bell Helicopter Armed Forces Bowl; Alltel Communications was originally to assume the title sponsorship of the game with its wireless division, but the deal fell through. The contest is one of six bowls produced by ESPN Regional Television (a/k/a ESPN Plus) and has been televised annually on ESPN since its inception. Armed Forces Insurance is the official Insurance Partner of the Armed Forces Bowl and has sponsored the Great American Patriot Award, presented at halftime at the Bowl, since 2008.
The game is traditionally played in the 44,008-seat Amon G. Carter Stadium on the campus of Texas Christian University in Fort Worth, Texas, featuring a team from Mountain West Conference and a team from Conference USA. In addition, both of the D-I independent military academies (Army and Navy) are eligible to participate if either the MWC or C-USA cannot provide a bowl-eligible team (the third football-playing military academy, Air Force, is eligible as a MWC member, while the Coast Guard Academy is D-III). On April 27, 2011 it was announced that if Brigham Young University (former MWC member, now a D-I independent) becomes bowl eligible and not playing in a BCS game, it was also eligible to participate. [2] (BYU, in fact, did qualify for this game.)
On August 15, 2010, TCU announced plans for the renovation of Amon G. Carter Stadium to take place immediately after the 2010 football season. Thus, the 2010 and 2011 Armed Forces Bowl were held at Gerald J. Ford Stadium on the campus of Southern Methodist University in the Dallas enclave of University Park. The game will return to Amon Carter Stadium in Fort Worth in 2012 after construction on that stadium is completed.
The bowl's partnership with the Big 12 Conference ended with the 2005 season. From the 2006 through the 2009 playings of the game the Mountain West Conference was signed to provide a team to face either a team from the Pacific-10 Conference or Conference USA (depending on the year; Pac-10 teams would play in odd number years while C-USA teams would play in even numbered years). As such, the 2006 and 2008 games featured Conference USA teams Tulsa and Houston, respectively, whereas California represented the Pac-10 in 2007. The Pac-10 was unable to send a representative to the game in 2009, so Conference USA sent Houston to the game for a second consecutive year. In 2010, since the Mountain West did not have enough eligible teams and Army was bowl eligible, they played SMU in the Armed Forces Bowl.
Game results
Edit
Date played
Winning team
Losing team
Notes
December 23, 2003
Boise State [3]
34
TCU
31
notes
December 23, 2004
Cincinnati
32
Marshall [3]
14
notes
December 23, 2005
Kansas
42
Houston
13
notes
December 23, 2006
Utah
25
Tulsa
13
notes
December 31, 2007
California
42
Air Force
36
notes
December 31, 2008
Houston
34
Air Force
28
notes
December 31, 2009
Air Force
47
Houston
20
notes
December 30, 2010
Army
16
SMU
14
notes
December 30, 2011
BYU
24
Tulsa
21
notes
December 29, 2012
Rice
33
Air Force
14
notes
Date played
MVP
Team
Position
December 23, 2003
Ryan Dinwiddie
Boise State
QB
December 23, 2004
Gino Guidugli
Cincinnati
QB
December 23, 2005
Jason Swanson
Kansas
QB
December 23, 2006
Louie Sakoda
Utah
P/K
December 31, 2007
Kevin Riley
California
QB
December 31, 2008
Bryce Beall
Houston
RB
Jared Tew
Air Force
FB
December 31, 2009
Asher Clark
Air Force
RB
Tyron Carrier
Houston
WR
December 30, 2010
Stephen Anderson
Army
LB
Darius Johnson
SMU
WR
December 30, 2011
Cody Hoffman
BYU
WR
Dexter McCoil
Tulsa
DB
December 29, 2012
Jordan Taylor
Rice
WR
Austin Niklaas
Air Force
LB
Most appearances
Edit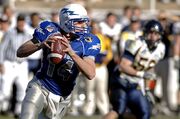 Results by conference
Edit
↑ "Schools to Receive Combined Team Payout of $281.8 Million for 2011-12 Bowl Season" (PDF). http://footballbowlassociation.com/media/news/111108fbanews.pdf

. Retrieved 2012-06-07

.
External links
Edit
Community content is available under
CC-BY-SA
unless otherwise noted.