Jurassic World: Dominion Dominates Fandom Wikis - The Loop
Play Sound
Arian Isa Foster (born August 24, 1986) is an American football running back for the Houston Texans of the National Football League (NFL). He played college football for the University of Tennessee. He was signed by the Texans as an undrafted free agent in 2009, and was added to their active roster from the practice squad on November 17, 2009. Foster is known for his vision to find rushing lanes and his signature Namaste bow, which he frequently performs after scoring touchdowns. Foster holds the Texans franchise records for rushing yards and rushing touchdowns. He is considered to be one of the best running backs in the NFL.[1]
Early years
Foster was born August 24, 1986 in Albuquerque, New Mexico, to Carl Foster, a former wide receiver for the University of New Mexico, and Bernadette Sizemore, an administrative assistant for the university.[2][3] Foster competed in football during his freshman and sophomore years at Valley High School in Albuquerque, New Mexico. His parents divorced in 2000, and in 2002 he moved to San Diego, to be with his father. Foster competed in football at Mission Bay Senior High School, where he initially played as a linebacker, but became a full-time running back in his senior year. He was Mission Bay's featured running back that year, and led San Diego County in all-purpose yards with 2,500 while compiling 2,093 rushing yards and 24 touchdowns in addition to six scores on kickoff returns.[4] In a game against Clairemont, Foster ran for 321 yards and for his efforts, he was named San Diego Union Tribune All-San Diego Western League Player of the Year, received All-West Region appointment by PrepStar, and also earned All-California Interscholastic Federation honors.[4] Then-Tennessee offensive coordinator Randy Sanders and running backs coach Trooper Taylor were impressed by Foster when recruiting in San Diego.[5] Foster chose to attend Tennessee and was part of the 2004 signing class.
High School statistics
Source: [3] Note: Incomplete
| Season | Team | GP | Rushing Att | Rushing Yds | Avg | Yds/G | TD |
| --- | --- | --- | --- | --- | --- | --- | --- |
| 2003 | MBHS | 9 | 174 | 1,596 | 9.2 | 177.3 | 17 |
College career
Foster red-shirted his first season as a University of Tennessee Volunteer, sitting behind Gerald Riggs Jr. and Cedric Houston on the depth chart. He was a three-year starter at running back for Tennessee.
In his 2005 freshman season, Foster earned the starting job following an injury to Riggs. Foster rushed for 879 yards in his limited action, including a commanding 223-yard performance against Vanderbilt.[6] Foster scored two touchdowns in the game, and his total of 268 all-purpose yards was the third-highest total in school history.[6]
His sophomore season of 2006 saw a slight downturn in production, as Foster was limited for the majority of the season with injuries and missed games against Marshall and Memphis. Splitting time with LaMarcus Coker after returning from injury, Foster ended the season with just 322 rushing yards.[7] Tennessee's final game of the season was the 2007 Outback Bowl, in which Foster fumbled with ten minutes remaining deep in Penn State territory.[8] The ball was picked up by cornerback Tony Davis and returned 88 yards for a touchdown, breaking a 10–10 tie and providing the winning points in Penn State's 20–10 victory.[8]
On November 4, 2006, Foster and two reserve players were arrested following a fight in a night club and were charged with disorderly conduct and underage consumption.[9]
His junior season of 2007 saw Foster take over as the main back, with Montario Hardesty coming in as a substitute. Against Florida, Foster fumbled a left-handed hand-off from injured quarterback Erik Ainge which was recovered by Gators linebacker Dustin Doe and returned eighteen yards for a touchdown.[10] Up to that point Tennessee had been gaining momentum and pulled to within eight points of tying the game, but the botched play made the score 35–20 and triggered a 24-point Florida run to close out the contest.[10] Foster surpassed the 1,000-yard mark with a 118-yard performance in a 52–50 win at Kentucky, and finished his junior season with 245 carries for 1,193 yards and 12 touchdowns, while also catching 39 passes for 340 yards and an additional two scores.[7]
Foster's breakout junior season resulted in a second-round grade[11] from the draft advisory board and led him to consider leaving school. However, head coach Phillip Fulmer persuaded him to stay for his senior season, a decision Foster would later deeply regret.[12] Playing under the third position coach and offensive coordinator of his tenure,[5] Foster was utilized in a rotation following the installation of a new offensive scheme that the Tennessee coaches thought was a better fit for some of the other running backs on the roster.[7] For his part, Fulmer would attribute Foster's diminished workload to knee and thigh injuries which would later be disputed.[5] In the end, Foster compiled just 570 yards on 131 carries with only one touchdown in his senior season.[7]
Foster's subpar senior campaign caused his draft stock to plummet, as well as scouts' concerns about his below-average pass-blocking, issues with ball security and the less-than-stellar reviews from Tennessee staff members that portrayed him as selfish and hard to coach.[13] A pulled hamstring also prevented Foster from working out at the NFL Scouting Combine, then he had a poor showing at Tennessee's Pro Day when he registered a 4.71 40-yard dash, 4.50 short shuttle, 32-inch vertical leap and 9′7″ broad jump.[13] The combination of factors led to Foster being undrafted at the 2009 NFL Draft; after several teams showed interest in him as a rookie free agent, he chose to sign a contract with the Houston Texans in May 2009[14] because he thought the situation suited him.[13]
Foster finished his collegiate career as Tennessee's second all-time leading rusher with 2,964 yards, just 114 behind Travis Henry.[5] His legacy, however, was mixed. He fumbled just five times on a school-record 650 carries, but all of his drops came at critical moments, including fumbles in both 2006 Penn State games, one against Florida in 2007, and against UCLA and Auburn in 2008.[5] His former coach Fulmer has defended Foster, saying "There were a couple of fumbles that were untimely that people want to remember; they forget about his full career, about how special he was. He had a couple after a couple of big runs. They were costly, but we probably wouldn't have been there without him."[5]
College statistics
Source: [4]
Rushing
Receiving
Season
Team
GP
Att
Yds
Avg
Yds/G
Long
TD
Rec
Yds
Avg
Long
TD
2005
TEN
11
183
879
4.8
79.9
66
5
14
148
10.6
39
0
2006
TEN
11
91
322
3.5
29.3
24
5
11
88
8.0
15
0
2007
TEN
14
245
1,193
4.9
85.2
59
12
39
340
8.7
65
2
2008
TEN
12
131
566
4.4
47.5
41
1
19
166
8.7
26
0
Total
48
650
2,964
4.6
61.8
66
23
83
742
8.9
65
2
Professional career
2009 NFL Draft
Foster ranked 24th among running backs available in the 2009 NFL Draft, according to Sports Illustrated.[15] Although projected as a fifth-to-sixth rounder, Foster went undrafted.[16]
Houston Texans
2009
Foster was signed by the Houston Texans as an undrafted free agent on May 1, 2009. He was later released on September 5, 2009, but then was signed to the Texans' practice squad on September 6 and signed to the active roster on November 17. Foster made his NFL debut against the Tennessee Titans on November 23, 2009 and played on special teams. He scored his first NFL career touchdown against the Miami Dolphins in Miami on December 27, 2009 on a 17-yard run up the middle in the second quarter of the game.[17] Foster then made his first career start against the New England Patriots on January 3, 2010 and posted his first career 100-yard game, rushing for 119 yards and scoring twice on 20 carries.[18]
Overall Foster played 6 games, starting in only 1, during the 2009 season finishing with 257 yards and 3 touchdowns. [19]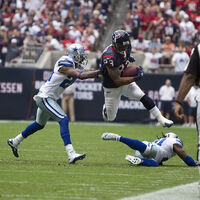 2010
On opening day in 2010, September 12, Houston played the Indianapolis Colts. Foster replaced Steve Slaton, the 2009 starting running back, and broke many franchise records, rushing 33 times for 231 yards and 3 touchdowns.[20] In addition to breaking the record for the most rushing yards by a player of the Houston Texans in a single game, he and Slaton combined for 260 rushing yards, well over the team record for most total in a game, and also the most rushing yards given up to a single player by the Indianapolis Colts. Foster also posted the second-highest NFL opening day rushing total, trailing only O.J. Simpson's 250 yards in 1973. During week 4 on October 3 vs. the Oakland Raiders after being benched for the 1st quarter, Foster recorded the longest run in Texans franchise history when he scored on a 74 yard touchdown run in the 3rd quarter to break a 14–14 tie. Houston went on to win 31–24 behind Foster's 187 yards from scrimmage. After being passed up in rushing yards by Jamaal Charles during the Chiefs last game of the regular season, Foster posted another stunning performance rushing for 180 yards and 2 TD to solidify his spot as the 2010 rushing leader. Foster finished the 2010 season by winning the rushing title with 1,616 Rushing yards and 604 receiving yards breaking the record set by Priest Holmes for most yards from scrimmage ever by an undrafted player. He was invited to the 2011 Pro Bowl, which was his first Pro Bowl.
2011
Foster strained his hamstring twice during the 2011 preseason – at one point creating controversy due to his tweeting of an MRI image of the damaged tendon[21] – resulting in his missing the Texans' opening day game versus the Colts.[22]
Foster returned in Week 2 against the Miami Dolphins, but after carrying the ball ten times for 33 rushing yards in the first half he missed the remainder of the game due to a re-aggravation of the hamstring.[23]
Foster missed Houston's Week 3 game at New Orleans, but returned to face the Pittsburgh Steelers the following Sunday. Against Pittsburgh Foster ran the ball 30 times for 155 yards, including a 42-yard fourth-quarter touchdown run that proved to be the winning points in the Texans' 17–10 victory. In what was his tenth career 100-yard game, Foster's total of 155 yards was the second-most by a running back against the Steelers defense since 2001 and the most since Curtis Martin tallied 174 versus Pittsburgh in December 2003.[24] Additionally, his 42-yard touchdown was the longest scoring run allowed by the Steelers since 2006.[24]
The Texans squared off with the Raiders in Houston in Week 5, just a day after legendary Raiders owner Al Davis passed away. Foster had a tough time generating yards on the ground, tallying just 68 yards on 22 carries.[25] It was as a pass-catcher that Foster shined against Oakland, catching five balls for 116 yards, including a career-long 60-yard reception in the third quarter. A last-minute rally by Houston fell short when quarterback Matt Schaub was intercepted in the end zone as Houston fell, 25–20.
In Week 6, the Baltimore Raven's stout defense proved a challenge for Foster as he was limited to just 49 yards on 15 carries in a decisive 29–14 loss. Foster continued to contribute in the passing game, however, catching six passes for 52 yards in the losing effort.
Foster exploded in Week 7 against the Tennessee Titans, rushing for 115 yards and two touchdowns on 25 carries while accumulating 119 yards receiving and another touchdown on five catches. This helped the Texans en route to a 41–7 victory over their division foe and established them as the division leader; Foster's 234 total yards fell just short of his personal best of 238, which he registered on Opening Day of the 2010 season versus Indianapolis.
Foster followed up his career-day against Tennessee with a solid performance against the Jacksonville Jaguars. In a tough, ball-control type of game, Foster equaled his career-high in rushing attempts with 33, totaling 112 yards on the ground. In a nod to Foster's prolific pass-catching in recent weeks, the Jaguars limited Foster to just one catch for 12 yards out of the backfield in Houston's 24–14 victory.
He was invited to the 2012 Pro Bowl, which was his second Pro Bowl invite.[26]
2012
On March 5 the Texans reportedly reached a deal with Foster, worth up to $43.5 million over 5 years.
On October 8, in a Monday Night Football game against the New York Jets, Foster reached 5,000 yards from scrimmage (rushing yards+receiving yards) in his 40th game, becoming the third-fastest player to reach 5,000 yards to do so, only behind Edgerrin James (36 games) and Eric Dickerson (39 games).[27] On December 23 against the Minnesota Vikings, Foster left the game in the third quarter with an irregular heartbeat. Foster was announced the starting Running Back in the AFC Division for the 2013 Pro Bowl. This is the 3rd Pro Bowl he will be invited to. [28]
Career stats
Source: [5]
Career
Rushing
Receiving
Season
Team
GP
Att
Yds
Avg
Yds/G
Long
TD
Rec
Yds
Avg
Long
TD
2009
HOU
6
54
257
4.8
42.8
24
3
8
93
11.6
20
0
2010
HOU
16
327
1,616
4.9
101.0
74
16
66
604
9.2
50
2
2011
HOU
13
278
1,224
4.4
94.2
43
10
53
617
11.6
78
2
2012
HOU
16
351
1,424
4.1
89
46
15
40
217
5.4
23
2
Total
52
1010
4,521
4.5
86.9
74
44
167
1,531
9.2
78
6
Texans franchise records
Most career rushing yards (4,521)
Most career rushing touchdowns (44)
Longest career rushing attempt (74)
Most rushing yards in a single season: 1,616
Most rushing touchdowns in a single season: 16
First player in NFL history to have 100+ rushing yards in his first 3 postseason games
Personal life
As was documented on ESPN's Sunday NFL Countdown, Foster was a philosophy major at the University of Tennessee and is an avid writer of poetry.[12] Foster's first name is an abbreviated form of Aquarian, which means "water bearer," or (according to his father) "holder of knowledge."[29][5] Foster is of African American and Mexican American heritage.[30] The Sporting News called Foster, "The most interesting man in the NFL." When not at practice, Arian can be found working out with his personal trainer and brother, Abdul; spending time with his wife, Romina and daughter Zeniah; trying to straighten out his 300+ yard drives or volunteering with one of the many charities he supports including The Boys and Girls Clubs and "A Crucial Catch," a program of the American Cancer Society dedicated to early detection of breast cancer.
Arian became a vegan in July of 2012. He tweeted the following statement, "Officially a vegan now . . . Feels wonderful."[31] In November 2012, he revealed that he still eats meat from time to time but mostly wants to stay on plant based foods.[32]
Foster revealed he is an atheist on Dan Lebatard is Highly Questionable.
He also guest-starred on Hawaii Five-0 Season 3 Episode 17 aired on February 18, 2013.
References
External links