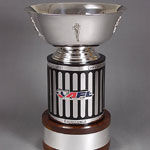 The ArenaBowl is the Arena Football League's championship game. From 1987 to 2004, the ArenaBowl was hosted by either the team with the better regular-season record or the higher seeding in the playoffs. From ArenaBowl XIX in 2005 until ArenaBowl XXII in 2008, the game was played at a neutral site. ArenaBowl XXII, the last ArenaBowl before the original AFL's demise, took place on July 27, 2008, in New Orleans, Louisiana, with the American Conference champion San Jose SaberCats facing the National Conference champion Philadelphia Soul. The Soul won the game, 59-56.
The ArenaBowl, its trophy and all related intellectual property were purchased by Arena Football on December 7, 2009, along with the rest of the assets of the original AFL.[1] Arena Football 1 eventually assumed the AFL identity, and later announced that the ArenaBowl would be the new AFL's championship game. The new AFL would assume all of the past ArenaBowl games and start off with ArenaBowl XXIII.[2]
The current ArenaBowl Champions are the Spokane Shock, who incidentally were the final ArenaCup champions of the AF2 in 2009.
After ArenaBowl XXIII, it was revealed that future ArenaBowls would again be hosted at neutral sites starting with ArenaBowl XXIV.[3]
Results
Game
Year
Winning Team
Losing Team
Site
Attendance
ArenaBowl I
1987
Denver Dynamite
45
Pittsburgh Gladiators
16

Pittsburgh Civic Arena

13,232
ArenaBowl II
1988
Detroit Drive
24
Chicago Bruisers
13
Rosemont Horizon
15,018
ArenaBowl III
1989
Detroit Drive
39
Pittsburgh Gladiators
26
Joe Louis Arena
12,046
ArenaBowl IV
1990
Detroit Drive
51
Dallas Texans
27
Joe Louis Arena
19,875
ArenaBowl V
1991
Tampa Bay Storm
48
Detroit Drive
42
Joe Louis Arena
20,357
ArenaBowl VI
1992
Detroit Drive
56
Orlando Predators
38
Amway Arena
13,680
ArenaBowl VII
1993
Tampa Bay Storm
51
Detroit Drive
31
Joe Louis Arena
12,989
ArenaBowl VIII
1994
Arizona Rattlers
36
Orlando Predators
31
Amway Arena
14,368
ArenaBowl IX
1995
Tampa Bay Storm
48
Orlando Predators
35
ThunderDome
25,087
ArenaBowl X
1996
Tampa Bay Storm
42
Iowa Barnstormers
38

Iowa Veterans Memorial Auditorium

11,411
ArenaBowl XI
1997
Arizona Rattlers
55
Iowa Barnstormers
33
America West Arena
17,436
ArenaBowl XII
1998
Orlando Predators
62
Tampa Bay Storm
31
Ice Palace
17,222
ArenaBowl XIII
1999
Albany Firebirds
59
Orlando Predators
48
Pepsi Arena
13,652
ArenaBowl XIV
2000
Orlando Predators
41
Nashville Kats
38
TD Waterhouse Centre
15,989
ArenaBowl XV
2001
Grand Rapids Rampage
64
Nashville Kats
42
Van Andel Arena
11,217
ArenaBowl XVI
2002
San Jose SaberCats
52
Arizona Rattlers
14
HP Pavilion at San Jose
16,942
ArenaBowl XVII
2003
Tampa Bay Storm
43
Arizona Rattlers
29
St. Pete Times Forum
20,469
ArenaBowl XVIII
2004
San Jose SaberCats
69
Arizona Rattlers
62
America West Arena
17,391
ArenaBowl XIX
2005
Colorado Crush
51
Georgia Force
48
Thomas & Mack Center
10,822
ArenaBowl XX
2006
Chicago Rush
69
Orlando Predators
61
Thomas & Mack Center
13,476
ArenaBowl XXI
2007
San Jose SaberCats
55
Columbus Destroyers
33
New Orleans Arena
17,056
ArenaBowl XXII
2008
Philadelphia Soul
59
San Jose SaberCats
56
New Orleans Arena
17,244
ArenaBowl XXIII
2010
Spokane Shock
69
Tampa Bay Storm
57
Spokane Veterans Memorial Arena
11,017
ArenaBowl XXIV
2011
TBD
--
TBD
--
TBD
--
The Pittsburgh Gladiators relocated in 1991 to become the Tampa Bay Storm.
The Nashville Kats relocated in 2002 to become the Georgia Force. The Kats were brought back as an expansion team in 2005 and assumed all former team history up to the point when the original Kats relocated to Georgia. The Force are regarded as a completely separate team and keep records from their establishment in 2002 to the present, similar to the Cleveland Browns and Baltimore Ravens situation in the NFL.
Most championships won
| Team | Championships | Winning years |
| --- | --- | --- |
| Tampa Bay Storm | 5 | 1991, 1993, 1995, 1996, 2003 |
| Detroit Drive | 4 | 1988, 1989, 1990, 1992 |
| San Jose SaberCats | 3 | 2002, 2004, 2007 |
| Arizona Rattlers | 2 | 1994, 1997 |
| Orlando Predators | 2 | 1998, 2000 |
| Chicago Rush | 1 | 2006 |
| Colorado Crush | 1 | 2005 |
| Denver Dynamite | 1 | 1987 |
| Grand Rapids Rampage | 1 | 2001 |
| Albany Firebirds | 1 | 1999 |
| Philadelphia Soul | 1 | 2008 |
| Spokane Shock | 1 | 2010 |
Standings
*includes two appearances as Pittsburgh Gladiators (0-2, 42 points, 84 points allowed)
See also
References
External links