For the North Carolina high school association formerly known as the "Appalachian Athletic Conference", see Western North Carolina Athletic Conference.
The Appalachian Athletic Conference (AAC) is a college athletic conference that competes in National Association of Intercollegiate Athletics Division II competition.[1] Members of the conference are located in the Southeastern United States in Tennessee, Kentucky, Georgia, South Carolina, North Carolina, and Virginia.[1] The conference is the successor to the Volunteer State Athletic Conference (VSAC), which began in the 1940s;[1] and later the Tennessee-Virginia Athletic Conference (TVAC) that operated during the 1980s and 1990s.[1] The Appalachian Athletic Conference was formed in 2001 with the additions of members from Virginia, Kentucky, and North Carolina.[1] In 2019 the conference added Kentucky Christian University as a full member and Savannah College of Art and Design as an associate member in Men's and Women's lacrosse.[2]
Bluefield College was a member of the AAC from 2001 until 2012 when it left to join the Mid-South Conference. On March 3, 2014, Bluefield College announced that it would return to the AAC effective Fall 2014.[3]
Member schools
Edit
Current members
Edit
The league currently has 16 full members. It is the largest conference in the NAIA.[2]
Institution
Location
Founded
Enrollment
Nickname
Joined
Allen University
Columbia, South Carolina
1870
600
Yellow Jackets
2016
Bluefield College
Bluefield, Virginia
1922
793
Rams
2001;
2014
Brenau University
Gainesville, Georgia
1878
3,500
Golden Tigers
2017
Bryan College
Dayton, Tennessee
1930
1,044
Lions
2001
Columbia College
Columbia, South Carolina
1854
1,200
Koalas
2011
Columbia International University
Columbia, South Carolina
1923
1,250
Rams
2018
Kentucky Christian University
Grayson, Kentucky
1919
550
Knights
2019
Milligan College
Johnson City, Tennessee
1866
1,006
Buffaloes
2001
Montreat College
Montreat, North Carolina
1916
1,145
Cavaliers
2001
Point University
West Point, Georgia
1937
1,000
Skyhawks
2011
Reinhardt University
Waleska, Georgia
1883
1,057
Eagles
2009
St. Andrews University
Laurinburg, North Carolina
1958
800
Knights
2012
Savannah College of Art and Design (Atlanta campus)
Atlanta, Georgia
2005
2,000
Bees
2012
Tennessee Wesleyan University
Athens, Tennessee
1857
1,103
Bulldogs
2001
Truett McConnell University
Cleveland, Georgia
1946
1,600
Bears
2013
Union College
Barbourville, Kentucky
1879
1,368
Bulldogs
2001
Brenau University and Columbia College — women's institutions which do not field men's sports.
Affiliate members
Edit
Former members
Edit
Membership timeline
Edit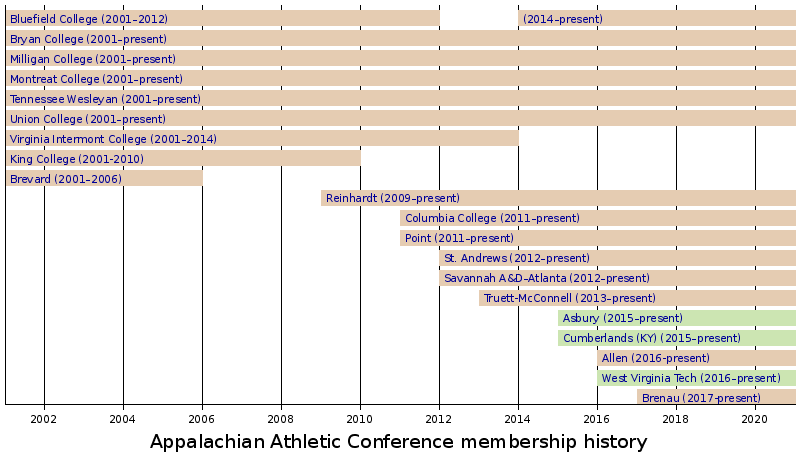 Full member (non-football)   Associate member (sport) 
Conference sports
Edit
The Appalachian Athletic Conference currently fields 20 sports (10 men's and 10 women's):
References
Edit
External links
Edit
NAIA conferences

Division I
Division II

Appalachian Athletic Conference
Football-only
† Conference sponsors football
National Association of Intercollegiate Athletics

NAIA
Sports
and
championships

Division I
Division II
Single
division

Baseball
Competitive cheer & dance
Cross country
Football
Golf
Soccer
Softball
Swimming & Diving
Tennis
Track & Field
Volleyball
Wrestling

Invitation/
Emerging
Discontinued

Bowling
Football
Gymnastics
Water Polo
Community content is available under
CC-BY-SA
unless otherwise noted.