This article is about the modern American Association founded in 2005. For other uses, see
American Association
.
| | |
| --- | --- |
| | This article needs additional citations for verification. (November 2011) |
The American Association of Independent Professional Baseball,[1] based in Durham, North Carolina, is a professional baseball league founded in 2005 and independent of Major League Baseball (MLB). It operates in the states of Indiana, Iowa, Kansas, Minnesota, Nebraska, North Dakota, South Dakota, Texas, New York, and New Jersey along with the Canadian provinces of Manitoba and Quebec, mostly in cities not served by MLB teams or their minor league affiliates.
Miles Wolff is the league's commissioner.
The American Association was founded in October 2005 when Northern League teams left that league. Following the folding of the Central Baseball League, five teams from that league joined with the four former Northern League franchises, and to even things out an expansion team was placed in St. Joseph, Missouri. The league began play in 2006, with a 96-game schedule. The Fort Worth Cats defeated the St. Paul Saints 3 games to 2, to win the first league championship. The same two teams met for the 2007 title, with exactly the same result. In 2008, the Sioux Falls Canaries won the league championship series 3 games to 1 over the Grand Prairie AirHogs.
The 2012 season, schedule was increased to one hundred games and featured five teams from the Canadian American Association of Professional Baseball. This format of having the Canadian American Association, despite fielding a different fifth team, playing with the American Association continued in the 2013 season. The two leagues are both headquartered in Durham, North Carolina and both have Miles Wolff as their commissioner. This is similar to inter-league play in Major League Baseball, but American and Canadian American Associations are "separate" legal entities and have separate playoffs/championships.
Current franchises
Edit
American Association of Independent Professional Baseball

Division
Team
Founded
City
Stadium
Capacity

North

Fargo-Moorhead RedHawks

1996

Fargo, North Dakota

Newman Outdoor Field

4,513

Sioux Falls Canaries

1993

Sioux Falls, South Dakota

Sioux Falls Stadium

4,500

St. Paul Saints

1993

Saint Paul, Minnesota

CHS Field

7,000

Winnipeg Goldeyes

1994

Winnipeg, Manitoba

Shaw Park

7,481

Central

Gary SouthShore Railcats

2001

Gary, Indiana

U.S. Steel Yard

6,139

Kansas City T-Bones

2003

Kansas City, Kansas

CommunityAmerica Ballpark

6,537

Lincoln Saltdogs

2001

Lincoln, Nebraska

Haymarket Park

8,000

Sioux City Explorers

1993

Sioux City, Iowa

Lewis and Clark Park

3,631

South

Amarillo Sox

2010

Amarillo, Texas

Amarillo National Bank Sox Stadium

8,500

Grand Prairie AirHogs

2007

Grand Prairie, Texas

QuikTrip Park

5,445

Laredo Lemurs

2012

Laredo, Texas

Uni-Trade Stadium

6,000

Joplin Blasters

2015

Joplin, Missouri

Joe Becker Stadium

2,000

Wichita Wingnuts

2008

Wichita, Kansas

Lawrence-Dumont Stadium

6,400
League Timeline
Edit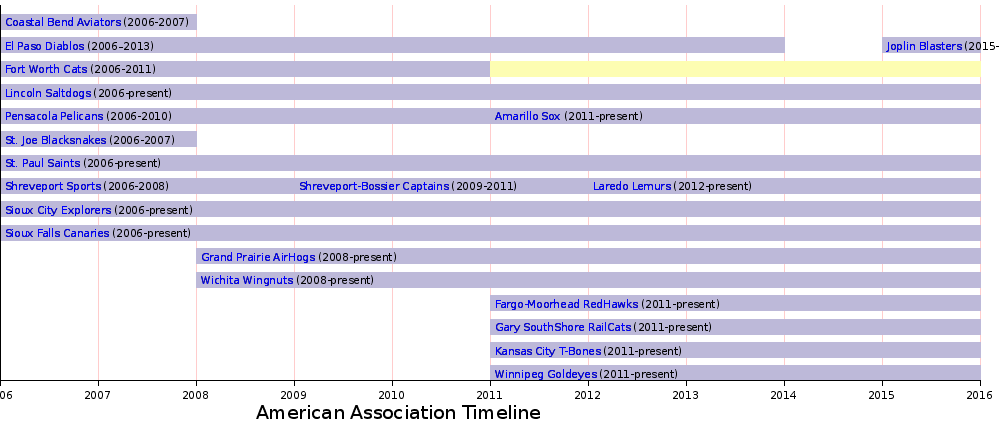 League members Other Current League
Former teams
Edit
Champions
Edit
All-star game
Edit
The American Association hosted an annual All-Star Game from 2006 to 2010. The league's first All-Star game was played in El Paso, Texas, on July 18, 2006, which pit a team of American Association All-Stars against an All-Star team from the Can-Am League. Its current format pits the all-stars from each division against each other. There was no All-Star game in 2011, 2012, or 2013. The Winnipeg Goldeyes hosted the 2014 All-Star game.
Game results
2006 - AAB 5, Can-Am 3
2007 - South 6, North 4
2008 - South 11, North 4
2009 - North 6, South 2
2010 - South 12, North 3
2011 - No All-star game played
2012 - No All-star game played
2013 - No All-star game played
2014 - South 7, North 0
Most Valuable Players
2006 - Jake Whitesides, (St. Joe Blacksnakes)
2007 - Jorge Alvarez, (El Paso Diablos)
2008 - Brian Fryer, (Fort Worth Cats)
2009 - Trevor Lawhorn, (Sioux Falls Canaries)
2010 - Chris Garcia, (Shreveport-Bossier Captains)
2011 - Lee Cruz, (Amarillo Sox)
2012 - Nic Jackson, (Fargo-Moorhead RedHawks)
2013 - C.J. Ziegler, (Wichita Wingnuts)
2014 - Devin Goodwin, (Laredo Lemurs)
References
Edit
External links
Edit
Community content is available under
CC-BY-SA
unless otherwise noted.