We're Getting Mutants in the MCU - The Loop
Play Sound
The 1972 Miami Dolphins are the only National Football League team to have a perfect season, and win the Super Bowl. The undefeated campaign was led by coach Don Shula and notable players Bob Griese, Earl Morrall, and Larry Csonka (among many others). This team went 14–0 in the regular season (prior to the extension of the regular season to 16 games in 1978 by the NFL), and won all three post-season games, including Super Bowl VII against the Washington Redskins, to finish 17–0. As of 2010, the 1972 Dolphins remain the only NFL team to complete an entire season undefeated from the opening game through the Super Bowl (or championship game). In addition, the Dolphins continued their winning streak into the 1973 season to 18 straight games, before losing in the second week.
During the 1972 season, Bob Griese's ankle was broken in Week 5 as he was sacked by San Diego Chargers defensive tackle Ron East. He was replaced by veteran Earl Morrall for the rest of the regular season. Griese returned to the field as a substitute during the AFC Championship game versus the Pittsburgh Steelers and then started for Miami in Super Bowl VII. On the ground, running backs Larry Csonka and Mercury Morris became the first teammates to each rush for 1,000 yards in a season. Paul Warfield led the receivers, averaging over 20 yards per catch on 29 receptions. The offensive line included future Hall of Fame members Jim Langer and Larry Little and Pro Bowler Norm Evans. The 1972 Dolphins defensive unit, called the No-Name Defense because Miami's impressive offense received much more publicity, was the league's best that year. It was led by linebacker Nick Buoniconti, end Bill Stanfill, tackle Manny Fernandez, and safeties Dick Anderson and Jake Scott. In all, nine players—Csonka, Morris, Warfield, Little, Evans, Buoniconti, Stanfill, Anderson and Scott— were selected to the Pro Bowl, and Morrall, Stanfill and Anderson were named 1st team All-Pro.[1]
Regular season
Schedule
| Week | Date | Opponent | Result | Record |
| --- | --- | --- | --- | --- |
| 1 | September 17, 1972 | at Kansas City Chiefs | W 20–10 | 1–0 |
| 2 | September 24, 1972 | Houston Oilers | W 34–13 | 2–0 |
| 3 | October 1, 1972 | at Minnesota Vikings | W 16–14 | 3–0 |
| 4 | October 8, 1972 | at New York Jets | W 27–17 | 4–0 |
| 5 | October 15, 1972 | San Diego Chargers | W 24–10 | 5–0 |
| 6 | October 22, 1972 | Buffalo Bills | W 24–23 | 6–0 |
| 7 | October 29, 1972 | at Baltimore Colts | W 23–0 | 7–0 |
| 8 | November 5, 1972 | at Buffalo Bills | W 30–16 | 8–0 |
| 9 | November 12, 1972 | New England Patriots | W 52–0 | 9–0 |
| 10 | November 19, 1972 | New York Jets | W 28–24 | 10–0 |
| 11 | November 27, 1972 | St. Louis Cardinals | W 31–10 | 11–0 |
| 12 | December 3, 1972 | at New England Patriots | W 37–21 | 12–0 |
| 13 | December 10, 1972 | at New York Giants | W 23–13 | 13–0 |
| 14 | December 16, 1972 | Baltimore Colts | W 16–0 | 14–0 |
Playoffs
Standings
Urban legend
There is an urban legend that every season, whenever the last remaining undefeated NFL team loses its first game, all the surviving members of the 1972 Miami Dolphins open bottles of champagne in celebration. Coach Don Shula tried to play down the myth by saying that two players, Dick Anderson and Nick Buoniconti, who live near each other sometimes have a toast together.[2][3] However, in a college football broadcast on ABC, following the loss of an undefeated team, Bob Griese, after being asked by his colleague, commented that he called former Dolphins, and they had Diet Cokes together. That celebration comes with the connotation that they no longer drink alcoholic beverages, but that a toast was customary.[citation needed]
The perfect season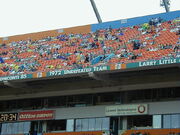 The 1972 Miami Dolphins were the first team to execute a perfect regular season in the modern, post-Merger NFL. They are the only team in NFL history to go undefeated in the regular season and postseason.
An enduring controversy is that the 1972 Dolphins played a soft schedule not possible under the current scheduling formula. Prior to the implementation of position scheduling in 1978, opponents were set by the NFL on a rotating basis. Statistically, the Dolphin's 1972 schedule was one of the weakest played by any team in many years. Their regular-season opponents had an aggregate winning percentage of .396 and only two opponents had winning records that year (both were 8–6). However, the NFL's rules at the time also forced the undefeated Dolphins to play in Pittsburgh for the AFC Championship Game, an obstacle subsequent rule changes ensured no team with a superior record would face again, and the Dolphins won the game on the road to reach the Super Bowl.
Other teams are occasionally cited as undefeated based on their regular season record. Among these are:
Teams since 1972 which have come close to matching the perfect season are:
Television coverage
Remarkably, fans in the Miami area could not catch the home games on television – they either had to be there at the games, listen to the radio, or travel to watch the games on TV.
1972 was the last year that all home games were blacked out on local television even if they did sell out. Super Bowl VII, in fact, was the first game to be televised in the market of origin under new rules which would come into effect the following season – games must be sold out within 72 hours of kickoff time in order to be aired in the market of origin. As all Super Bowls except the first have sold out, none have been blacked out since (tickets sell out rather quickly due to high demand to see such a major game).
Notes and references
External links
Miami Dolphins Honor Roll inductees