The 1921 Centre vs. Harvard football game, played October 29, 1921, was a college football game between Centre College and Harvard University. Centre beat Harvard 6–0, in what is widely considered one of the greatest upsets in college football history.[1][2]
The prequel
The teams first met in 1920, at Harvard Stadium in the Boston neighborhood of Allston, with Harvard coming off a Rose Bowl victory and an undefeated national championship season in 1919 (the school's fourth national championship in the prior ten years). Coming into the Centre game, Harvard was also undefeated and unscored upon in the 1920 season. Meanwhile, Centre College, a tiny school of 300 students in Kentucky, had little history of success in football before their current coach, Charley Moran, and star quarterback, Bo McMillin, arrived on campus in 1917.
The Centre Praying Colonels shocked Harvard in the 1920 game simply by taking a 14–7 halftime lead. But, in the second half, Centre withered before the superior Harvard squad, and Harvard won the game 31–14. Following the game, Harvard's captain offered the game ball to Centre's quarterback Bo McMillin, but McMillin declined the ball and promised "We'll be back next year to take it home with us."[3]
The game
After a scoreless half and early in the third quarter, Red Roberts told McMillin "it's time to score, ride my hump" and McMillin ran for a 32-yard touchdown. He dodged three of Harvard's secondary.[4]
Aftermath
Bob Fisher said after the game "In Bo McMillin Centre has a man who is probably the hardest in the country to stop."[5]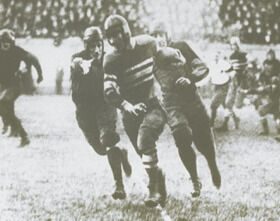 Immediate impact
All around Danville students painted the "impossible formula" of C6H0.[6]
The Centre victory was a shock, but perhaps not a fluke; the team would finish the 1921 season 10–1, defeating several of the nation's powerhouses including VPI, Auburn, Arizona, and Clemson. Their only defeat was a 22–14 loss to powerful Texas A&M in the 1922 Dixie Classic (forerunner of the Cotton Bowl), in Dallas, Texas, on January 2, 1922 (the game where A&M's famous "12th man" was born). Bo McMillin got married in Dallas the day before the game, and the Colonels were in the midst of a grueling long distance trip from home by train, having played Arizona in San Diego, California, the week before. Up until their final game of the season the Colonels outscored their opponents by a margin of 314 to 6.[7]
"Greatest Upset"
In 1950, the Associated Press named C6H0 the greatest sports upset of the first half of the 20th century.[8] In 2005, The New York Times called it "arguably the upset of the century in college football."[2] In 2006, ESPN named it the third-biggest upset in the 138-year history of college football.[1]
On the 75th anniversary of C6H0, Centre challenged Harvard to a rematch. Harvard declined.[9]
See also
References
↑ 1.0 1.1 "ESPN ranks 1921 Centre-Harvard game among college football's greatest upsets". Archived from the original on 4 November 2012. https://web.archive.org/web/20121104033318/http://www.centre.edu/web/news/2006/c6H0morrisadvocate06.html

. Retrieved 7 August 2008

.
↑ 2.0 2.1 "C6-H0 plays a prominent part in nation's sports lexicon". Archived from the original on 5 July 2008. https://web.archive.org/web/20080705164924/http://www.centre.edu/web/news/2005/c6h0_05.html

. Retrieved 7 August 2008

.
↑ Bernstein, Mark (2001). Football: The Ivy League Origins of an American Obsession. University of Pennsylvania Press. ISBN 0-8122-3627-0.
↑ "How Centre Colonels Defeated the Crimson In Cambridge Stadium". The Courier-Journal: p. 49. October 30, 1921. https://www.newspapers.com/clip/4306646/the_courierjournal/

. Retrieved February 13, 2016

.
↑ "McMillin's Brillian Sprint Gives Centre Victory Over Harvard". St. Louis Post-Dispatch: p. 6. October 30, 1921. https://www.newspapers.com/clip/4306631/st_louis_postdispatch/

. Retrieved February 13, 2016

.
↑ "Remembering a Forgotten Upset - Sports - The Harvard Crimson". http://www.thecrimson.com/article/2011/10/28/centre-harvard-1921/?page=3.
↑ "1921 Season". Archived from the original on 3 December 2008. https://web.archive.org/web/20081203212547/http://www.centre.edu/web/library/sc/special/C6h0/season.html#1921

. Retrieved 7 August 2008

.
↑ "Centre College Remembers Day When It Was King of the Gridiron". http://chronicle.com/subscribe/login?url=/che-data/articles.dir/art-43.dir/issue-06.dir/06a04601.htm

. Retrieved 7 August 2008

.
↑ "MY KENTUCKY: C6H0 - Centre Beats Harvard". https://www.jpinews.com/2017/10/26/my-kentucky-c6h0-centre-beats-harvard/

. Retrieved 12 April 2018

.
External links
Template:Centre Colonels football navbox